Content
US Tech trading basics
The US Tech 100 (US100) Index, one of the most well-known indices in global financial markets, is often used as a barometer of the US technology sector and to gauge market sentiment for growth stocks.
The US tech 100 is a useful index on every stock investor's radar, whether they trade it or not, as it reflects the macro perspective in the stock market.
Here, we take a look at the key US Tech 100 facts traders should be aware of, as well as a guide on how to trade US100.
What is the US Tech 100?
The US Tech 100 (US100) is an index of the 100 largest and most actively traded companies listed on the New York-based NASDAQ Stock Exchange. The index serves as a benchmark for large-cap US technology stocks, although it also includes companies in the retail, industrial, biotechnology and health sectors.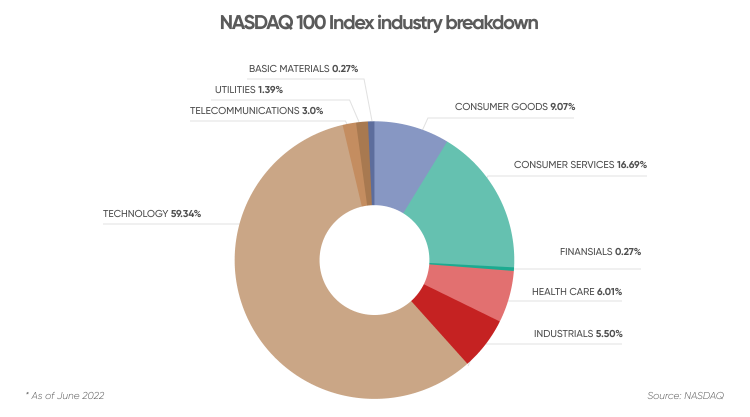 The name NASDAQ is an acronym for National Association of Securities Dealers Automated Quotations, the first electronic exchange.
The tech-focussed index was launched on 31 January 1985 with an initial base price of 250. However, after reaching almost 800 on 31 December 1993, the price was reset to 125 the following day.
At launch, the NASDAQ 100 sought to promote itself in the shadow of the New York Stock Exchange (NYSE) by creating the two separate indices that we know today: the above-mentioned NASDAQ 100, which excludes financial stocks, and the NASDAQ Financial 100, which consists of banks, insurance firms and credit brokerage companies.
In creating these two separate indices, the NASDAQ hoped futures and options would be traded on them, and mutual funds would adopt them as benchmark measures.
Note that the NASDAQ 100 should not be confused with the NASDAQ Composite. The latter includes around 3,000 stocks that are traded on the NASDAQ exchange. Meanwhile, the NASDAQ 100 is responsible for 67% of the total market cap of the larger, more general NASDAQ Composite. The NASDAQ 100 is also called US 100 on some trading platforms.

NASDAQ trading volumes are known to be higher and more volatile than other major indices, which enables traders to speculate on day-to-day price fluctuations. Note that increased volatility also raises the risk of losses.
The NASDAQ is subject to US regulation, oversight and federal exchange rules, so traders have a relative safety net for their activity, although all investment and trading involves risk.
US Tech 100 companies
How can companies get listed in the NASDAQ 100 index? To be eligible, companies must be trading exclusively on the NASDAQ exchange in either the Global Select or Global Market tiers.
They also must:
Have an average daily volume of 200,000 shares

Have been publicly traded for at least three months

Be free from bankruptcy proceedings

Submit quarterly and annual financial reports
What does the NASDAQ 100 Index measure?
The NASDAQ 100 measures the price movements of constituent companies based on market capitalisation, which is the total value of their shares based on current prices.
The technology sector has shown consistently strong performance in the 21st century, with the index rising 252% since 2000. Between 2000 and 2021 the index posted positive returns every year except 2000-2003, 2008 and 2018.
How is the NASDAQ 100 calculated?
Like other global stock market indices, the NASDAQ 100 Index tracks a basket of individual stocks, and changes in their prices which affect the value of the index throughout each trading day.
The value of the NASDAQ 100 Index equals the aggregate value of the index share weights of each security, multiplied by each stock's last market price and divided by the divisor of the index.
The NASDAQ 100 is a modified market capitalisation-weighted index, which means that stocks with the highest market value will have a bigger influence on the index price.
Companies trading on the NASDAQ are reviewed quarterly – they are added or removed based on the size of their market cap. No company can have more than a 24% weighting in the index.
What moves the NASDAQ 100 Index?
If you want to start trading the NASDAQ 100 and index-related instruments, you should stay informed about the factors that could affect its value over time to identify the best potential times to buy and sell.
What moves the NASDAQ? Let's look at the key price drivers that investors should be aware of.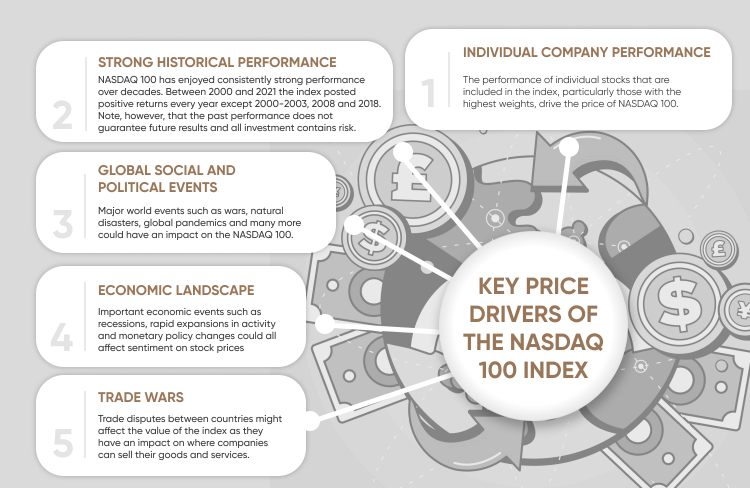 Individual company performance
As the index is weighted by the market capitalisation of its constituent stocks, the performance of the individual stocks – particularly those with the highest weights – drive its direction.
If one of the biggest companies in the index such as Apple (AAPL), Microsoft (MSFT) or Alphabet (GOOGL) experiences a sharp stock price movement, this will affect the NASDAQ 100's value.
However, if all the other stocks in the index move strongly in the opposite direction, that could outweigh the influence of a single company's share price.
Strong historical performance
The NASDAQ 100 Index has historically enjoyed strong growth, which could be a major influence on investor sentiment.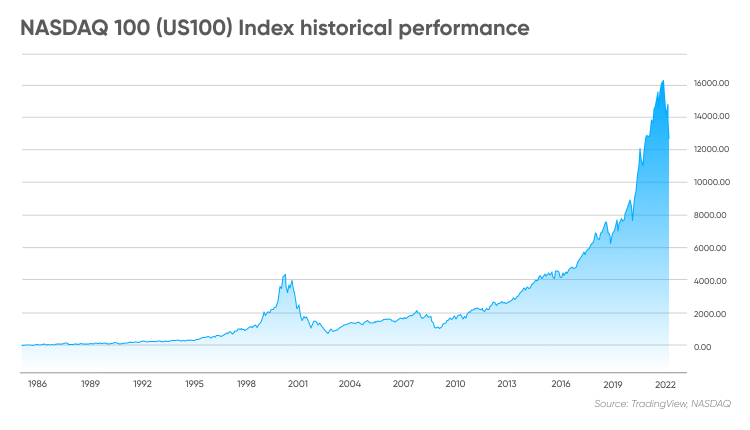 In the decade from 2011, the index made an average annual return of 18.2%. When sentiment towards technology stocks is bullish, the index trades higher, while bearish sentiment pulls it down.
Investors should, however, note that past performance is no guarantee of future returns. Whilst the index has grown significantly over the years, that shouldn't be used as a rationale for investing or trading. Remember that all investing contains risk and you should always conduct your own due diligence.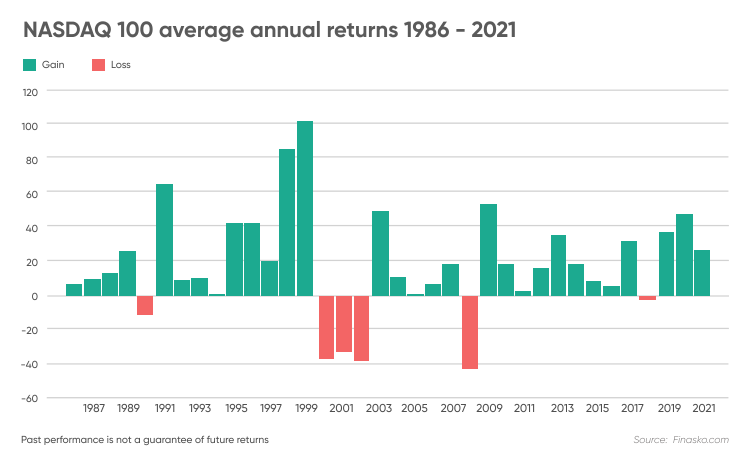 Global social and political events
Major world events have an impact on stock market sentiment, and in turn determine the value of the NASDAQ Index.
The start of the Covid-19 pandemic in 2020 initially reduced the index by 40%, but it ended the year up 43.64% as lockdowns and working from home drove demand for technology products and services.
The index has fallen more than 20% year-to-date (YTD), as of 3 June, driven in part by the Russian invasion of Ukraine.
Economic landscape
Important economic events such as recessions, rapid expansions in activity and monetary policy changes could all affect sentiment on stock prices.
For example, the 2008 financial crisis saw the NASDAQ 100 drop by 40.5% as the global recession hit demand from products and services offered by the companies on the index.
In 2022, central bank policies on raising interest rates rapidly to combat high inflation have also weighed on market sentiment, pulling the index price down.
Trade wars
Trade disputes between countries often affect the value of the index as they have an impact on where companies can sell their goods and services.
The NASDAQ 100 shed almost 4% in 2018, its worst performance since 2008, as a trade war between the US and China disrupted some companies' operations.
Why trade NASDAQ 100?
Why could you choose to trade NAS100? Some of the factors that could possible attract investor interest to the index are:
Some of the world's largest technology companies are listed on the NASDAQ 100, making it one of the most widely followed global indices.
Investors can gain exposure to a range of companies in growth industries through a single instrument rather than having to research and track 100 individual stocks.
High trading liquidity on the NASDAQ 100 results in tight spreads, allowing traders to execute opening and closing positions quickly with low trading fees.
The availability of advanced technical analysis tools enables traders to use charting to identify bullish and bearish signals that could aid their decisions while trading all instruments, including NASDAQ 100 .
How to trade the NASDAQ 100 Index
Are you wondering how to trade the NASDAQ 100? There are several approaches you can take to trading or investing in the index.
You can trade individual stocks on the index, a NASDAQ-focused ETF or index tracker fund, open a contract for difference (CFD) trading account. You can also trade via options based on the cash price (known as the spot) or futures contracts.
Let's take a look at how to trade the NASDAQ 100 using these different types of instruments.
ETFs and shares
If you're looking for how to trade the NASDAQ Index over the long term, you could gain broad exposure by investing in an exchange-traded fund (ETF) that tracks the NASDAQ 100's performance. Rather than trading the price of the index, you can trade the price of the ETF based on its net asset value (NAV).
You can also trade ETFs with CFDs, as well as invest in shares of companies included on the index if you only want to be exposed to their individual performance.
CFDs
If you're interested in learning how to trade in NASDAQ-linked instruments without owning the underlying stocks, you can do so by using CFDs.
A CFD is an agreement between a broker and a trader to exchange the difference in value of an underlying security between the beginning and the end of the contract, often less than one day. These allow you to go long or short without conventional exchanges or owning the asset outright.
The index's high volume and volatility make the NASDAQ 100 one of the most traded CFD instruments globally. Note, however, that heightened volatility contributes to risk of loss.
| | | | |
| --- | --- | --- | --- |
| | Trading the NASDAQ 100 Index directly | Trading NASDAQ-linked ETFs | Trading stocks that are listed in the NASDAQ 100 Index |
| Account type | CFDs | CFDs, share dealing to invest in underlying funds | CFDs, share dealing to invest in underlying stocks |
| Cost | Commission free, overnight fees | Commission free, overnight fees for CFDs; Commission free for owning underlying funds | Commission free, overnight fees for CFDs; Commission free for owning underlying funds |
| Timeframe | Short-term | Short-term for CFDs; long-term for investing in underlying funds | Short-term for CFDs; long-term for investing in underlying funds |
Where to trade the US100 Index? Create an account at Capital.com and access the most popular global markets via our web platform or our mobile trading app.
Pros and cons of trading NASDAQ 100 CFDs
Before you start trading NASDAQ 100 CFDs, you should be aware that they are more complex and high-risk instruments than stocks and ETFs, and understand the pros and cons of using them to trade.
Pros
CFDs are leveraged products that allow you to use margin to increase your market exposure with a small commitment of funds.

You can take a position on the direction of the NASDAQ 100's value without having to own the actual stocks or funds.

You can react to economic data and policy announcements or political events with short-term positions.

Unlike owning stocks or funds, where you aim to generate returns when you sell them at higher prices, CFDs allow you to speculate on price movements in both directions.
Cons
Using leverage increases potential losses as well as gains. Borrowing on margin leaves you exposed to the full position, increasing the size of the loss if the index moves against your position.

Margin requirements can restrict how you use your capital for trading.

Financing costs for keeping positions open overnight are prohibitive to holding positions for the long term.
How to start trading the index
To start trading the NASDAQ 100 Index for your investment portfolio, follow these three steps:
Step 1: Create an account
Decide how you want to trade the NASDAQ 100 – whether through a stock trading platform or a CFD provider. Create your account and add the funds you want to invest.
Step 2: Open your first NASDAQ trading position
In your trading account, navigate to the NASDAQ 100 instrument you want to trade and set the size of the position you want to open.
If you are using CFD instruments, you can choose to go long on the index if you think the value will rise or short it if you expect the price to fall.
Set stop loss and limit orders to manage the risk of the position and reduce the size of the loss if the index moves against you.
Step 3: Monitor your trade using technical and fundamental analysis
You can use technical analysis indicators to analyse NASDAQ 100 charts and identify potential market trends to aid your trading decisions. Indicators show buy and sell signals that you can consider to decide whether to take profits, close or expand positions.
Popular technical analysis indicators include the Relative Strength Index (RSI), moving average convergence divergence (MACD) as well as daily and weekly moving averages (MAs).
However, some indicators show signals on a lag or fail to show a change in a trend, making it essential that you also use risk management tools to limit the extent of any losses.
As well as technical indicators, you can use support and resistance lines, triangles and trend channels on index charts to help you identify potential opportunities to buy and sell.
Fundamental analysis follows macroeconomic factors and other news events that could affect the financial performance of companies on the index, which in turn drives its value.
Major releases of economic data or geopolitical events can provide bullish or bearish signals that could prompt you to buy or sell the index.
Why trade Nasdaq 100 with Capital.com
Advanced AI technology at its core: A personalised news feed provides users with unique content geared to their preferences. The neural network analyses in-app behaviour and suggests videos and articles that fit your trading strategy.
Trading on margin: Thanks to margin trading, Capital.com provides you with the opportunity to trade NASDAQ 100 CFDs and other top-traded indices, even with a limited amount of funds in your account. Keep in mind that CFDs are leveraged products, which means both profits and losses can be magnified.
Trading the difference: By trading NASDAQ 100 CFDs, you don't buy the underlying asset. You only speculate on the rise or fall of the index price. A CFD trader can go short or long, set stop and limit losses and apply trading scenarios that align with their objectives. CFD trading is similar to traditional trading in terms of its associated strategies. However, CFD trading is short-term in nature, due to overnight charges.
All-round trading analysis: The browser-based platform allows traders to shape their own market analysis and make forecasts with sleek technical indicators. Capital.com provides live market updates and various chart formats, available on desktop, iOS and Android.
Sign up at Capital.com and use our web platform or download the investment app to trade on the go. It will take you just three minutes to get started and access the world's most traded markets.
NASDAQ trading strategies
As with trading and investing in individual stocks, it's important to have a clear NASDAQ trading strategy before you open a position. Here are three approaches you can consider in order to find the right NAS100 trading strategy for you.
Buying and selling an asset based on market trends is known as swing trading. You can use technical analysis charts and indicators to help you identify potential trends that indicate whether the index could rise or fall in the short to medium term. Using technical analysis can provide you with clear, consistent rules to follow in your trading strategy.
Day trading focuses on responding to market-moving events by opening and closing a position on the same trading day. This could be especially effective on days with market volatility spikes, such as when economic or policy statements are released and major political events occur. However, increased volatility could cause higher risks, as the asset's price could suddenly go against your position.
Position trading refers to holding a position open for an extended period to benefit from an expected rise or fall in the value of the index. This allows you to gain exposure to a longer period of activity than a single trading session. Note that CFDs are considered more suitable for short-term trading due to overnight charges.
NASDAQ trading hours
What time does the Nasdaq 100 open for trading? The main US100 trading hours are between 09:30 and 16:00 (EST).
The index price is also calculated during pre-market trading hours (04:00 and 09:30 EST) and after-market trade hours (16:00 and 20:00 EST).
While the regular NASDAQ trading days are Monday to Friday, the stock market closes for US public holidays.
At Capital.com, you can monitor price changes using our live chart and trade NASDAQ 100 CFDs Monday to Wednesday 00.00 to 21.00 and 22:01 to 00:00, and on Thursday 00:00 to 21:00.
Your personal risk tolerance and preferences would help you to determine the best time to trade the US100 during the day.
Tips and tricks for beginners and advanced traders
Whether you are new to trading the NASDAQ 100 or an experienced trader, it's important to remain disciplined in your trading. Here are some ideas to help.
Decide on your trading strategy in advance
During times of heightened market volatility, it can be difficult to keep emotions at bay. Having a trading strategy in advance and being clear on the level of risk you are prepared to accept could help you limit your losses.
Learn to use technical analysis tools and trading signals
Studying NASDAQ 100 charts and using technical analysis, indicators and trading signals can help you to spot potential trends and patterns on which to base your trading rather than pure speculation.
Keeping a trading journal and reviewing it regularly can help you spot mistakes and avoid repeating them. It can also help you identify behavioural patterns of your trading, for example, whether you are sticking to your strategy in the times of volatility or trading emotionally. Note, however, that past performance is never a guarantee of future returns.
Limit your portfolio exposure
Avoid investing a large portion of your portfolio in a single position. Diversify your portfolio with various asset classes to reduce the risk of losses damaging your overall investment.
FAQs
Can a beginner trade the NASDAQ?

A beginner investor might choose to trade NASDAQ 100 as a way to gain broad exposure to the technology sector without having to closely monitor individual stocks. We encourage you to always conduct your own research before trading by reviewing educational material, looking at technical and fundamental analysis, latest news and analyst commentary. You can also consider opening a demo account to trial your trading strategy.
How much is needed to trade NASDAQ?

How much do you need to trade the NASDAQ 100? While some mutual funds have a minimum amount to trade US100 in the thousands of dollars, online share dealing and CFD accounts allow you to make small trades with low trading fees. With CFDs you can use leverage to open a larger position with a small upfront investment. Note that leverage magnifies both losses and profits.
How do I start trading the NASDAQ 100?

If you have chosen to trade the NASDAQ 100 (US100) Index with contracts for difference (CFDs), open and fund your account, analyse the index performance, enter the amount you want to trade and decide whether you want to open a long or a short position. Note that trading is high risk. Consider using risk management tools such as stop-losses.
How can I trade the NASDAQ?

You can gain exposure to the NASDAQ 100 index by buying and selling exchange traded funds (ETFs) or individual stocks listed on the index, using spread bets or trading CFDs.
What moves the NASDAQ?

There are several important factors that might drive the direction of the index, including the performance of its constituent companies, macroeconomic data, social and political events.
What is the best time to trade the NASDAQ 100?

The NASDAQ 100 can be traded within regular NASDAQ trading hours. At Capital.com, you can trade the NASDAQ 100 CFDs on Monday to Wednesday 00.00 to 21.00 and 22:01 to 00:00, and on Thursday 00:00 to 21:00. Looking for the best time to trade US100, watch out for the major market-moving events.