Content
What is Google?
Alphabet Inc. is the holding company that owns Google. Founded in 1998 by Larry Page and Sergey Brin, roommates at Stanford University, Google is an American multinational technology corporation that specialises in internet-related products and services, including: search engine technologies, online advertising technologies and software.
Google stock became Alphabet stock after a corporate restructuring. Alphabet also owns services such as YouTube. Google offers a wide range of products, aside from its famous search engine. These include: Gmail, Google Docs, Google Drive, the Android operating system and the popular Google Pixel range of smartphones.
In 2015 Google announced that it will be undergoing corporate restructure, where Alphabet Inc was formed as a parent company. Google trading is now more formally referred to as Alphabet trading - due to the change in stock.

How to trade Google CFDs
An individual has two options if they want to invest in Google through trading. Firstly, they can buy shares in companies on the exchanges where they are listed. For instance, you can view the Alphabet stock price, and buy them, on the NASDAQ stock exchange, so you actually own a share in the company. This can be considered a long-term investment, as the individual is usually waiting for the price to rise over time. Google stock trading is popular but lacks useful features, like trading on a margin, that CFDs offer.
Alternatively, they can trade a contract for difference (CFD) on a particular stock, and speculate on the price difference of the underlying asset, without actually owning the asset.  A CFD is a financial instrument typically arranged between a broker and an investor, where one party agrees to pay the other the difference in the value of a security, between the opening and closing of the trade. You can either hold a long position (speculating that the price will rise) or a short position (speculating that the price will fall). This is considered a short-term investment or trade, as CFDs tend to be used within shorter timeframes, unlike Google share trading.
Trade Alphabet Inc - GOOGL CFD
The key difference between trading a long position with a CFD and buying a security is the leverage that is employed. CFDs are traded on margin, which means that a trader can open larger positions with their capital.
Looking for a reliable CFD trading provider? If so, just spend 3 minutes of your time to sign up and start trading Google CFDs with Capital.com. Try our award-winning trading platform or download our mobile app, which will become your smart CFD trading assistant.
Why trade Google CFDs with Capital.com
Advanced AI technology at its core: A Facebook-like News Feed provides users with personalised and unique content depending on their preferences. If a trader makes decisions based on biases, the innovative News Feed offers a range of materials to put him back on the right track. The neural network analyses in-app behaviour and recommends videos, articles, news to polish your investment strategy.
Trading on margin: Providing trading on margin (up to 5:1 for individual equities), Capital.com gives you access to the stock market with the help of CFDs.
Trading the difference: When trading a Google CFD, you don't buy the underlying asset itself, meaning you are not tied to it. You only speculate on the rise or fall of the Google stock price. CFD trading is not different from traditional trading in terms of strategies. A CFD investor can go short or long, set stop and limit losses and apply trading scenarios that align with their objectives.
All-round trading analysis: The browser-based platform allows traders to shape their own market analysis and forecasts with sleek technical indicators. Capital.com provides live market updates and various chart formats, available on desktop, iOS, and Android.
Focus on safety: Capital.com puts a special emphasis on safety. Licensed by the FCA and CySEC, it complies with all regulations and ensures that its clients' data security comes first. The company allows to withdraw money 24/7 and keeps traders' funds across segregated bank accounts.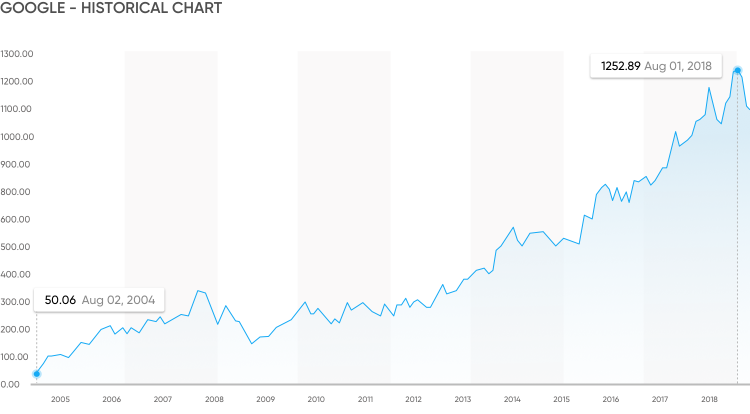 History of Google
Google started as a research project by Larry Page and Sergey Brin, in 1996, when they were both PhD students at Stanford University in California. While conventional search engines ranked results by quantity of times the search terms appeared on the page, the two were working on a better system that analysed the relationships among websites. This technology became the Google search engine.
Google stock price history
Google was funded by angel investors and venture capital firms, and by August 2004 the initial public offering (IPO) took place. At IPO, Google offered 19,605,052 shares at a price of $85 per share. Google grew over time, buying YouTube, a video-sharing website, in 2006. In 2015, Google created Alphabet to become the parent company of Google and Google subsidiaries. The two founders of Google assumed executive roles in the new company, with Larry Page becoming CEO, and Sergey Brin serving as President.
FAQ
Who are Google's competitors?

As one of the global leaders in technology industry, Google faces general competition from tech giants like Amazon, Apple and Facebook – as their businesses expand and develop. Google faces search engine competition from Microsoft, with its Bing product, and also Yahoo. Given that it owns Android, Google also faces competition from Apple in the smartphone market.
Is Google a constituent of any popular indices?

Alphabet Inc. is a constituent of the NASDAQ 100, S&P 100 and the S&P 500 stock index.
What factors affect the Google stock price?

There's a lot to think about when it comes to Google share trading. As with any equity, quarterly earnings announcements, as well as the financial performance of the wider stock market are two crucial factors to watch when deciding how Google stock might perform. Something more specific to Google is how regulation regarding data privacy evolves. Investors are concerned about the impact of privacy regulation, especially since there has been increasing pressure from governmental bodies in both the US and wider international community. Scandals like the Facebook Cambridge Analytica one, have highlighted the danger and scope of the private information held by big tech giants, as well as putting immense pressure on companies in the technology sector to be responsible. If regulation becomes too stringent, which many fear, this could affect Google and the stock price.
What is the difference between Alphabet's GOOGL and GOOG stock?

You may have noticed that there are two different types of Google stocks available on the market. You have Alphabet Inc Class A (GOOGL) and Alphabet Inc Class C (GOOG). This is because Google split its stock in 2014. The main difference, aside from the slight variation in price, between class A and class C is to do with voting rights. Class A stocks carry regular voting rights, whereas class C stocks offer no voting rights. Class B stocks carry greater voting rights, and are distributed within the company, and are not available on public exchanges.