Content
What is Facebook?
Facebook was founded by Mark Zuckerberg, in 2004, along with fellow Harvard students and roommates: Eduardo Saverin, Andrew McCollum, Dustin Moskovitz and Chris Hughes. Facebook Inc is focused on building products that enable people to connect and share through computers, mobile devices and tablets. The company's products include: Facebook, Instagram, Messenger, Oculus and WhatsApp. Facebook is a social network where people connect, share, communicate and discover with each other. Instagram allows individuals to share photos onto a feed for others to interact with. Facebook acquired the cross-platform messaging service, WhatsApp, in 2014.

Facebook trading hours
Facebook shares are traded on the NASDAQ stock exchange between the hours of 09:30 and 16:00 (EST).
How to trade Facebook CFDs?
An individual has two options when trading Facebook shares. Firstly, they invest in Facebook shares on the exchanges where they are listed. For instance, you can take part in Facebook (FB) stock trading by buying stock on the NASDAQ stock exchange, so you actually own a share in the company. This can be considered a long-term investment, as the individual is usually waiting for the price to rise over time.
Alternatively, they can trade a contract for difference (CFD) on a particular stock, and speculate on the price difference of the underlying asset, without actually owning the asset. A CFD is a financial instrument typically between a broker and an investor, where one party agrees to pay the other the difference in the value of a security, between the opening and closing of the trade. You can either hold a long position (speculating that the price will rise) or a short position (speculating that the price will fall). This is considered a short-term investment or trade, as CFDs tend to be used within shorter timeframes.
Trade Facebook Inc. - FB CFD
The key difference between trading a long position with a CFD and buying a security is the leverage that is employed. CFDs are traded on margin, which means that a trader can open larger positions with their capital.
Looking for a reliable CFD trading provider? If so, just spend 3 minutes of your time to sign up and start trading Facebook CFDs with Capital.com. Try our award-winning trading platform or download our mobile app, which will become your smart CFD trading assistant.
Why trade Facebook CFDs with Capital.com
Advanced AI technology at its core: A Facebook-like News Feed provides users with personalised and unique content depending on their preferences. If a trader makes decisions based on biases, the innovative News Feed offers a range of materials to put him back on the right track. The neural network analyses in-app behaviour and recommends videos, articles, news to polish your investment strategy.
Trading on margin: Providing trading on margin (up to 5:1 for individual equities), Capital.com gives you access to the stock market with the help of CFDs.
Trading the difference: When trading a Facebook CFD, you don't buy the underlying asset itself, meaning you are not tied to it. You only speculate on the rise or fall of the Facebook stock price. CFD trading is nothing different from traditional trading in terms of strategies. A CFD investor can go short or long, set stop and limit losses and apply trading scenarios that align with their objectives.
All-round trading analysis: The browser-based platform allows traders to shape their own market analysis and forecasts with sleek technical indicators. Capital.com provides live market updates and various chart formats, available on desktop, iOS, and Android.
Focus on safety: Captal.com puts a special emphasis on safety. Licensed by the FCA and CySEC, it complies with all regulations and ensures that its clients' data security comes first. The company allows to withdraw money 24/7 and keeps traders' funds across segregated bank accounts.
Facebook stock price history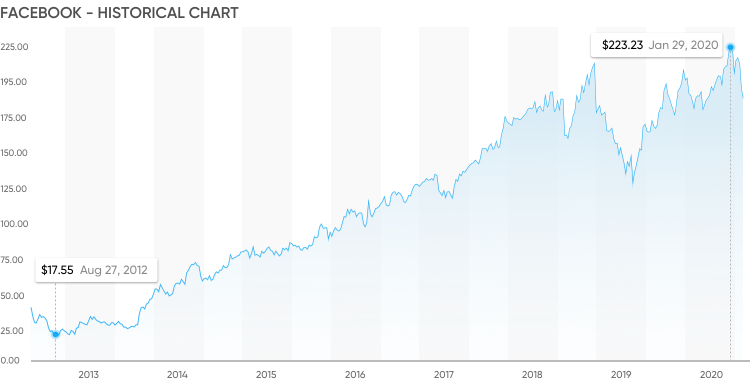 History of Facebook
Facebook was founded in 2004 out of a Harvard dormitory room by Mark Zuckerberg and Eduardo Saverin. Membership of this social network was originally limited to Harvard students, but was then expanded to other colleges in the Boston area, the Ivy League, and gradually most universities in North America.
By September 2006, the membership was open to anyone with a valid email address, providing they were aged 13 or older. Soon after the site was launched, Zuckerberg was accused by fellow Harvard students, the Winklevoss brothers, of stealing their idea for the network. This allegation soon turned into a lawsuit for theft and fraud, which was settled in 2008 with a $65 million payment.
Co-founder Saverin sued Facebook over breach of fiduciary duty, when Zuckerberg diluted his holdings in the company, Saverin walked away with around 4-5% of the company.
In 2012, eight years after its creation, Facebook raised $15 billion in an Initial Public Offering (IPO) that valued the company at around $100 billion at that time.
Facebook acquired Instagram in 2012 and WhatsApp in 2014. Today, the company operates several popular brands, including: Facebook, Instagram, Messenger, WhatsApp and Oculus.
In early 2018, Facebook was involved in a major political scandal, when it was revealed that Cambridge Analytica was harvesting the personal data of millions of Facebook users without their consent and using it for political purposes. Facebook's share price fell, wiping $100 billion off its valuation, and CEO Zuckerberg agreed to testify in front of the US Congress. Since then, there have been increasing calls to regulate consumer rights in online media.
In 2019, Facebook keeps its leading position as one of the world's most popular social networks. As of the end of 2018, it had more than 2.3 billion global active monthly users and 2.7 billion users across all its core products taken together.
FAQ
Is Facebook a constituent of any popular indices?

Facebook is a constituent of the NASDAQ 100, S&P 100 and S&P 500 index.
What factors affect the Facebook (FB) share price?

As with any equity, quarterly earnings announcements, as well as the financial performance of the wider stock market are two crucial factors to watch when deciding how Facebook stock will perform. User metrics are a driving factor in Facebook's stock price. User metrics are important because it determines how much advertising reach the company has, as is seen in the Facebook stock history. The average revenue per user is an important metric, for instance, that measures how efficiently Facebook is monetising the number of users. As well as this, since Facebook is heavily reliant on advertising, it is particularly sensitive to the overall economy of countries it operates in. Regulation and concerns about data privacy also will have an impact on Facebook share value, which was hit drastically in the wake of the Cambridge Analytica scandal.
Who are Facebook's main competitors?

Facebook's main competitors, given that it already owns Instagram, are Twitter and Snapchat. In the social media sphere, Twitter competes for users and their engagement, but the nature of Twitter makes it less of a direct competitor than Instagram used to be. Mobile applications like Snapchat, where individuals interact through sending photos to each other, also competes for user engagement but, like Twitter, Snapchat is an indirect competitor.