Content
Why is copper important to traders?
Copper is one of the most popular and widely-used metals on our planet. The first metal used by humans thousands of years ago, copper is relatively inexpensive in comparison with precious metals.
This shiny, reddish-orange element plays a vital role in our everyday life. It is extremely important for numerous industries, including the production of generators, motors, wiring, heating and cooling machinery, plumbing and roofing.
Copper is pliable, malleable and soft. It is a good heat and electricity conductor. However, unlike its precious peers silver and gold, copper is not commonly viewed as a currency.
Today, the annual volume of copper mining exceeds 19 million tonnes. The largest number of copper mines are located in South America. However, China is the largest producer of refined copper.

Copper trading hours
CME Globex provides electronic trading for 24 hours/6 days a week:
Sunday to Friday, 18:00 – 17:00, with a 60-minute break each day.
If you choose to trade CFDs, you can follow the copper price live in US dollars with the comprehensive copper price chart on Capital.com:
Monday to Thursday, 00:00 – 22:00 and 23.00 – 00.00
Friday, 00.00 – 22.00
Sunday, 23.00 – 00.00
Why trade copper
There are several major reasons to trade copper:
The presence of the copper commodity in an equity-only portfolio can lower the volatility, due to the absence of a correlation between the metal and other asset classes.
Commodities can serve as a safe haven in times of global economic uncertainty and market turbulence, because they can retain their value.
Commodities' intrinsic value is independent from currencies. They will often hold their value, even if a currency falls during a period of inflation.
Speculation on copper spot prices
Commodities may be highly volatile, experiencing wild price swings. Trading copper CFDs is one way to try and profit from large copper price fluctuations.
Trading copper requires some consideration, due to the market's occasional high volatility and a wide choice of available instruments, from copper derivatives such as futures and CFDs, to copper mining company stocks.
The metal's importance as an industrial material makes it a popular barometer of the overall health of the world's economy. However, trading copper can result in a high degree of risk. Often referred to as Dr Copper, the commodity can still experience high volatility. The chance of making large profits goes hand in hand with the risk of large losses.
How to trade copper CFDs
One of the easiest and most popular ways to trade copper is with CFDs.
A contract for difference (CFD) is a type of contract between a trader and a broker in order to try and profit from the price difference between opening and closing the trade.
Investing in copper CFDs saves you the inconvenience of paying for copper storage. In addition, CFDs give you the opportunity to trade copper in both directions. No matter whether you have a positive or negative view of the copper price forecast and predictions, you can try to profit from either the upward or downward future price movements.
Trade Copper Spot CFD
The 10% margin offered by Capital.com means that you have to deposit only 10% of the value of the trade you want to open, and the rest is covered by your CFD provider. For example, if you want to place a trade for $1,000 worth of copper CFDs and your broker requires 10% margin, you will need only $100 as the initial capital to open the trade.
CFD trading offers great opportunities with a reliable CFD broker. Sign up at Capital.com and access the most popular global markets via our web platform or our ultimate trading app.
Why trade copper CFDs with Capital.com?
Advanced AI technology at its core: A Facebook-like news feed provides users with personalised and unique content depending on their preferences. If a trader makes decisions based on biases, the innovative News Feed offers a range of materials to put him or her back on the right track. The neural network analyses in-app behaviour and recommends videos and articles to help polish your investment strategy. This will help you to refine your approach when you trade copper.
Trading on margin: With leverage of up to 10:1 on commodities, Capital.com provides you with the opportunity to trade copper CFDs and other top-traded commodities, even with a limited amount of funds in your account.
Trading the difference: By trading copper CFDs, you don't buy the underlying asset itself. You only speculate on the rise or fall of the copper spot price. CFD trading is no different from traditional trading in terms of its associated strategies. A CFD trader can go short or long, set stop and limit losses and apply trading scenarios that align with his or her objectives.
All-round trading analysis: The browser-based platform allows traders to shape their own market analysis and make forecasts with sleek technical indicators. Capital.com provides live market updates and various chart formats, available on desktop, iOS, and Android.
Focus on safety: Capital.com puts a special emphasis on safety. Licensed by the FCA and CySEC, it complies with all regulations and ensures that its clients' data security comes first. The company allows clients to withdraw money 24/7 and keeps traders' funds in segregated bank accounts.
Top 5 copper market businesses
Buying shares of mining and exploration companies is another popular, albeit indirect way of trading copper. In times when copper is rising, investors in copper stocks can profit. A list of some of the key players in the copper market includes the following businesses:
Founded in 1912, Freeport McMoran is the second largest copper producer in the World. The company's shares are listed on New York Stock Exchange (NYSE).
The world's third largest copper producer, BHP is an Anglo-Australian international mining, metals and natural gas company. Its shares are listed on the London (LSE), New York (NYSE), Johannesburg (JSE) and Sydney Stock Exchange (ASX).
Owned by Mexican mining conglomerate Grupo Mexico, Southern Copper is the leading international producer of copper, molybdenum, zinc, silver, lead and gold. Its shares are listed on the Lima (BVL) and New York Stock Exchange (NYSE).
Founded in 1873, Rio Tinto is an Australian-British international metals mining company. Its shares are listed on the London (LSE), New York (NYSE) and Sydney (ASX) Stock Exchange.
The world's major producer of copper, based in Johannesburg. The company's shares are listed on the London (LSE) and Johannesburg Stock Exchange (JSE).
Copper price history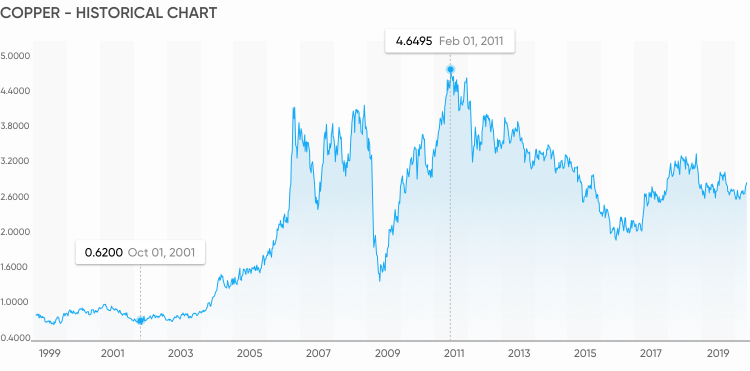 Historically, copper is subject to both investment and industrial demand, which significantly drives its price. Moreover, it may serve as a proxy of the overall strength of the world's economy.
Therefore, the major copper price drivers are:
Emerging markets serve as the main driver of copper prices. Fast-growing economies of China and India have an increasing demand for transportation and housing infrastructure, which inevitably raises the demand for copper.
The US homebuilding industry strongly depends on copper, using it in electrical wiring, plumbing fixtures, roofing and many other types of construction equipment.
Copper prices may be greatly affected by political, labour and environmental issues in South American countries, Chile and Peru in particular, which produce a great amount of the world's supply of copper.
The principle of substitution represents a high risk of investing in any commodity, including copper. When prices climb, investors start searching for cheaper substitutions. Aluminum often serves as a cheaper substitute for copper.
In terms of historical price action, copper hit its all-time high of $4,58 in February 2011. The copper commodity's record low of $1.94 happened in January 2016.
2017 was a strong year for copper — it ended near a 4-year high of $3.30, extending the bull run. In 2018, the copper price averaged at around $2.68.
Throughout 2019, copper has proven to be rather volatile, with its value fluctuating from the year's high of $2.97 in April to its lowest $2.53 in September. As of December 2, 2019, the latest copper price per pound was $2.64.
To follow the most recent ups and downs of the copper price, check out our live copper price chart.
FAQ
Where does copper come from?

According to the latest estimates, the annual mining of copper totals around 21 million tonnes. Although this commodity has been used by people for centuries, over 95% of all the copper in the world has been extracted after 1900. The largest copper mine – Escondida – located in Chile's Atacama desert accounts for 5% of the globe's total copper production.

Meanwhile, the top 10 copper mining countries include the following:

| Rank | Country | Copper production in thousand tonnes |
| --- | --- | --- |
| #1 | Chile | 5,800 |
| #2 | Peru | 2,400 |
| #3 | China | 1,600 |
| #4 | Congo | 1,200 |
| #5 | USA | 1,200 |
| #6 | Australia | 950 |
| #7 | Zambia | 870 |
| #8 | Indonesia | 780 |
| #9 | Mexico | 760 |
| #10 | Russia | 710 |
What are the top 5 industries using copper?

Copper is a multipurpose metal with a bunch of unique characteristics, which makes it popular amongst various industries. Over the recent years, the demand for copper has been steadily increasing, as the world's economy and the infrastructure growth has expanded. Therefore, the list of major applications includes the following:

Copper is widely used all over the world for electrical wiring, waterproofing and plumbing of residential and commercial buildings.

Copper's strong conductivity makes it an important component in production of electric motors.

Copper is used in integrated circuits, electromagnets, magnetrons, vacuum tubes, cathode ray tubes, etc.

Copper is a strong antimicrobial material, which is used in cookware, doorknobs, bed rails etc. It is also widely used in different musical instruments.

Glassmaking, printmaking and engraving equipment is also created with the help of copper. In addition, it is used in stills for producing whisky.