Content
What is Coinbase?
Coinbase (COIN) has attracted a lot of attention from investors since it went public on the stock market in 2021. The US-based company operates one of the world's largest cryptocurrency exchanges. It lists more than 90 cryptocurrency assets for trading.
The platform had around 56 million verified users in over 100 countries at the end of March 2021, up from 43 million users at the end of December 2020. Of those users, 6.1 million carried out monthly transactions.
The exchange is increasingly being used by institutional investors as they seek to gain exposure to cryptocurrencies on behalf of their clients.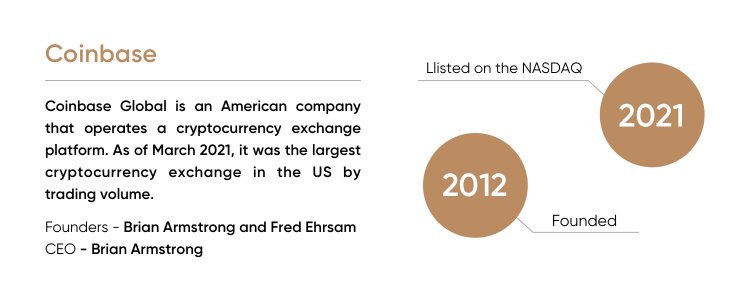 What is Coinbase's business model?
The company offers a suite of subscription services. It generates more than 96% of its revenues from transaction fees, so its financial performance depends on the trading volumes it handles.
The company operates two platforms – its basic Coinbase service acts as a wallet for users to buy and sell cryptocurrencies, while its Coinbase Pro service, which operates in the US, UK and Europe, offers a professional trading interface with more advanced features.
Customers tend to start with buying cryptocurrencies on the Coinbase platform and then go on to use its other products to stake coins and tokens to collect interest, earn savings rewards and borrow funds against their holdings.

History of Coinbase
Coinbase was founded in 2012 by co-founders Brian Armstrong, formerly an engineer at Airbnb (ABNB), and Fred Ehrsam, previously a trader at Goldman Sachs (GS). They aimed to make it easy for anyone with an internet connection to send and receive Bitcoin (BTC) securely through a simple and intuitive platform.
Early investors in Coinbase included Y Combinator, an incubator that provided startup funds, Union Square Ventures, Andreessen Horowitz, Ribbit Capital, Spark Capital, Greylock and MUFG.
Coinbase expanded beyond bitcoin in 2016, adding support for ether (ETH) – the world's second-largest cryptocurrency. It continues to add new digital coins and tokens to its platform in response to growing liquidity.
In 2018, the company launched Coinbase Ventures, an early-stage venture fund, to invest in cryptocurrency and blockchain startups. The company has since invested in more than 70 companies, including blockchain protocol developers, decentralised finance (DeFi) applications and non-fungible token (NFT) exchanges.
Coinbase stock went public on the NASDAQ via direct listing on 14 April 2021, to capitalise on rising interest in cryptocurrency trading. The company opted for a direct listing rather than a traditional initial public offering (IPO). Unlike an IPO, in which underwriters issue and price new shares, a direct listing company involves executives and other investors selling some of their shares to the market directly.
In late April, the company added support for US customers to buy cryptocurrencies on Coinbase using payments platform PayPal (PYPL). The firm also announced the acquisition of institutional data analytics platform Skew as it looks to tap into the growing market of institutional investors.
At the end of the first quarter of 2021, the company estimated it held a total of $223bn in cryptocurrency assets, representing an 11.3% market share. That included $122bn of assets from financial institutions. Coinbase estimated its first-quarter revenues at $1.8bn – more than it earned in all of 2020.
Why is Coinbase important to traders and investors?
The launch of Coinbase stock on the NASDAQ was highly anticipated by investors and traders. A strong rally in cryptocurrency prices saw bitcoin soar from $29,000 at the start of January 2021 to an all-time high above $63,500 in mid-April. That has increased interest in the cryptocurrency markets from investors with no previous holdings in the space.
Is Coinbase worth investing in now? Trading Coinbase shares offers a way to gain exposure to cryptocurrency markets without having to buy and sell individual coins and tokens, which are highly volatile. It also offers a way to add broad cryptocurrency exposure to an investment portfolio without having to take a position on a particular currency among the thousands that are available, which may not offer the best performance over time.
As cryptocurrencies gain further acceptance for financial transactions, trading activity on Coinbase is expected to continue to grow.
COIN share price history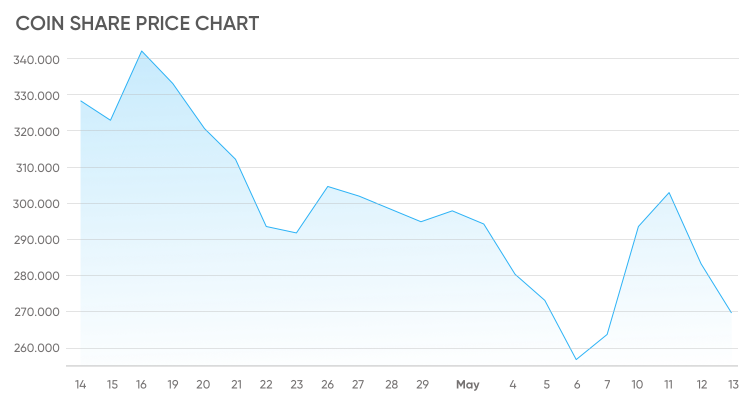 The brief Coinbase stock price history has been volatile since the stock went public. The stock opened at $350 per share and quickly spiked to $429.54, then fell back to close at $328.28 per share on the first day of trading.
The Coinbase share price moved back up to $342 on 16 April, then dropped below $300 on 22 April. The stock then moved back above $300 in late April, but resumed its decline, reaching a low of $250.51 per share in early May. The price bottomed out on 6 May, moving back towards $300 per share in the following days.
The Coinbase share value is closely connected with the movement in the prices for bitcoin and other cryptocurrencies, as higher prices attract more people to trade crypto on exchanges, while falling prices reduce interest.
How to get COIN shares
If you are trying to decide how to invest in Coinbase shares, there are two main ways to consider. If your aim is to invest in the company for the long term, you can buy the shares on the NASDAQ exchange through a share broker or dealing platform. In this case, you actually own a share in the company.
Alternatively, you can approach Coinbase stock trading by speculating on its share price fluctuations with contracts for difference (CFDs) without having to actually own COIN shares. This is considered a short-term investment or trade, as CFDs tend to be used within shorter time frames.
How to trade Coinbase shares with CFDs
A CFD is a type of contract, typically between a broker and an investor, where one party agrees to pay the other the difference in the value of an asset, between the opening and closing of trade. You are more liquid when you purchase CFDs, as you are not tied to the asset – you have merely purchased the underlying contract.
Investing in CFDs gives you the opportunity to trade COIN in both directions. You can either hold a long position, speculating that the share price will rise, or you can go short on the stock if you think the price will drop. So, regardless of having a positive or negative view of the future of the Coinbase share price, you can still try to profit from both upward and downward fluctuations.
Trade Coinbase Global, Inc. - COIN CFD
Another key difference between trading shares with CFDs and buying them from the stock exchange is the leverage that is employed. CFDs are traded on margin, which means that a trader can open larger positions with their capital. However, it is crucial to note that while leverage allows you to make bigger gains with a smaller initial investment, it also increases losses if the share price moves against your position. Check out our comprehensive CFD trading guide to learn more.
Looking for a reliable CFD trading provider to trade Coinbase stock? If so, spend just three minutes of your time to sign up and start your trading journey with Capital.com today. Try our award-winning trading platform or download our mobile app, which will become your smart CFD trading assistant.
Why trade COIN CFDs with Capital.com?
If you are looking to trade COIN shares with CFDs, Capital.com has the advantage of offering advanced features to help investors refine their strategies and enjoy the ultimate trading experience.
Advanced AI technology at its core: a Facebook-like news feed provides users with personalised and unique content depending on their preferences. If a trader makes decisions based on biases, the innovative SmartFeed offers a range of materials to put them back on the right track. The neural network analyses in-app behaviour and recommends videos, articles and news to polish your investment strategy.

Trading on margin: providing trading on margin with the help of CFDs, Capital.com gives you access to the stock market even with a limited amount of funds in your account.

Trading the difference: when investing in Coinbase shares using CFDs, you do not buy the underlying asset itself, meaning you are not tied to it. You only speculate on the rise or fall of its share price. CFD trading is no different from traditional trading in terms of strategies. A CFD investor can go long or short, set stop-loss and take-profit orders, and apply trading scenarios that align with their objectives.

All-round trading analysis: the browser-based platform allows traders to shape their own COIN stock analysis and forecasts with sleek technical indicators. Capital.com provides live market updates and various chart formats, available on desktop, iOS and Android, making it easier to analyse the fluctuations in Coinbase shares.

Focus on safety: Capital.com puts a special emphasis on safety. Licensed by the FCA, CySEC and NBRB, it complies with all regulations and ensures that its clients' data security comes first. The company allows clients to withdraw money 24/7 and keeps traders' funds across segregated bank accounts.
COIN trading hours at Capital.com
You can trade Coinbase stock on Capital.com during the regular US stock market trading hours, which are 13:30–20:00 UTC on Monday to Friday.
FAQ
Will Coinbase stock go up?

The direction of the COIN share price will depend on the transaction and subscription fees the company generates from cryptocurrency trading activity on its platform. It will also be driven by the direction of prices for cryptocurrencies such as bitcoin.
Is COIN stock a good investment?

Coinbase stock is likely to continue to see rapid price fluctuations, given the volatile nature of cryptocurrencies. Whether it is a good investment for you, however, depends on your risk tolerance and portfolio diversification.

As with any financial asset, you should do your own research on whether Coinbase stock is a good fit for your portfolio and only invest money you can afford to lose.
How do I buy Coinbase shares?

You can buy shares of Coinbase stock through a brokerage firm, or you can buy and sell Coinbase shares with CFDs on the Capital.com platform.