​​Top UK stocks: how have they fared in 2021?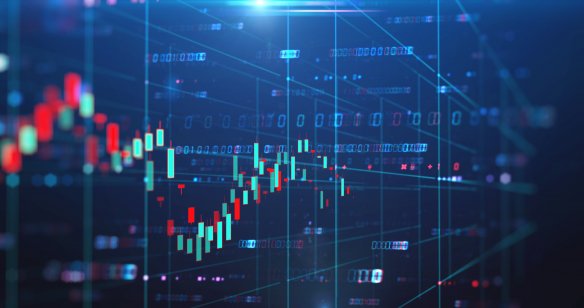 On 13 December 2021, the UK reported its first confirmed death linked to the Omicron variant of the Covid-19.
Read on as we track the UK economy by way of the stock market performances of its promising homegrown companies list.
Recent macroeconomic trends
Figures from the UK's Office for National Statistics release in November show that gross domestic product (GDP) increased by 1.3% for Q3 2021 – 2.1% below Q4 2019.
On the inflation front, the Consumer Price Index (CPI) rose by 5.1% in the 12 months to November 2021. This is the highest rise in the 12-month inflation rate since 2011, where it was recorded at 5.2%. In an unexpected move, the Bank of England (BoE) raised interest rates for the first time in three years on 16 December 2021, up from 0.1% to 0.25%.
The current rise of the Omicron variant, just in time for the holiday season, threatens to slow the economy.
Talking about the dual effect of the Omicron variant and inflation on the UK economy, Jack Leslie, a senior economist at Resolution Foundation think tank, said:
"Early 2022 is likely to be marked by acute economic pain for some parts of the economy alongside a nationwide living standards squeeze."
Compared to other G7 countries, the United Kingdom has seen the lowest growth in GDP over Q3 2021.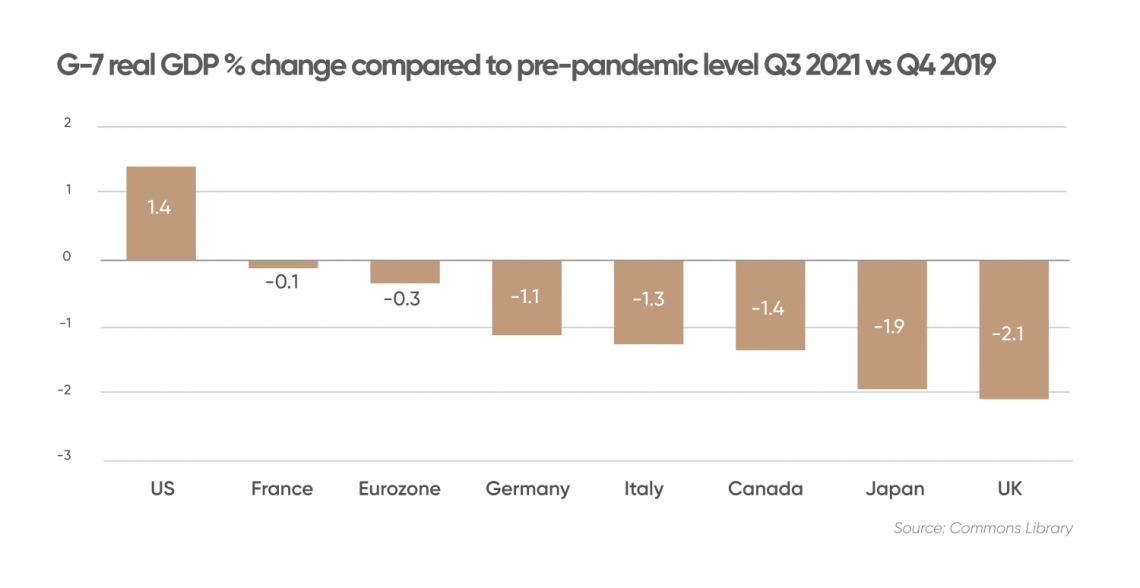 The UK stock market
In 1984, the Financial Times Stock Exchange (FTSE), aka 'The Footsie', was formed by the London Stock Exchange (LSE) in partnership with the Financial Times of London to track different segments of the UK stock market.
The most popular indices in the UK are the FTSE 100 and FTSE 250, which track the performance of the top performing UK shares. The FTSE100 is an indicator of the UK economy, whereas the FTSE 250 focuses on domestic UK companies.
At the time of writing (22 December 2021), the FTSE 100 closed at 7,297.41. Looking at the closing price of 6,571.88 on 4 January 2021, the index has rallied by 11.03%.
Which have been the FTSE's highest yielding shares? Read on as we look at what could be some notable stocks to invest in the UK.
Tracking five blue chip UK stocks
According to data compiled by CompaniesMarketCap.com, the following are some of the biggest companies in the UK, as of 21 December 2021, based on the market capitalisation metrics. Below the table, we zoom in on some of the best UK stocks.
AstraZeneca (AZN)
The global pharmaceutical and biotechnology company developed the Oxford-AstraZeneca Covid-19 vaccine.
On 21 July 2021, AstraZeneca completed the $39bn acquisition of Alexion Pharmaceuticals, a biopharmaceutical company serving patients with rare diseases. This takeover enhances AstraZeneca's presence in the rare diseases medical space.
Q3 2021 financial results revealed that the company's quarterly revenue shot up by 50% to $9.87bn. The figure included revenue from Alexion's rare diseases medicines of $1.31bn.
At a year-to-date core earnings per share (EPS) of $3.59p, the company continues to maintain its previously issued guidance for core earnings to remain between $5.05 to $5.40 a share.
On 12 November, with Q3 results out, the company's stock fell by 6.8% from the previous close of 9,444p, despite strong revenue growth. Since the start of this year, the price has risen by 15.77%, closing at 8,593p on 21 December 2021.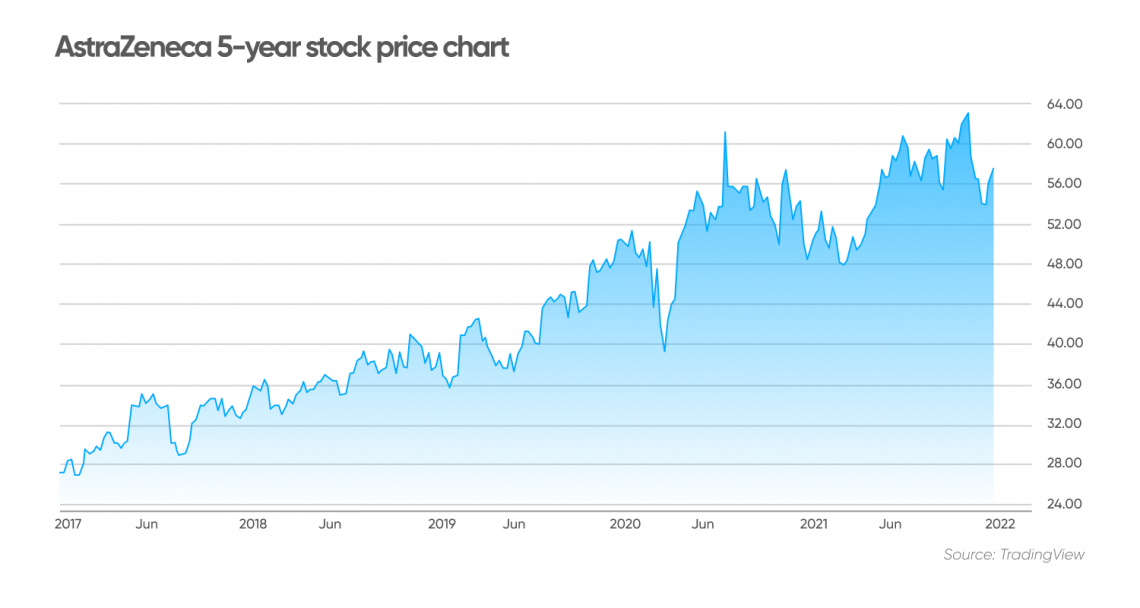 Analysts at Zacks had a consensus estimate of $0.62 earnings, which were not met by Q3 results. Morgan Stanley continued to maintain an 'overweight' rating of the stock, and UBS Group restated its 'buy' rating. On 10 December, however, TheStreet cut AstraZeneca's rating from a 'b' to 'c+'.
On 17 December, analysts at Citi reiterated their 'buy' rating. This came after the company announced its Covid-19 antibody combination, Evusheld, which it says offers a 'neutralising activity' against the Omicron variant.
Diageo (DEO)
With a market spanning over 180 countries, Diageo is a global leader in alcoholic beverages. The company holds many famous brands under its portfolio such as Johnnie Walker, Smirnoff and Baileys.
On 16 November, in a Capital Markets Day update, the company provided medium-term guidance numbers. In the first half of 2022, the company expects net sales growth of at least 16%.
For fiscal years 2023 and 2025, organic net sales growth is expected in a range of 5% to 7% and 6% to 9%, respectively. The company aims to increase its total beverage alcohol (TBA) market value to 6% in 2030. In 2020, the TBA was at 4%.
At its close price of 4,042p (23 December), the premium drink company has crossed above its all-time high 4,000 mark twice in December.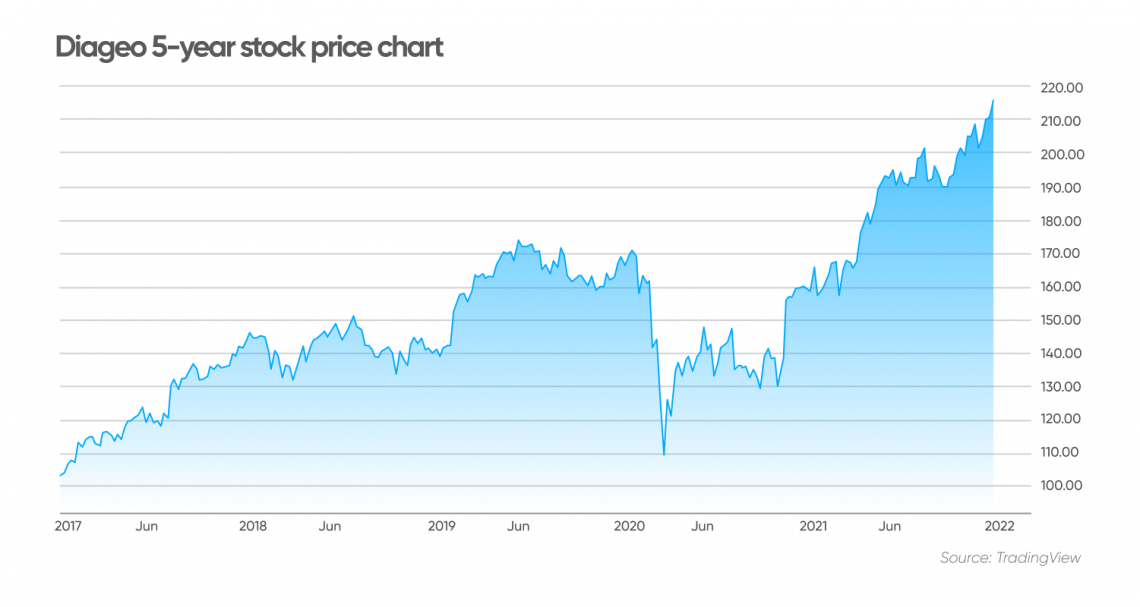 Barclays raised its target price to 4,770p from 4,400p. Jefferies raised its target to 4,800p from 4,200p. RBC has downgraded the stock to 'underperform' from 'sector perform', increasing its price target from 3,000p to 3,100p.
GlaxoSmithKline (GSK)
This British multinational pharmaceutical company was responsible for developing the first malaria vaccine, RTS,S.
GSK and Vir Biotechnology Inc have developed Xevudy (aka sotrovimab), which has shown to be effective against mutations of the latest Covid-19 variant in lab studies.
In its recent press release, the company announced that it has been granted marketing authorisation by the European Commission for the early treatment of Covid-19 in adults and adolescents.
Additionally, through its majority stake in the global specialist HIV company, ViiV Healthcare, Apretude has been approved by the US Food and Drug Administration (FDA). The treatment is the first and only long-acting injectable option for HIV prevention.
On 27 October, the company posted Q3 2021 results. Sales of £9.1bn were supported by growth of 10% and 13% in its pharmaceuticals and vaccines divisions, respectively. Strong Q3 performance has prompted the company to increase its full year guidance figures. The price rose by nearly 4% to 1,499p on 28 October, a day in the quarterly results.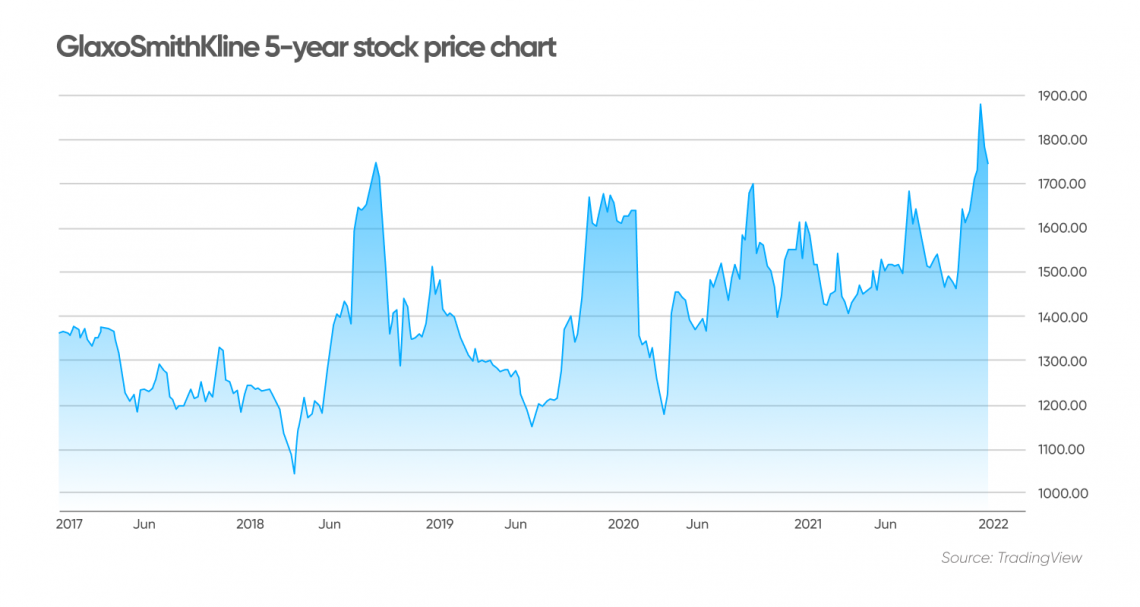 Analysts at Goldman Sachs have set a price target of $2,000p for the stock, an upside on the 23 December close price of 1,614.60. Liberum Capital has reiterated a 'buy' rating and a price target of 1,700p. UBS Group has set a price target of 1,500p.
Reckitt Benckiser (RB)
Established in 1999 through the merger of Britain's Reckitt & Colman plc and Dutch company Benckiser N.V, this multinational consumer goods company is headquartered in England. In its health, hygiene and nutrition product lines, it holds a portfolio of popular brands such as Dettol, Durex and Lysol.
On 9 September, Reckitt announced that it had completed the sale of its Infant Formula and Child Nutrition business in China to Primavera Capital Group. This divestiture played a part in the company's net revenue decline of -6.8%, as reported in its Q3 results.
Laxman Narasimhan, CEO of Reckitt Benckiser, mentioned in the Q3 highlights that the company continues to face challenges through its supply chain. Despite the headwind from cost inflation, the company's margin guidance for this year remains unchanged.
At the time of writing (22 December) the stock was at 6,272p. That's 7.67% lower year-to-date than its 4 January 2021 close price of 6,784p.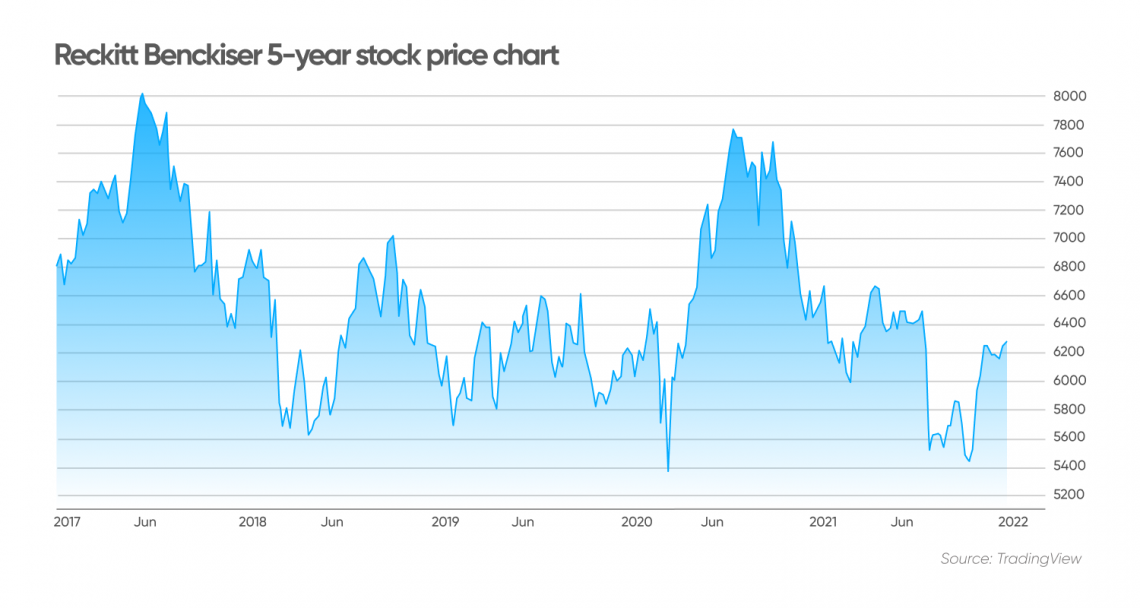 Barclays has a price target of 9,400p and an 'overweight' rating. Analysts at JP Morgan have a price target of 8,500p with a 'buy' rating.Goldman Sachs has a price target of 6,300p and a 'neutral' rating.
Prudential (PRUI)
Another FTSE 100 constituent, this British multinational company was founded in 1848 to provide loans to professionals. Today, with dual primary listings on the LSE and Hong Kong Stock Exchange, it provides asset management services, and life and health insurance.
With a primary focus on Asian and African markets, on 13 September 2021, the company completed the demerger of its US arm of Jackson Financial. On 28 January 2021, following the company making the demerger news public, the stock fell by 7.82%, closing at 1,189.56p compared to the 27 January close of 1,290.60.
Mike Wells, the Prudential CEO, commented on this demerger, saying that the company would raise new equity of around $2.5bn to $3.0bn, which would be utilised to enhance the group's financial flexibility and de-lever the balance sheet.
At the time of writing (22 December), the stock was trading at 1,262p, which is 8.81% lower than the 4 January stock price of 1,384p.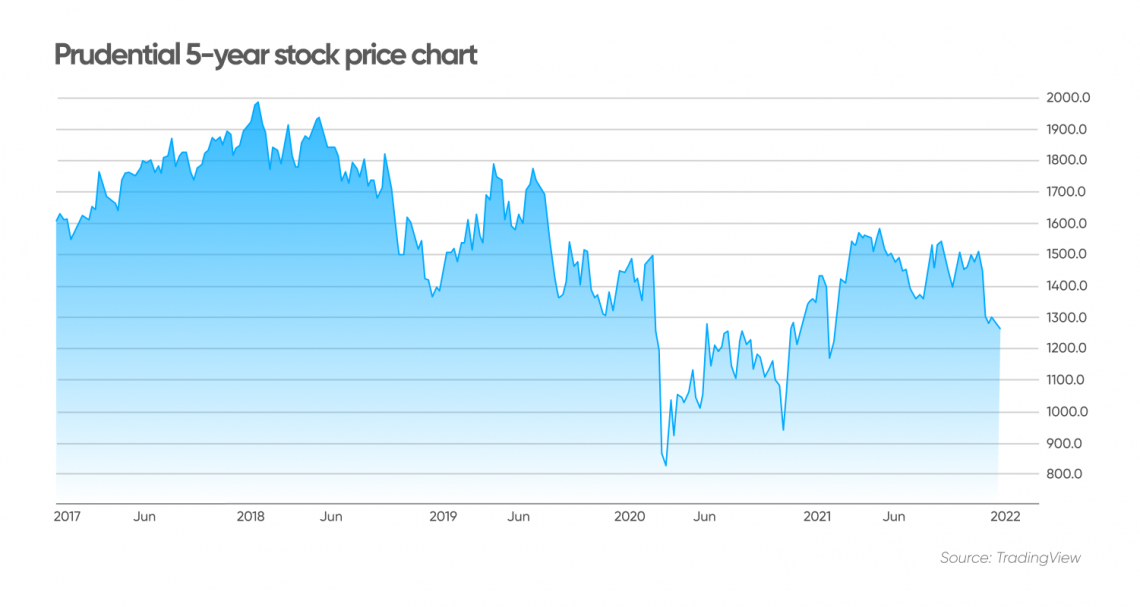 UBS has lowered its price target on Prudential to £17.20 from £17.58, while maintaining a 'buy' rating. Morgan Stanley continues to reiterate a 'buy' rating on Prudential, and has adjusted its price target upwards to 1,964p over the previous 1,764p. Citigroup has a 'buy' rating on the stock, with a price target of £18.79.
When considering whether to invest in a company's stock, you should always do your own research, considering the outlook and relevant market conditions. A number of factors dictate whether stock prices rise or fall, including the company's fundamentals and broader macro-economic factors. There are no guarantees. Markets are volatile. You should conduct your own analysis, taking in such things as the environment in which it trades and your risk tolerance. And never invest money that you cannot afford to lose.
FAQs
Which are the largest UK companies?

According to their market capitalisation, as of 22 December 2021, the five largest UK companies are AstraZeneca, Linde, Unilever, Diageo and HSBC, looking at figures published on CompaniesMarketCap.com.
Do FTSE 100 constituent stocks make for a good buy?

The FTSE 100 has grown by 11.03% year-to-date (as of 22 December). However, not all index constituents tend to outperform, so investors should always conduct their own research of each tech stock before making any trading decision for their pick of best UK stocks for 2022.
Read more: Cortexyme (CRTX) stock forecast: Can the drug maker recover?