Thoughtworks (TWKS) up 7% pre-market as Q3 beats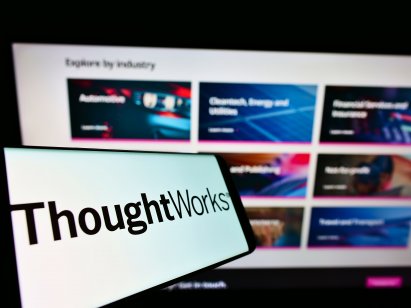 Technology consultancy Thoughtworks beat analyst estimates for its debut set of earnings despite posting a net loss largely due to $73.2m of IPO stock-based compensation expenses.
For the third quarter ended 30 September, net loss was $25.2m (£18.8m) after a profit of $21.9m a year earlier. Revenue was up 45% to $285.1m from $196.5m in the third quarter of 2020.
Excluding certain items, earnings per share were 14 cents, up from 8 cents in the prior year.
Analysts had been expecting earnings of 10 cents on revenues of $281.2m, according to figures widely available on financial news sites.
In pre-market NASDAQ trading, Thoughtworks stock was up 7% at $33.00.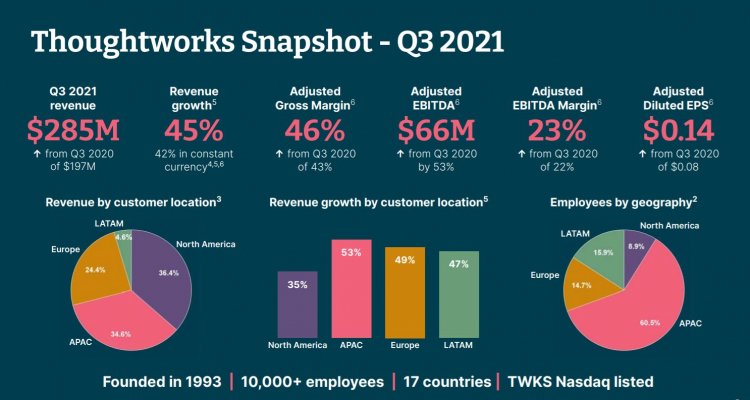 Thoughtworks beat analyst estimates for its debut set of earnings – Photo: Thoughtworks
"Our strong combination of best-in-class strategy, software engineering, design and organizational transformation expertise has made Thoughtworks a leading digital transformation partner in a large and rapidly-expanding market," Thoughtworks CEO Guo Xiao said in a press release. "We have seen positive momentum in the third quarter and expect a strong end to the year".
Q4 outlook
Looking ahead, the company expects adjusted EPS of 8 cents to 9 cents in the current quarter and revenue of $285m to $287m.
Chicago-based Thoughtworks listed in mid-September, raising net proceeds of $314.7m.
During the third quarter, Thoughtworks reported revenue growth across all of its regions, with North America growing at 35.4%, Asia growing at 53.2%, Europe growing at 49.1% and Latin America up 47.4%.
Read more: US tech stocks to boom says influential analyst