Thermal coal prices seen heading lower as record prices end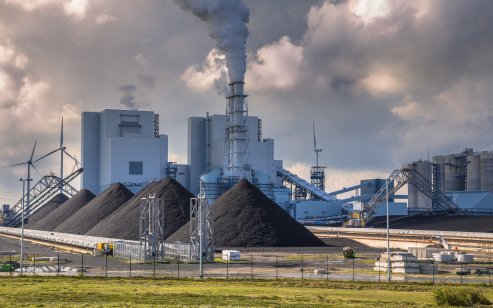 Thermal coal prices will remain volatile in the last quarter this year and until the first quarter of 2022, but prices have peaked and will head lower over the coming months as China's demand softens.
Fitch Solutions revised its average price forecast for Newcastle coal – the benchmark for Asia – to $132 a tonne from $85/tonne. Prices of power-station coal have spiked in June to October, mainly driven by the worsening energy crunch in China.
"We expect China's energy shortage to ease during the country's winter period (fourth quarter of 2021 until the first quarter of 2022) and anticipate that reduced coal imports into the country will contribute to weaker global thermal coal prices," Fitch wrote in the note on Friday.
China boosts domestic output
Chinese thermal coal prices have collapsed from record high in October as the power crunch in the country is abating after Beijing intervened with domestic coal mining and trading to boost supply.
As of 5 November, the most-active thermal coal contract on the Zhengzhou Commodity Exchange was trading at CNY1,188 ($186) a tonne, or about half of the peak on 19 October at CNY2,301 ($360.57) a tonne, according to Fitch.
China's top economic planner, the National Development and Reform Commission, has imposed a slew of measures to boost domestic supply. The country aims to increase coal mine production by 100 million tonnes in the last quarter of 2021, according to Fitch.
New measures
The measures include ordering miners to increase output at all cost; crackdown on coal hoarding and speculative trades; and issues production approval for a number of previously shut mines.
As a result, the average daily output has increased by more than 1.2 million tonnes from September to more than 11.6 million tonnes on 18 October, a new high for 2021.
"We expect that China's government will continue to boost domestic availability of coal over the coming months, which should reduce import demand and depress seaborne coal prices," Fitch said.
Energy crunch to fade
Fitch expects global energy crunch to fade in 2022, but the pace of price decline will be slower over the period than it previously expected.
The company revised up its price forecast for 2022 to 2025 by an average $17/tonne per year.
The growth of coal consumption will also slow in 2022. Fitch noted several reasons for the slowing growth of coal demand.
Slowing demand growth
To begin with, panic buying by utility firms exposed to spot prices will weaken as prices have begun spiralling down from October highs. In addition, China's demand will be dragged down by slowing heavy industrial and construction activity in the country over 2022.
Moreover, the global rebound in economic growth from the Covid-19 pandemic will fade in 2022. Fitch forecast global real gross domestic product growth of 4.2% in 2022, slowing from 5.6% in 2021.
Coal consumption growth will also be constrained by limited financing for new coal projects. The Group of Seven, in a recent summit, committed to taking steps to stop the financing of thermal coal projects globally.
"A growing problem for developers of large-scale thermal power projects is access to financing, which will become more acute with the global investment constraints on high emitters," Fitch said.
Read more: Coal extends losses as China steps up moves to curb prices