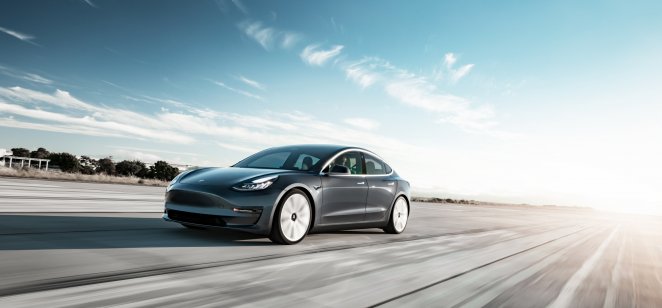 Content
The Tesla (TSLA) share price has soared by as much as 80 per cent in the past month, far outpacing gains on the broader markets. As the electric vehicle (EV) maker continues to outperform expectations, is now the time to sell short or buy into the stock in preparation for the next leg higher?
This article looks at what's behind the Tesla stock surge, and what's next for the controversial company. Scroll down for a video in which David Jones, chief market strategist at Capital.com, recaps the latest share price move and uses technical analysis to suggest a short-term trading position.
Tesla stock analysis: what has been driving the rapid rally?
Tesla shares have skyrocketed by more than 300 per cent since the start of 2020, approaching an all-time high of $1,800 per share on July 13. That was up by around 66 per cent in July alone. The price slipped back to $1,500 after hitting the peak, so does that weakness present an opportunity to buy into the stock? Or are the record numbers of short sellers correct in believing that the share price is based on hype and not reality?
Even the company's colourful founder Elon Musk has recently commented that the stock is overvalued.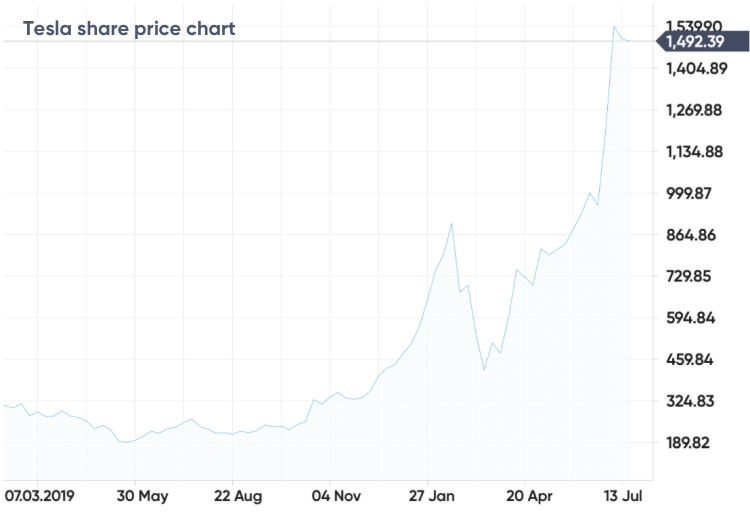 Tesla stock chart analysis shows the share price started the year around $430, falling to $361 in March during the broader stock market selloff, before rallying significantly.
Tesla is at the forefront of the adoption of electric vehicles, as governments around the world incentivise drivers to switch from fossil-fuelled engines to reduce carbon emissions and help tackle climate change. The company has created one of the most popular EV ranges and has built an extensive battery charging infrastructure, which encourages wider acceptance among consumers that had been concerned about the possibility of an EV running out of power. Tesla has also entered the renewable energy space, offering solar panel systems with battery storage for residential and commercial buildings.
But the exuberance surrounding Tesla stock has the price running ahead of itself. At the current share price, the company boasts a market capitalisation of almost $300bn. That makes it 10 times more valuable than Ford (F) and surpasses Toyota as the world's most valuable car manufacturer – while selling 97 per cent fewer cars. Investing in Tesla is a bet on its future growth and profitability. The stock trades much more as a technology stock rather than an automotive stock.
In the latest TSLA stock news, the share price gain accelerated after the company reported it delivered 90,650 vehicles during the second quarter, up from 88,400 vehicles in the first quarter and down by 4.8 per cent from the second quarter last year. Although Tesla's vehicle deliveries were lower year on year, the decline was less pronounced than losses at its competitors – with the likes of Toyota, General Motors (GM) and Fiat Chrysler (FCA) each reporting a drop in sales of more than 30 per cent.
Tesla's higher-than-expected sales could see the company report a fourth consecutive quarter of profit when it releases earnings on July 22, which would make it eligible for inclusion in the S&P 500 Index of 500 large companies on the US stock markets. Once part of the index, the stock would see further demand from institutional investors and fund managers, as well as the retail investors that have piled in.
Investors have also been looking ahead to Tesla's Battery Day, initially scheduled for the spring and now set for September, when it is expected to announce new battery technology to power its EVs. The company is expected to nearly double its EV production capacity to 1.3m units from 700,000 units currently.
Watch Capital.com's chief market strategist, David Jones, use Tesla technical analysis to set up a trade on the volatile stock.
Analyst outlook: room for further upside but cause for caution
The technical indicators in a Tesla chart analysis suggest the short term trade is to sell. The relative strength index (RSI) is massively overbought and as the stock has got ahead of itself there is a risk that it could come under some downward pressure in the short term for a steeper fall from the all-time high. But there has continued to be a short squeeze as the market has moved higher and the trend remains to the upside.
| | |
| --- | --- |
| Long position overnight fee | -0.1719% |
| Short position overnight fee | 0.1271% |
| Overnight fee time | 21:00 (UTC) |
| Spread | 0.005 |
| | |
| --- | --- |
| Long position overnight fee | -0.0500% |
| Short position overnight fee | 0.0140% |
| Overnight fee time | 21:00 (UTC) |
| Spread | 60.00 |
| | |
| --- | --- |
| Long position overnight fee | -0.0500% |
| Short position overnight fee | 0.0140% |
| Overnight fee time | 21:00 (UTC) |
| Spread | 0.00600 |
| | |
| --- | --- |
| Long position overnight fee | 0.0242% |
| Short position overnight fee | -0.0436% |
| Overnight fee time | 21:00 (UTC) |
| Spread | 0.03 |
The most immediate resistance level is the $1,795 high and if that is broken the next psychological level is $2,000 per share. On the downside, there is strong support at $1,430 per share, and then down towards $1,300 per share.

With some investors bullish on the stock and others insisting it has formed a dangerous bubble, analysts' views on Tesla stock vary wildly. Price targets from 29 analysts offering 12-month forecasts range between a low of $295 per share and $2,322 per share, for a median of $827, according to CNN Business.
Investment bank Credit Suisse last week doubled its price target to $1,400 from $700 in its latest Tesla share analysis. Research analysts Dan Levy and AJ Denham sounded a note of caution but pointed to growth expectations: "The stock seems priced for perfection, and any material hiccup could drive a correction. That said, we expect it to continue garnering attention with a number of positive catalysts ahead."
The analysts noted: "Tesla is now the world's most valuable automaker even though it will only sell ~450-500k units the year (<1% global volume). To justify the current stock price, we believe one must assume that by 2025 Tesla will sell 2.2m units (making it as large as the German luxury brands), while trading at an elevated 30x+ PE multiple.
"It tells us that the onus is now on Tesla to execute to these lofty expectations; albeit, an elevated stock price provides Tesla with a significant cost-of-capital advantage."
The Credit Suisse (CS) forecast now puts the bullish scenario for the share price at $2,300, with the bear case at $800 per share. "The primary driver is an increased volume outlook, as we now forecast 2025 volume of 1.8m units vs prior 1.2m. Tesla's plans to expand capacity, alongside a competitive advantage and a brighter outlook for EV penetration, justify the higher volume outlook," the analysts said.
The longer-term outlook remains bullish with the share price steadily increasing in Wallet Investor's forecast out to 2025. It puts the average share price in the $1,400 range for the remainder of the year, rising to $1,615 by the end of next year, $1,764 by December 2022, and $2,215 by July 2025.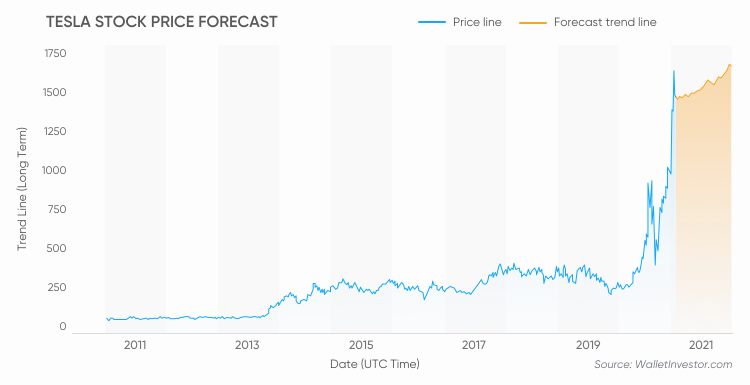 Read more: McDonald's share price forecast: Covid success, focus on consumer needs and bulging balance sheet help spur rebound