The great British supermarket auction: Selling Morrisons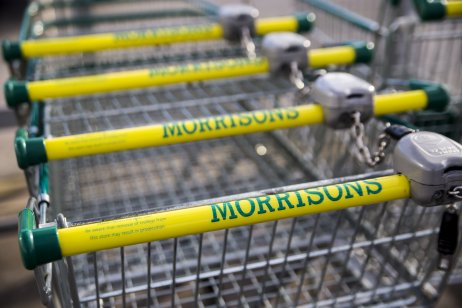 Morrisons, the fourth-largest British supermarket chain, is currently about as 'Blighty' an asset as it's possible to find on the London Stock Exchange.
Headquartered in Bradford, Yorkshire – the heart of the UK North – Morrisons is among the best rags-to-riches stories of British industry as William Morrison, an egg-and-butter stallholder, set the scene for his son Ken to turn the business into a prized asset.
The company, however, is now about to be sold into foreign hands after 122 years of Yorkshire heritage.
US private equity groups are preparing to slug it out at an auction on Saturday, governed by the Takeover Panel, which oversees mergers and acquisitions (M&A) activity, to see which lucky prize winner will take the trophy back to New York.
On the eve of Saturday's sale, we take a look at the players, how the auction process will work and why Morrisons is a prize worthy of going into battle for.
The players
Clayton, Dubilier & Rice (CD&R) is a private equity firm based in New York that was founded in 1978. The company has managed more than $30bn (£22.2bn, €25.9bn) worth of assets, in around 90 businesses or so.
The firm presently holds the highest bid on Morrisons, which has been recommended to shareholders by the supermarket's board of directors. At 285p a share, CD&R's offer values Morrisons at nearly £7bn. It is being advised by Terry Leahy, former CEO of rival British supermarket chain Tesco.
Fortress Investment Group, another New York-based private equity firm, which is backed by Japanese conglomerate SoftBank, is leading a consortium of investors. The company was founded in 1998 and was the first publicly traded private equity group when it floated on the New York Stock Exchange in 2007.
The Fortress consortium's last bid in early August was for 272p a share, valuing Morrisons at £6.6bn.
The timeline
June
19 – Morrisons rejects CD&R's original offer of 230p a share.
July
3 – Fortress offers 252p a share, which Morrisons' board agrees to recommend to shareholders.
5 – Apollo Global Management, a third private equity group, says it may enter the ring, but two weeks later says it will not bid, but may join the Fortress consortium.
27 – Morrisons' biggest shareholder, Silchester, which has a 15% holding, says it will not support the Fortress offer. Over the next few days, shareholders with a combined 20% stake refuse to back the Fortress offer, saying it does not reflect the true value of the company. Three-quarters of shareholder approval is needed for a deal to be sanctioned.
August
6 – Fortress improves its offer to 272p a share. Morrisons' board now agrees to recommend this offer to shareholders.
19 – CD&R sweetens its offer to the current, board-approved, 285p a share.
September
29 – Morrisons announces that the outcome of the bid battle will be settled by an auction scheduled for Saturday, 2 October.
The auction
And so, to the auction itself. The Takeover Panel will oversee the auction process, which involves up to five rounds of bidding solely in cash terms. If there is no further bidding, CD&R's current offer will win by default.
If a higher bid emerges in round one, the rival bidder may raise its offer in the following round, and so on until the fifth round, where both parties may revise their offers.
To prevent any likelihood of equal bids being made, in the fifth round Fortress must make its offer an even number of pence per share and CD&R must bid in an odd number of pence.
Morrisons is then required to announce and recommend the winning bid on Monday.
The prize
But why are these US private equity firms going to such lengths to win a Bradford, UK-based supermarket chain? The answer is simple: it is a relatively cheap stock that has fared well during the pandemic as grocers' profits soared.
Notwithstanding its value as a business, the buyers will also have a keen eye on its property portfolio, which is estimated to be worth around £8bn – more than the offer price for the entire company.
Indeed, when Asda was sold to the Issa brothers and private equity firm TDR Capital, most of the cost of the deal was funded by using Asda's property assets as collateral to borrow the cash.