The electric vehicle revolution is running out of road and cash
By Macrodesiac
08:04, 23 November 2022
Subscribe to Weekly Highlights
The major market events for the week ahead right in your inbox.
Subscribe
Content
The boom in electric vehicle uptake over the past few years has been remarkable. In the first half of 2022, 4.2 million electric vehicles were sold worldwide. That figure represents an increase of 63% compared to the first half of 2021 according to Canalys estimates.
The electric vehicle revolution is well underway, with established manufacturers such as Tesla (TSLA), Toyota (7203) and Volkswagen (VOW3) leading the pack on sales. But trouble lies ahead, especially for those who were late to the production party.
Tesla (
TSLA
) share price chart
Looking at electric vehicle share prices, 2022 has already been a tough year. Even the best performers are down by 45% year to date.
What is your sentiment on TSLA?
Vote to see Traders sentiment!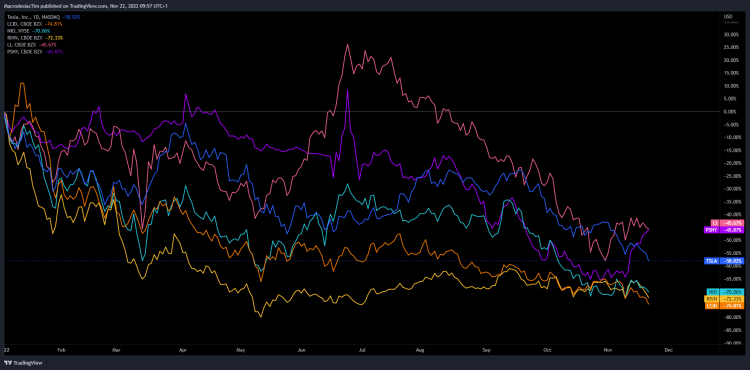 Soaring production costs
Blame can be attributed due to a combination of factors. One of the largest is simply cost. Raw materials and manufacturing costs have increased since the pandemic. Lithium, a key battery component, has more than doubled in price this year.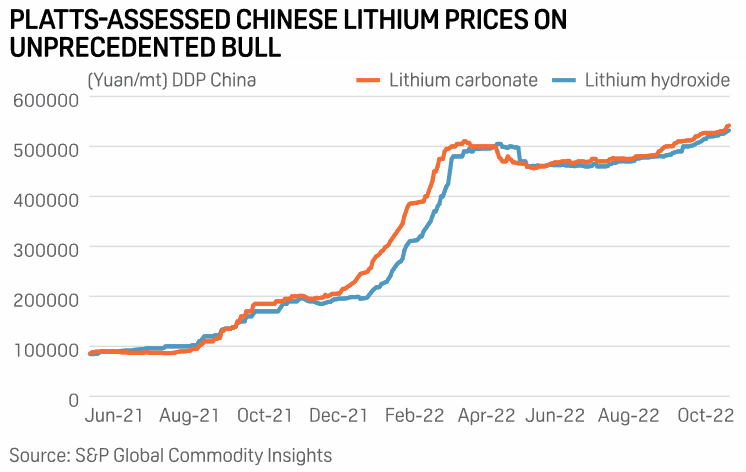 Higher costs across the board leads to higher sale prices. S&P Global Mobility has been tracking changes in US vehicle pricing. The increasing costs, especially of battery metals, is making electric vehicle pricing far less competitive compared to combustion engines: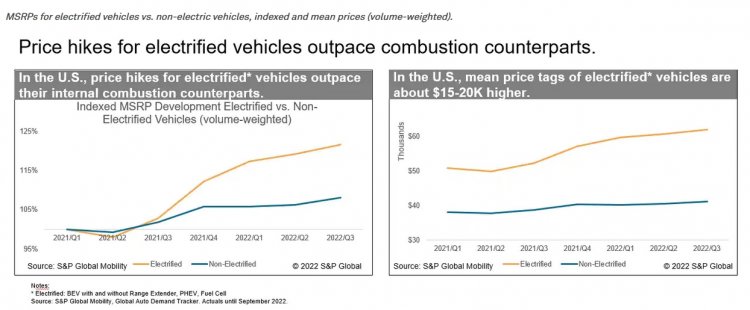 All of which means profits are under pressure. Or they would be, if EV makers were actually profitable.
Unfortunately, most aren't. Take Lucid (LCID) for example. The company's net loss for the third quarter rose to $670.2m. This rate of cash burn is simply unsustainable. Consider what it means in real terms too. The company proudly reported 'record quarterly production of 2,282 vehicles and deliveries of 1,398'.
Lucid (LCID) share price chart
Massive losses incurred just to deliver 1,398 vehicles. Yes, it's a step in the right direction, but that's not even 1% of the electric vehicles sold in the US, let alone globally.
It's a race against time to ramp up production now. Lucid's attempts to reassure investors aren't very reassuring.
The company says it has enough cash to sustain itself through to Q4 2023, while also looking to raise an additional $1.5bn from stock sales. At the current pace of loss, another $1.5bn wouldn't even get it through another three quarters.
The sales pipeline is weakening too. Lucid's reported reservations fell from 37,000 to 34,000 in the quarter. Customers are cancelling orders amid longer waiting times and price hikes.
That already sounds bad for Lucid, but the situation is far worse for some of the smaller startups. Faraday Future Intelligent Electric announced on Monday that there's substantial doubt over their ability to continue as a going concern.
Electric truck firm Lordstown Motors issued a similar notice last year. The company is limiting production of their Endurance pickup truck to minimise losses until material costs fall. They also sold a near 20% stake to iPhone assembler Foxconn for up to $170 million.
The Production Paradox
Lordstown's production cuts don't solve the profitability problem. The business model for electric vehicles largely depends on economies of scale. The higher the production numbers, the cheaper the cost per vehicle.
It took Tesla 17 years to finally turn a profit. Elon Musk famously said that the company almost failed when bringing the Model 3 into mass production.
| | |
| --- | --- |
| Long position overnight fee | -0.0086% |
| Short position overnight fee | 0.0004% |
| Overnight fee time | 22:00 (UTC) |
| Spread | 1.5 |
| | |
| --- | --- |
| Long position overnight fee | -0.0166% |
| Short position overnight fee | 0.0059% |
| Overnight fee time | 22:00 (UTC) |
| Spread | 0.7 |
| | |
| --- | --- |
| Long position overnight fee | -0.0165% |
| Short position overnight fee | 0.0059% |
| Overnight fee time | 22:00 (UTC) |
| Spread | 2 |
| | |
| --- | --- |
| Long position overnight fee | -0.0166% |
| Short position overnight fee | 0.0059% |
| Overnight fee time | 22:00 (UTC) |
| Spread | 1.9 |
However, this mass production was a big leap forward. Not long after this, in 2020, Tesla finally turned a profit. Then it further expanded into China, producing over one million vehicles worldwide in 2021.
Along with the regulatory credits (which generated a cool $1.46bn in 2021), Elon Musk's outfit ended 2021 with a net income (profit) of $5.51bn.
As the first innovator in the Electric Vehicle space, Tesla was given opportunities and patience that are unlikely to be afforded to the new breed of EV upstarts.
Cost of Capital
One massive advantage for Tesla was low, stable interest rates for much of its development (cash burn) period. Practically zero interest rates from 2009 to 2016.

Investors were happy enough to fund Tesla's innovation. With limited options to earn returns in safer assets such as government bonds, why not back the next big thing?
Now inflation's running hot, and US interest rates are expected to hit 5% or higher in 2023. All of which increases the risk-free rate – a term used to describe the return that investors can expect for simply parking cash in deposit accounts rather than investing in new ventures, stocks. Generally anything towards the riskier end of the investment spectrum.
Which makes capital harder to obtain for cash-burners such as new EV makers. Even if investors can be convinced to splash the cash and hope for the best, the lending rate is likely to be far higher.
Competition
Again, compared to the relative serenity of Tesla's development, today's EV innovators are working in a far more competitive environment.
Not only are they coming up against Tesla as an established leader to dethrone, they're also competing with the advances made by established legacy automakers such as Ford, GM & Volkswagen.
Take a look at the US market. Cox Automotive reported that over 200,000 electric vehicles were sold in Q3 2022. This visual by Electrek puts those sales into context: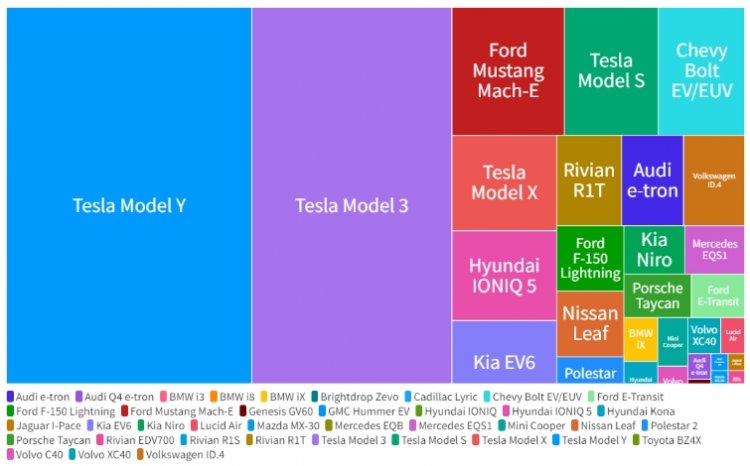 Aside from Tesla, who's gaining the foothold in this market? Legacy automakers are dominating the chasing pack. The smaller startups have their work cut out to compete.
Established car firms already have production facilities, supplier relationships, income from ICE sales, cash on hand. The advantages are numerous. Legacy firms have already earmarked hundreds of billions for EVs, battery development and production into 2030.
From a market perspective, there are signs that investors are starting to pick the likely winners and losers. Until recently, electric vehicle adoption was a wave for investors to ride. The rising tide was lifting all boats and EV stocks would largely rise and fall together. Those times look to be over. Darwin's law is coming to the fore. Survival of the fittest. The strongest balance sheets, established production lines and the simple ability to scale and turn a profit are likely to be defining factors. Higher interest rates and a saturated, highly competitive market are huge hurdles to overcome for the new generation. Many are simply not going to make it.
Related reading