Tencent Ubisoft purchase: Implied valuation doubles UBI share price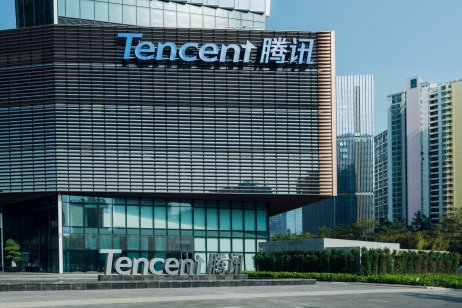 Tencent's (0700) investment in video gaming company Ubisoft (UBIP) has understandably caught the eye of investors.
Ubisoft, the developer of Assassin's Creed is still under the control of the Guillemot Brothers (via a holding company) and under the terms of the deal, the brothers will remain in control, and Tencent will not have any operational veto rights.
The Chinese tech giant will pay €200m to buy an indirect stake in Ubisoft at an implied value of €80 per share and invest a further €100m in the holding company. The French-based, Euronext-listed UBI, is currently priced around €42 per share.
Tencent share price chart
While the Ubisoft deal is only a small one in value terms, it further emphasises the consolidation that's currently sweeping the gaming industry.
Tencent has been focused on strategic overseas acquisitions for some while. It recently purchased a stake in Japan's FromSoftware, producer of worldwide hit Elden Ring. And in 2021, it spent $1.26bn acquiring UK-based game developer Sumo Group.
And Chinese firm NetEase (NTES) recently bought out Paris-based Quantic Dream, (it had previously held a minority stake since 2019). Another example of a Chinese business extending its footprint into Europe.
Earlier this week, Capital.com covered the latest developments in the proposed $68.7bn (£59.4bn) takeover of Activision Blizzard (ATVI) by Xbox-maker Microsoft (MSFT).
In this instance, it is anything but a done deal as the UK Competition and Markets Authority (CMA) has expressed concern that the acquisition could limit competition on the cloud gaming market.
The UK watchdog has confirmed a phase 2 investigation will take place, and an independent panel will examine the proposed merger in more depth.
If the CMA ultimately approves the takeover, it would certainly boost Microsoft's position in a hugely competitive market alongside powerful rivals such as Sony and Nintendo.
What is your sentiment on 0700?
Vote to see Traders sentiment!
Continued acquisition
Whether the Activision takeover is given the green light or not – there is every likelihood that acquisitions in this sector will continue.
Names that have continued to attract interest in this space include Asobo Studio – producers of A Plague Tale and Poland-based Techland which produces acclaimed titles such as Dying Light and Call of Juarez.
Techland has repeatedly been linked with Microsoft with regards to a potential acquisition, but the Polish company has so far played down any prospects of a deal insisting it wants to remain an independent business.
Of course, as the proposed Activision deal and Ubisoft purchase proves, the large companies have deep pockets and many of the smaller names need financing to grow.
While private equity and an 'independent ethos' might be the preferred option in some cases, the likes of Microsoft and Tencent are always capable of making huge offers that are hard to refuse.
Marketbeat currently rates Tencent a 'hold' with two out of six analysts seeing the stock as a 'buy'; three as a 'hold' and one as a 'sell'.
For Microsoft, the consensus rating is a 'moderate buy' with 31 of 33 analysts seeing the stock as a 'buy' and two as a 'hold'. The consensus price target is $334.31.