Tech start-up taps into Indonesia's $300bn small shop sector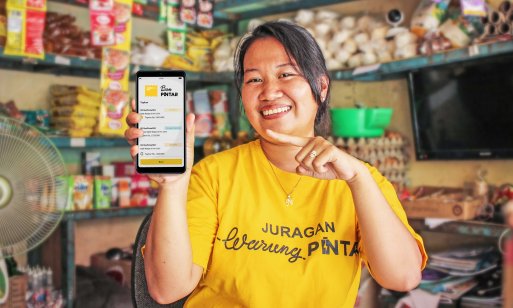 With average dimensions of just 15 square meters, Indonesia's warungs may be small in stature but these roadside stalls play an oversized role in Southeast Asia's biggest economy with consultancy firm North Ridge Partners estimating that they contribute nearly 80% of the country's $380bn annual retail sales.
That is roughly eight times the $37bn generated from online shopping.
Jakarta-based start-up Warung Pintar is looking to bring technology to the network of warungs across the country, hence its name which translates into English as "smart shop".
Ride-hail driver hubs
The firm started its journey in 2017 by offering pre-fabricated, bright yellow carts and stalls with Wi-Fi connection and charging stations; added extras designed to entice drivers of Indonesian ride-hailing services such as Grab and Gojek.
Warung Pintar enables shop owners to restock their shelves without having to leave their kiosk. In contrast, in the predigital age it could take these warung owners up to six hours to restock via several agents and sub-wholesalers.
In 2020, Warung Pintar boosted its network of local wholesalers, offering the chance to supply to shops within 5-10km radius, many of which are new clientele for the wholesalers.
A fundamental solution for warung owners
That increased the number of shops and wholesalers within Warung Pintar's ecosystem, from around 5,000 in 10 cities at the end of 2019 to over 500,000 across 200 cities and towns across Indonesia today.
Warung Pintar's co-founder and CEO Agung Bezharie Hadinegoro told Capital.com that the start-up is targeting to increase the number of shop networks to one million by 2022 and expand the supply chain well into the last-mile delivery through artificial intelligence software.
"After three years of deep-dive into warungs, we realise that to create a digital solution for them, we cannot grow without involving others," he said. Agung says that Warung Pintar has transformed from "yellow carts with Wi-Fi" to "fundamental solution" for warung owners.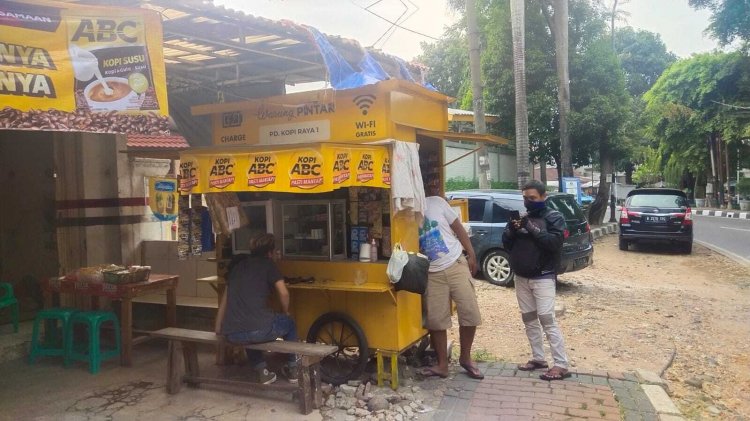 Panji Anom (in shorts) at his Warung Pintar kiosk - Photo: Andreas Ismar
Getting Bizzy
Among brands that it cooperated with are Reckitt Benckiser, which produces soaps and detergents, and Coca-Cola Amatil, the local unit of the US brand.
"By cooperating with wholesalers and brands, as well as our network of 50 warehouses and depots, Warung Pintar can offer comprehensive digital solutions for a more efficient supply chain, more transparent distribution process, with access to finance and placement of brand advertisement for additional income for warungs," Agung says.
As part of this drive, Warung Pintar acquired Bizzy earlier this year. Bizzy enables companies to track distribution of their goods and get data on local demand and supply trends.
Digitalisation drives price competition
"Warungs are a vital channel for brands and Fast Moving Consumer Goods partners as they distribute over 70% of products to end consumers. It is imperative for brands and FMCG companies to give swift and good services to warung owners," says Agung.
"Digitalisation also allows warung owners to pick quality products at transparent and competitive prices that can boost warung income by up to 40%," he adds.
Panji Anom is certainly happy with Warung Pintar. He opened up a yellow-livered stall in December 2019 and within six months he had attracted over 40 ride-hailing drivers as regulars.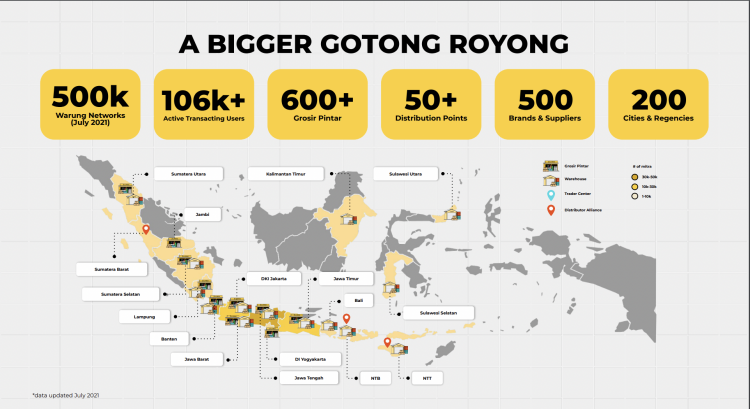 Warung Pintar coverage area - Source: Warung Pintar
A happy customer
Panji started off with just IDR900,000 (around $60) to stock up cigarettes, instant coffee and noodles, and a cart provided for free by Warung Pintar. Within six months he upsized to a 3mx5m kiosk which gave customers a bigger space to sit down and have chat, which in turn led to more clients.
The 43-year old Panji is happy with the deal.
"The cigarette products in the app are not extensive. But, my main motive when opening up was to meet more people and make new friends, as for the profit, I don't really calculate the margins, but there's enough to pay for store rent, stock up goods, and when my children needs to buy books and other school materials, there's enough to cover it all," the father of three children said.
Read more: Indonesia's finance minister warns of Evergrande's "ripple" effect