TBC Bank (TBCG) posts profit rise on higher operating income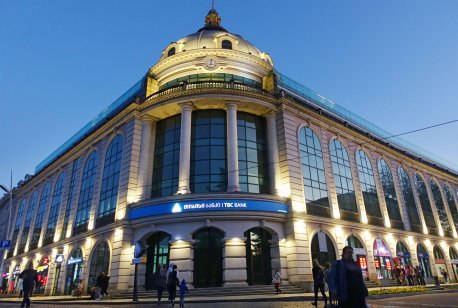 Shares in TBC Bank were up on Thursday morning as it reported a rise in third-quarter profits, driven by an increase in operating income from all of its revenue categories, further supported by recoveries in loan provision charges.
The Georgia-headquartered lender said its net profit in the third quarter and first nine months of 2021 amounted to GEL207.1m ($66.2m), up by 35.8% year on year, and GEL610.5m (almost triple year on year) respectively.
"The growth was driven by increased operating income spread across all revenue categories, further supported by recoveries in loan provision charges. As a result, our ROE [return on equity] for 3Q and 9M stood at 24.1% and 25.3%, respectively," the bank said.
Moreover, the results were backed by "solid capital levels", which allowed for the resumption of dividend payments, the bank added.
Georgian banking franchise
In a further breakdown, the group said its Georgian banking franchise had maintained steady growth across all its business segments – and said its loan book increased by 12.6% year on year in constant currency terms, mainly driven by the corporate and investment banking (CIB) and micro, small and medium enterprise (MSME) segments, which translated into a 38.4% market share as of 30 September 2021.
"Over the same period, our deposits increased by 20.0% in constant currency terms. As a result, our market share in total deposits amounted to 40.1% as of 30 September 2021. We hold the number one position in the market in terms of both loan and deposit market shares," the bank said.
What is your sentiment on TBCG?
Vote to see Traders sentiment!
Uzbek bank
The group said its Uzbek bank (TBC UZ) continued to expand its operations having secured strong international financial institutions (IFI) support.
"In September, we entered into a partnership with the International Finance Corporation (IFC) and the European Bank for Reconstruction and Development (EBRD). Under the terms of the agreement, by the end of 2021, the IFC and the EBRD will, subject to certain conditions, each invest $9.4m into TBC UZ in exchange for up to a 20% equity interest each. TBC PLC will retain 60% ownership of TBC UZ," it said.
It added that, as of 31 October 2021, the number of registered and active users of TBC UZ's digital banking app reached around 785,000 and 170,000, respectively.
"We already cover 25 regions of the country through our 33 customer acquisition points and eight showrooms. At the end of October 2021, the bank's deposit portfolio amounted to GEL115.0m, while the loan book stood at GEL59.8m," it added.
Read more: Brent crude falls below on talk of US reserve release