Sustainable farming offers bright future for the markets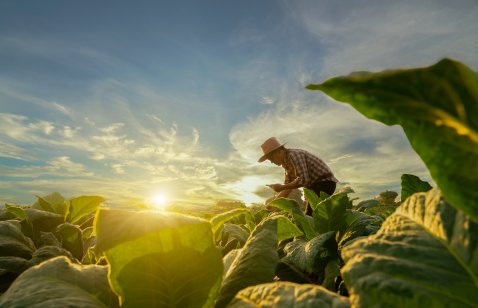 Now that COP26 has come to an end, the discussion around climate change is still high on the agenda of governments and financial markets. Bee Vectoring Technology (BEVVF) has pioneered a revolutionary system that replaces chemical pesticides with natural crop protection, and the Canadian company has seen huge growth in revenue over the last 12 months.
Since its arrival in the financial markets in 2015, its stock price has grown by over 36%, and with a market cap of over $25m, BVT is certainly reaping the benefits of a more environmentally focused world.
Bee Vectoring Technology describes itself as a market disruptor with a "significant global market opportunity in the $240bn crop protection and fertiliser market".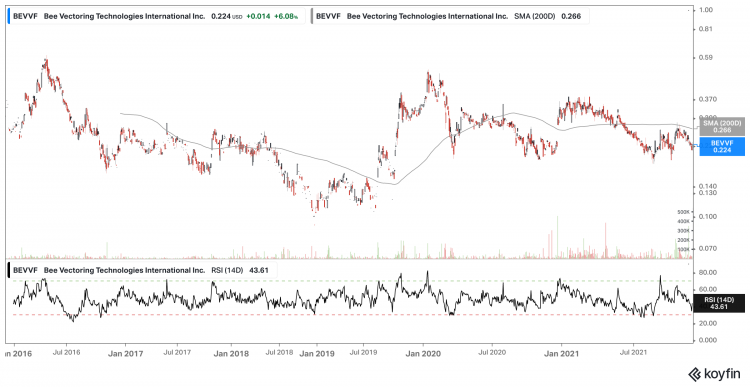 BVT share price – Credit: Koyfin
Capital.com caught up with BVT's CEO Ashish Malik to discuss the future of the company, the industry, its challenges and its successes.
What are your future forecasts for growth and revenue?
The significant milestone for us occurred in 2019 when we got US regulatory approval that allowed us to go into revenue in 2020. In 2021, we posted significant growth versus 2020. We increased revenue by 50%, we increased from two markets to eight, we grew our customer base and retained 100% of the market. So, very solid growth in 2021, and if we look to 2022, we will have at least 50% growth in revenue and open new markets in the US.
You recently announced your first commercial agreement with Biogard. Can you tell us more about this and how important it was for the business?
Biogard is a significant agreement. It is our first commercial agreement and shows we can get the attention of the industry. It also represents our first path to revenue in Europe. We are already commercial in the US and getting regulatory approval in Europe is lengthy, so this allows us access to the market. Thirdly, our technology is built around building biological products; this validates that the platform can be used for multiple products. The product that we have access to through the Biogard agreement uses different pesticides, so it means that our solution can be expanded.
What key country markets are you focusing on now and why?
US and Europe are vital; every market is important as the application for this technology is worldwide. The US is where we started, and Europe is strategic because European consumers are asking growers to change their practices and reduce the chemicals being used on farms. The European consumer is even more green than the US consumer. But it's not just Europe and the US – we are expanding by growing our market in Mexico, Latin America, Africa and Asia. If you ask me this question again in five years, we hope to be in Australia, New Zealand and others.
You launched your IPO in 2015 and did significant financing this year. What did you use the investment money for and why?
Those funds were used for commercialisation in the US. We built out our sales team and did some additional trials that offered us new revenue opportunities.
How do you see the industry changing and what are your thoughts for the future?
It's clear that agriculture is one of the biggest users of fresh water and producers of greenhouse gas emissions, so there is an opportunity to reduce its environmental footprint. But, of course, we still have a growing population and more mouths to feed, so these technologies cannot come at the expense of reducing yields. We must find ways to increase productivity while reducing the environmental footprint. Our product fits into the future of that sustainable umbrella. The future for sustainable agriculture is very bright.
How will your strategy prepare you for the ever-changing environment?
Our strategy is straightforward: we continue building out our business, we prove it works and then bolt on market expansion, which is geographic expansion. We take what we have learnt in the US and duplicate it. And then there is portfolio expansion.
Read more: Aussie wheat output to reach record high in 2021/2022