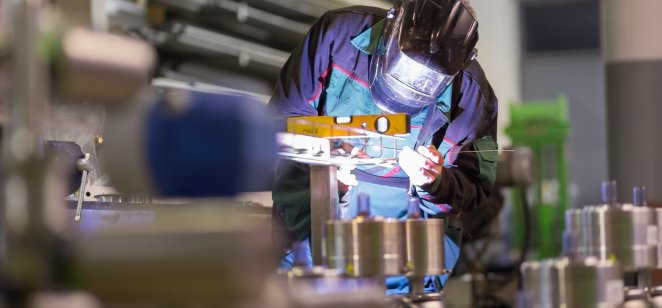 Manufacturing output in the UK rose in August, albeit to the weakest extent since February, as supply chain issues slowed growth and resulted in marked increases in input prices, according to new data released on Wednesday.
The seasonally adjusted IHS Markit/CIPS Purchasing Managers' Index (PMI) fell to a five-month low of 60.3, below July's 60.4. However, it beat expectations of 60.1.
It comes as manufacturers try to recover from the knock-on effect of the COVID-19 pandemic and Brexit.
Output gains
However, companies still achieved solid gains in output, new orders and employment, according to the survey.
It found that growth eased particularly sharply at intermediate goods producers in August. Companies linked higher output to new order gains and the ongoing process of re-opening global economies.
Meanwhile, incoming new business reflected the increased inflows from both domestic and overseas markets. On the export front, manufacturers reported increased orders from clients in Europe, China, the US, Asia and South America.
Manufacturing outlook
The outlook for the UK manufacturing sector also remained positive in August. Almost 66% of companies indicated that they expected output to rise over the coming year, compared with only 4% forecasting a decline.
"Confidence rose to a three-month high, reflecting expectations of continued economic revival, stronger global demand, investment plans and hopes that current supply issues would either lessen or even be fully resolved," said the IHS Markit report.
Rob Dobson, director at IHS Markit, confirmed that severe disruptions to supply chains and raw material shortages eroded the growth momentum of UK manufacturing in August. "Although solid gains in output and new orders were achieved, companies reported that production, delivery and distribution schedules were experiencing substantial delays," he said.
What's behind the disruption?
"A wide range of factors contributed to the disruption, including port capacity issues, international shipping delays, the re-imposition of COVID restrictions at some key points in global supply networks and ongoing issues post-Brexit," added Dobson. "With all of these factors likely to persist for the foreseeable future, manufacturing could well see a further growth slowdown in the coming months."
He also noted how the impact of supply issues has fed through to rapid price inflation. "Rates of increase in both input costs and selling prices remained close to record highs in August, as rising demand chased constrained supply and companies moved to pass on price increases to clients and consumers alike. This is affecting most markets, but especially autos, metals, food stuffs and electronics," said Dobson.