Superdry reports trading improvement but cautions on footfall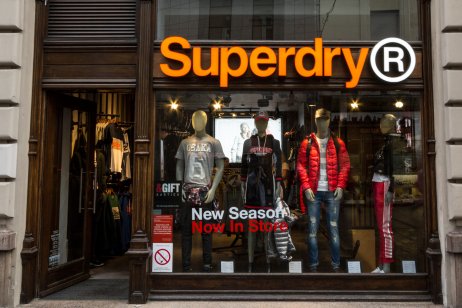 Superdry has posted results showing an improvement in trading, despite cautioning that footfall in stores remains "subdued." The fashion retailer said group revenue for the 18-week period ending 28 August was up nearly 2% on the same period a year ago.
But revenue was down around 30% on the same period two years ago, highlighting the impact of the pandemic.
Current trading
The trading update for the 18 weeks since 24 April came alongside preliminary results for the year to 24 April 2021,. The fashion retailer returned to revenue growth in the final three months of its fiscal year as the business began to recover from a coronavirus-induced slump.
Stores revenue in the 18 weeks between April and August was up about 33% while ecommerce revenue was down approximately 34% year on year.
However, stores revenue was about 37% lower than it was two years ago, with ecommerce revenue 8.2% higher.
Turning the corner
"Like most brands with a physical presence, our performance over the past year has been impacted by the significant disruption of Covid-19, but I am really proud of how the business has stepped up and returned to revenue growth in Q4. Store and wholesale revenues are recovering well despite continued subdued footfall, and ecommerce margin is benefitting from our return to a full price stance," said CEO Julian Dunkerton.
Dunkerton said he was excited the businesses was "turning the corner," with the company having sharpened its strategic focus on the key areas of brand and product.
"Trading has been encouraging since the reopening of our stores, and we'll take a big step forward as a brand with the opening of our global flagship store in Oxford Street [London] later in the Autumn. Whilst a lot remains uncertain, I'm looking ahead to 2022 and beyond with real confidence as we deliver our reset," he added.
Loss narrows
Pre-tax loss narrowed for the 2021 fiscal year, the 12 months to April 24, to £36.7m. It was £166.9m the year before.
However, total revenue slid by around 21% to £556.1m, reflecting the significant impact from Covid-19-related disruption. Stores lost 39% of trading days over the 2021 financial year. In the previous year, just 10% of trading days were lost.
Recovery
Superdry said it expected a recovery in total revenue during the 2022 financial year to be driven by better store trading from gradual improvement in footfall, though cautioned footfall would likely be behind historic levels.
"We expect margin to increase across all channels as we transition towards a full price stance, supported by further mix benefits from the switch back into stores," added Superdry.
Superdry shares are up about 30% year to date.
Read more: Superdry sues ASOS claiming online retailer copied Japan brand