Stronghold Digital Mining strikes gold on opening day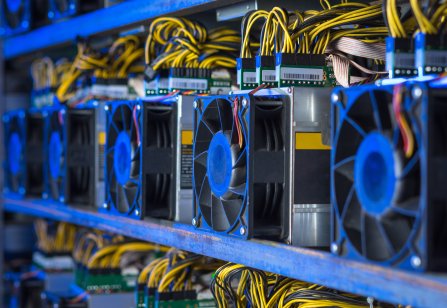 Stronghold Digital Mining struck gold Wednesday on its upsized IPO.
New York-based Stronghold's share price mushroomed more than 65% as the company began trading on the Nasdaq Global Market.
The surge came as Bitcoin achieved a record price, soaring above $66,000 (£47,738), and only a day after the first US exchange-traded fund, ProShares, debuted in New York.
Stronghold offered 6.67 million shares of class A common stock at $19 per share, expecting to receive $114.8m in net proceeds, or $132.5m, if the underwriters fully exercised their option to purchase additional shares.
Original share price range was $16 to $18
The company upsized its original plans to raise $100m by offering 5.9 million shares at a range of $16 to $18.
Stronghold strives to allay fears about the long-term environmental impact of cryptocurrency. The company operates about 3,000 crypto asset mining computers housed at a Scrubgrass, Pennsylvania plant powered by coal refuse.
The region is a long-time heartland of America's coal mining industry. Pennsylvania classifies coal refuse as a second-tier alternative energy source.
Stronghold believes the facility provides an advantage over competitors.
Committed to the environment
"We are committed to generating our energy and managing our assets sustainably, and we believe that we are one of the first vertically integrated crypto asset mining companies with a focus on environmentally-beneficial operations," the company said in its registration statement. "Simply put, we employ 21st Century crypto mining techniques to remediate the impacts of 19th and 20th Century coal mining in some of the most environmentally neglected regions of the United States."
Stronghold is headed by co-chairman, president and CEO Greg Beard, a veteran private-equity asset manager. Prior to launching Stronghold, he served as a senior partner and head of natural resources at Apollo Global Management and as a founding member and managing director at Riverstone Holdings.
According to Stronghold's registration statement, he has sourced and led 23 energy investments worth $8.8bn.
Stronghold's other co-chairman, Bill Spence, has 40 years of energy-related experience. He is former independent operator of the Scrubgrass plant and also owned a nearby coal-refuse power facility.
B. Riley Securities and Cowen acted as lead bookrunners. The underwriters received an option to purchase an over-allotment of about 1 million shares.
If the option is fully exercised, Stronghold would receive $132.5m in net proceeds, said the company in a news release.
Read More: Bitcoin surges to new record high above $66,000