Stocks today: Inflation falls but rate hike fears continue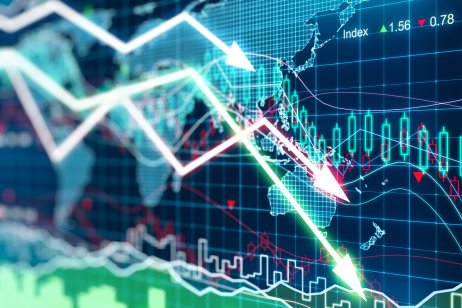 UK stocks inched lower on Wednesday morning, after a dip in inflation failed to quench interest-rate hike speculation.
Persisting inflation concerns were backed up by increases in input prices for many sectors, such as machinery and metal production.
European stocks reflected similar sentiment with the Euro Stoxx 50 also inching lower amid conflict between European banks and the EU to extend access to clearing houses in the City of London following Brexit.
Why are markets down today?
Mining stocks and commodities, including aluminium and coal, moved lower as major mines in Chile faced disruptions due to ongoing droughts.
Meanwhile, widespread market anxieties about the Bank of England potentially raising interest rates before the end of the year drove UK bond yields higher.
What is your sentiment on UK100?
Vote to see Traders sentiment!
Market highlights
The FTSE 100 lost 0.11% on Wednesday morning, as interest rate hike fears continued, before recovering slightly by lunchtime.
The Euro Stoxx 50 also edged lower by 0.47% before recovering to gain 0.13%.
Brent crude oil traded at $84.24, dropping 0.99% but still remaining close to multi-year highs
Market sentiment: The fear-greed equation
The CBOE Volatility Index or VIX, a measure of volatility in US stocks and reflecting investor anxieties, fell 3.9% to 15.67.
The US dollar index broke a five-session losing streak, gaining 0.1% to $93.85, reflecting a rise in the demand for safe-haven assets
The US 10-year bond yield index also gained and stood at $1.648, as rate hike fears worsened
Top stock gainers UK and Europe
In UK, the best performing sectors were utilities, consumer non-durables and consumer services
SSE, Burberry Group and Entain led gains in their respective segments
In Europe, the top gainers were investment, medical equipment and electric
Top stock losers UK and Europe
Top news: Need to know
Banking giant Credit Suisse, which has been grappling with a bribery and corruption case in Mozambique, has agreed to pay $475 million in charges
Burberry has appointed former Versace boss Jonathan Akeroyd as new CEO
Mercedes-Benz has opened a new tech centre in China, as the company bulks up spending on design and technology
Apple has announced new MacBook Pro laptops with Apple's own new M1 processor chips
Read more: UK inflation dips unexpectedly in September