Stocks today: FTSE 100 falls as UK Autumn Budget announced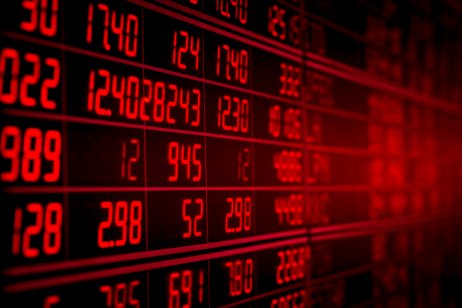 UK stocks dipped on Wednesday morning as market anxieties were on the rise following the UK budget announcement. These anxieties were fuelled futher by several earnings reports from Heineken, Coca-Cola, GlaxoSmithKline and more.
European stocks reflected the downbeat mood with the Euro Stoxx 50 Index falling as speculation swirled around the European Central Bank's October meeting. Further light will be shed on European inflation measures at the meeting.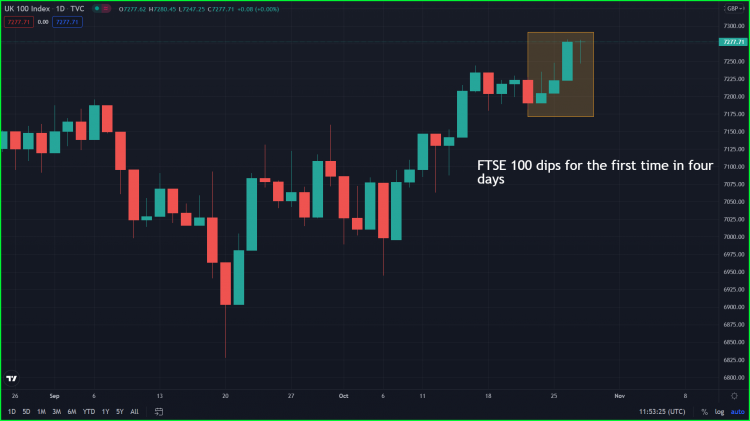 Stocks chart
Why are stocks down today?
Stocks are down today primarily due to the uncertainty surrounding the Autumn budget announcement, as well as concerns that the impacts of Covid-19 on businesses may last longer than expected. The budget outlines a number of changes in minimum wages, public sector payments, National Health Service funding, housing and other areas.
What is your sentiment on KO?
Vote to see Traders sentiment!
Market highlights
FTSE 100 dropped 0.34%, as the market worried about the Autumn budget.

Euro Stoxx 50 reflected the same trend by falling 0.33%.

Brent crude oil traded at $85.41 per barrel, down by 1.15%, retreating from recent multi-year highs.
Market sentiment
The

Chicago Board Options Exchange (CBOE) Volatility Index, a measure of expected fluctuations in US stocks, rose to 16.07, reflecting market uncertainty.
The US Dollar Index fell slightly to $94, indicating a decrease in the demand for safe assets.

The US 10-year bond yield fell for the fourth day in a row to 1.634%, reflecting a further stabilization in inflation worries. The UK budget report may indicate more inflation handling strategies.
Top stock gainers: UK and Europe
In the UK, the best performing segments were health technology, consumer services and distribution services.

GlaxoSmithKline, Compass Group and Bunzl led gains in their respective sectors.

In Europe, the top performing sectors were health technology, electric utilities and insurance.

GlaxoSmithKline, Iberdrola and AXA were the best performing companies in their respective segments.
Top stock losers: UK and Europe
On the FTSE 100, the segments taking a hit included finance, non-energy minerals and retail trade.

Admiral Group, Glencore and Kingfisher were the worst performers in their respective segments.

On the Euro Stoxx 50, the top losers were pharmaceuticals, financial services and energy.

Novo Nordisk, Allianz and TotalEnergies led losses in their respective segments.
Top news
The difference between stocks and CFDs
The main difference between CFD trading and stock trading is that you don't own the underlying stock when you trade on an individual stock CFD.
With CFDs, you never actually buy or sell the underlying asset that you've chosen to trade. You can still benefit if the market moves in your favour, or make a loss if it moves against you. However, with traditional stock trading you enter a contract to exchange the legal ownership of the individual shares for money, and you own this equity.
CFDs are leveraged products, which means that you only need to deposit a percentage of the full value of the CFD trade in order to open a position. But with traditional stock trading, you buy the shares for the full amount. In the UK, there is no stamp duty on CFD trading, but there is when you buy stocks.
CFDs attract overnight costs to hold the trades, (unless you use 1-1 leverage)
which makes them more suited to short-term trading opportunities. Stocks are more normally bought and held for longer. You might also pay a stockbroker commission or fees when buying and selling stocks.