Stock markets: FTSE 100 up after US-China talks, UK earnings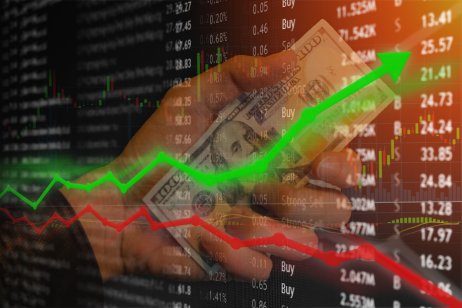 UK stocks inched up Tuesday morning on the back of strong earnings from companies including Vodafone and Diageo, the producer of Johnnie Walker whisky. Investors shrugged off inflation concerns, even as speculation surfaces of potential interest rate hikes in December by central banks.
European stocks also reflected this buoyant mood, with the Euro Stoxx 50 hitting a fresh record. Market sentiment was boosted by the European Central Bank's dovish take on interest rate hikes, with ECB President Christine Lagarde reaffirming her decision to push back rate hikes.
What's interesting today: Chinese leader Xi Jinping and US president Joe Biden conducted talks over a virtual summit, which inspired investor hopes for a de-escalation of the tension between both nations, paving the way for stronger economic and political ties. Mining and other stocks based in China rallied following the summit.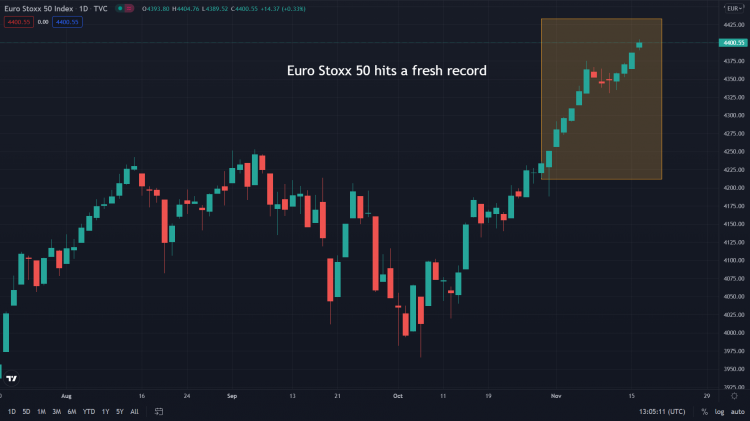 Stocks chart – Credit: TradingView
Why are stocks up today?
Strong earnings from Vodafone, Diageo: Vodafone announced that its revenues grew by more than 5% in the six months ended September as travel roaming fees increased. Diageo shares also hit a record high as its market share increased.
What this means:

Vodafone is one of the biggest providers of internet and mobile phone services in the UK. A strong earnings report boosts hopes for the entire telecom and communications sector recovering from the pandemic, especially as travel restrictions loosen further and international markets reopen. Diageo also forecasted a 50% increase in its targets by 2030. The spirits maker also expects organic sales growth of at least 16%, due to the off-license sales doing well.
US-China talks being held: Talks between US president Joe Biden and Chinese leader Xi Jinping boosted investor hopes of more trade opportunities and a stronger global market.
What this means:

After approximately a three-and-a-half hour talk, which touched upon issues such as Taiwan, trade and human rights, both the US and China pledged greater cooperation with each other. Although there is still a long way to go in terms of economic and trade policies, investors are hopeful that this would be the breakthrough for a new era of stronger ties. Mining stocks, mainly based in China, as well as other companies with a significant interest in both the Chinese and US markets, saw their shares gain on the back of the talk.
Employment data announcement: Recently released employment data by the Office for National Statistics showed approximately 160,000 new jobs added to payrolls, bringing the total number of people employed to 29.3 million.
What is your sentiment on UK100?
Vote to see Traders sentiment!
What this means

: With the large number of layoffs and furloughs during the Covid-19 pandemic, this boost to employment numbers has significantly raised investor confidence in the recovery of the UK job market, which will also have a positive spillover on stock markets.
Stock markets today: key highlights
The FTSE 100 index gained 0.18% to touch 7365.1 points on Tuesday morning

The Euro Stoxx index also rose 0.35% to reach 4401.7 points

Germany's DAX index inched up 0.18% to 16178.3 points

France's CAC 40 index also rose 0.18% to reach 7141.7 points

Communication and finance stocks led the market in UK, whereas technology services and utilities lagged behind

The US S&P 500 index opened lower, but moved higher in early trading.
Market sentiment
The CBOE Volatility Index or VIX, a measure of expected fluctuations in US stocks rose to 16.94, reflecting rising investor anxiety

The US dollar index dropped slightly to $95.56

The US 10-year bond yield index also dipped a little to 1.620%
Top gainers: UK and Europe
In the UK, the top gainers were Vodafone Group, Diageo and Intermediate Capital Group

Vodafone Group saw their profits increase by more than 5% on the back of a good half year performance

Diageo saw shares rally after it announced sales growth figures that were in the double digits

Intermediate Capital Group also experienced a better-than-expected first half of the year

In Europe, the best performing companies were BNP Paribas, Shell and Prosus

BNP Paribas has been considering selling its US unit, Bank of the West and has already hired advisers to help coordinate the $15bn sale

Shell recently announced that it was disassociating itself from 130 years of Dutch heritage by dropping "Royal Dutch" from their name and shifting their tax base to the UK

Prosus shares jumped as the company announced that earnings per share had risen to 400% in the first half of the year
Top losers: UK and Europe
On the FTSE 100 index, the top losers were Darktrace, Severn Trent and Ocado Group

Darktrace shares suffered as valuation and potential stocks sales worries came to light

Severn Trent was recently criticised for not being able to fix a pipe leak in Walsall even after three months

Ocado Group has been struggling to regain its footing after Credit Suisse reduced its target price and marked it as an underperformer

On the Euro Stoxx 50, the worst performing companies were Rio Tinto, RELX and Novo Nordisk

Rio Tinto just announced its investment in battery technology company InoBat

Novo Nordisk shares suffered after the launch of its new obesity drug was pushed back
Stocks news: what you need to know today