Stock markets: FTSE 100 touches an almost seven-week low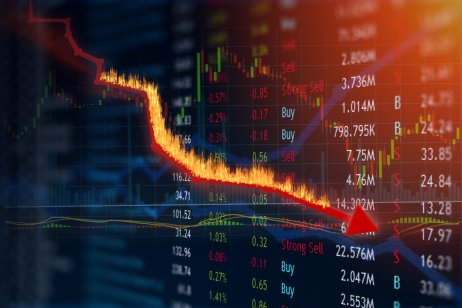 UK stocks tumbled on Friday morning, with the FTSE 100 index touching an almost seven-week low, as investors were highly concerned about a new Covid-19 variant being discovered in South Africa, leading to widespread speculations of fresh lockdowns and travel restrictions. This has led to travel stocks dipping, as the UK moved to ban flights from Lesotho, Namibia, Eswatini, Botswana, South Africa and Zimbabwe immediately.
European stocks also reflected the same sentiment, with the Euro Stoxx 50 index dropping sharply as well, with the continent dealing with its own Covid-19 fallout, with Austria having recently been the first country to impose a new lockdown and cases rising in Germany and Denmark as well.
Overnight in Asia, Hong Kong's Hang Seng index was down as well, however, the US S&P 500 index gained surprisingly.
What's interesting today: The OPEC committee is reported to be considering whether to increase oil production or not, after the US announced that it would be releasing its strategic reserves. This caused oil prices to dip even further and contributed to global market anxieties and investor worries.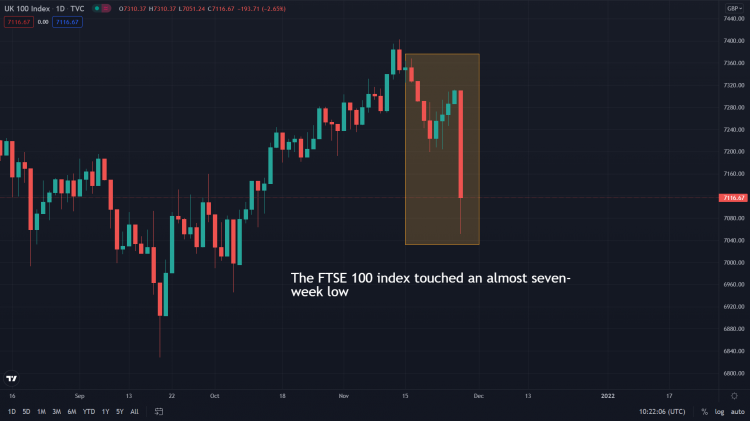 Stocks chart – Credit: TradingView
Why are stocks down today?
New Covid-19 variant: The discovery of the new variant in South Africa, which is reported to have approximately 30 spike protein mutations, is considered to be more dangerous than the Delta variant earlier this year.
What is your sentiment on UK100?
Vote to see Traders sentiment!
What this means

: Scientists have associated the number of mutations in a Covid-19 strain with how resistant it is to antibodies and vaccinations. Therefore, the new South African variation, with so many mutations, is a cause of heavy concern for investors as it could mean a surge of new cases, and a potential slowdown of vaccine effectiveness. With the UK moving to ban flights from a number of African countries immediately, investors are concerned that this could signal a relapse in the hospitality and travel sector, with a potential spillover to other sectors if fresh lockdowns are reintroduced.
Stock markets: Key highlights
The FTSE 100 index dipped 2.96% to touch 7093.78 points

The Euro Stoxx 50 also dropped 3.52% to 4141.9 points

Germany's DAX index followed suit by dipping 3.08% to 15428.1 points

France's CAC 40 index reflected the same sentiment by losing 3.77% to touch 6808.8 points

The leading sectors were retail and technology services, whereas transportation and electronic technology suffered

US S&P futures dropped 1.74% to $4617.3
Market sentiment
The CBOE Volatility Index, or VIX, dropped to 18.58

The US dollar index inched down to $96.77

The US 10-year bond yield index climbed down 1.636% as well
Top stock gainers in the UK and Europe
In the UK, Bakkavor, Ocado and Games Workshop were the top stock gainers

Bakkavor recently acquired funding to advance its net-zero target, which it plans to achieve by 2040

Ocado shares rallied following the news of the new variant, as it anticipated a surge in online grocery shopping, should new restrictions be enforced

Games Workshop shares gained as well, as an increase in sales may be imminent if new lockdowns are introduced

In Europe, Adyen B V Parts Sociales, Ab InBev and Iberdrola were the best-performing companies

Ab InBev shares increased as the company started its switch to renewable sources of energy, starting with a rooftop solar plant

Iberdrola recently pledged to provide financial and technical support to four biodiversity projects
Top stock losers in the UK and Europe
Carnival, Tui and EasyJet were the top stock losers on the FTSE 350

Carnival shares dipped following news of the new variant, as well as a recent lawsuit by a family which was escorted off one of their cruise ships

Tui shares dipped as the company was sued by a widow who blamed the loss of her husband on the company's poorly supervised snorkelling facilities

EasyJet recently increased their hand luggage costs, which was met by client dissatisfaction

On the Euro Stoxx 50, Deutsche Telekom, Zurich Insurance and Siemens were the worst-performing companies

Deutsche Telekom was recently reported to be on the lookout for new towers deals

Zurich Insurance shares still struggled to recover from the company's recent announcement that it would not be underwriting fresh oil exploration deals any longer

Siemens shares dipped after the company announced the building of a new combined-cycle power plant in Brazil
Stocks news: what you need to know today
Read more: Asia-Pacific stocks down on emergence of new virus variant