Stock markets: FTSE 100 snaps a six-day decline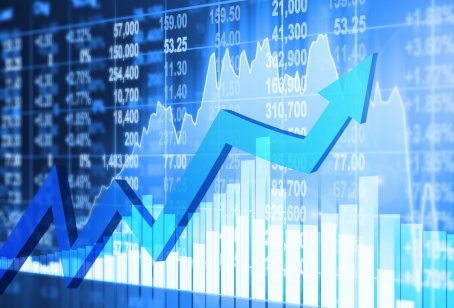 UK stocks edged up on Thursday morning, cutting short a six-day decline on the FTSE 100 index, with miners leading gains. Market sentiment was upbeat following Thursday's decision by the US Federal Reserve to double the pace of removing accommodative monetary policies to combat the recent rise of inflation.
Europe stocks reflected the same sentiment, with the Euro Stoxx 50 index gaining, as investors looked forward to meetings by the Norges Bank and Swiss National bank meetings, which are expected to provide further insight into how the European Union will be handling inflation, interest rate hikes and more for the rest of the year and the beginning of 2022.
The Bank of England voted to raise its base rate to 0.25% from 0.1% to 0.25% as the central bank embarks on its first rate-hike cycle since October 2017.
Overnight in Asia, Hong Kong's Hang Seng index (.HK50), gained.
The US S&P 500(.US500) index opened higher.
What's interesting today: Domino's Pizza shares rallied approximately 27%, following a medium-term sales forecast increase, as it recently announced that it had reached an understanding with franchises, regarding profit sharing commercial terms.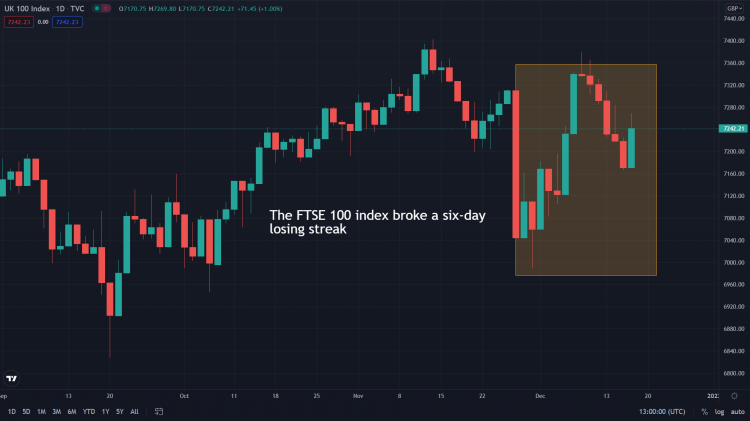 Stocks chart – Credit: TradingView
Why are stocks up today?
European banks' meetings: Investors looked forward to a number of European central banks holding meetings today to discuss inflation, interest rate hikes and more.
What is your sentiment on UK100?
Vote to see Traders sentiment!
What this means:

Previously in November, central banks across the world, such as the US Federal Reserve, the Bank of England and the European Central Bank had put off interest rate hikes, much to the relief of investors. However, with inflation quickening, investors are now more concerned that price increases may soon get out of hand and are looking to central banks to announce policies on how they will deal with this situation. Hence, the US Federal Reserve's more hawkish stance has been welcomed, leading investors to hope that other central banks will follow suit.
Stock markets: key highlights
The FTSE 100 (.UK100) index inched up 1.04% to 7245.0 points

The Euro Stoxx 50 (.EU50)index also climbed up 2.02% to 4243.9 points
Germany's DAX (.DE40) index rose 1.74% to 15745.4 points
France's CAC 40 (,FR40) index increased 1.56% to 7036.5 points

The leading sectors in the UK were consumer durable and producer manufacturing, whereas commercial services and retail trade lagged behind

The US S&P 500 futures rose 0.1% to 4,714.5
Market sentiment
The CBOE Volatility Index, or VIX (.VIX), a measure of expected fluctuations in US stock dipped to 18.49

The US dollar index also dipped to $96.45

The US 10-year bond yield index traded flat at 1.48%
Top stock gainers: UK and Europe
Berkeley Group Holdings shares rallied following the company recently announcing an increase in revenue

DCC shares gained after the company purchased Almo for approximately $610m
ASML NV management recently participated in a UBS virtual brokers conference
Munich Re recently announced a new partnership with McGill
BASF was ranked as one of the leading companies due to its water management techniques by the Carbon Disclosure Project
Top stock losers: UK and Europe
Stocks news: what you need to know today