Stock markets: FTSE 100 dips for fifth day ahead of BoE meet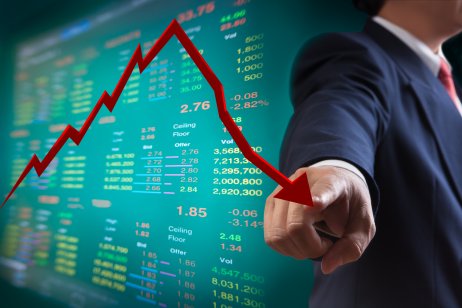 UK stocks dropped for the fifth day in a row on Wednesday morning as investors anticipate the Bank of England meeting due to be held later in the day, where the central bank would shed more light on interest rate hikes, which it had previously put on hold in November.
European stocks, on the other hand, were more optimistic, with the Euro Stoxx 50 index gaining, even after Omicron and winter recession worries weighed heavily on investor sentiment.
This market recovery, however, inspired hopes of financial market resilience and may go a long way in reassuring investors that stock markets would end the year on a strong note.
Overnight in Asia, Hong Kong's Hang Seng(.HK50) index dropped as did the US S&P 500(.US500) index.
What's interesting today: Cineworld shares dipped approximately 25% after the multiplex group was ordered by a Canadian court to hand over damages worth around CAD1.23bn to competitor Cinexplex, after the former had left a takeover deal previously planned before it could be completed.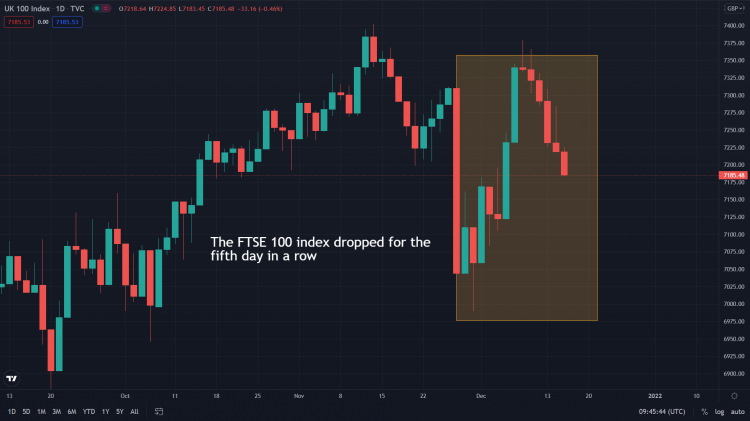 Stocks chart – Credit: TradingView
Why are UK stocks down today?
Bank of England meeting: Investors were looking ahead to the Bank of England meeting due to be held later in the day.
What is your sentiment on UK100?
Vote to see Traders sentiment!
What this means

: The Bank of England previously announced in November that it would not be increasing interest rates to control inflation, following the actions of the US Federal Reserve and the European Central Bank. With the UK inflation hitting multi-year highs recently, there have long been speculations that the central bank would now have no choice but to raise interest rates in order to prevent inflation from going out of hand. Today's meeting would shed more light on the central bank decisions regarding rate hikes, in anticipation of which markets have been considerably subdued.
Stock markets: key highlights
The FTSE 100 (.UK100) index inched down 0.43% to 7187.9 points

The Euro Stoxx 50 (.EU50) index rose 0.39% to 4160.6 points
Germany's DAX (.DE40) index inched up 0.22% to 15487.3 points
France's CAC 40 (.FR40) index edged up 0.55% to 6933.4 points

The leading sectors in the UK were consumer durables and communications, whereas technology services and commercial services lagged behind

US S&P 500 futures inched up 0.17% to $4644.75
Market sentiments
The CBOE Volatility Index, or VIX (.VIX), a measure of expected fluctuations in US stocks dropped to 21.76

The US dollar index also dropped to $96.56

The US 10-year bond yield index followed the same sentiment and dipped to 1.45%
Top stock gainers: the UK and Europe
The best-performing companies in the UK were Berkeley Group Holdings, British American Tobacco and BT Group

Berkeley Group Holdings shares have been marked for a possible upside of approximately 10% by Citigroup

British American Tobacco stocks rallied after the company was poised to do a better-than-expected regarding new technology
BT Group shares rallied after Patrick Drahi, a French billionaire purchased an 18% stake in the group

Inditex shares gained as the company saw record sales

Philips shares advanced following the company's plans to focus more on image-guided therapy technology
Infineon stocks rose following the company's venture into the matter chip sector
Top stock losers: the UK and Europe
Stocks news – what you need to know today
Read more: Asia-Pacific investors stay put awaiting Fed meet conclusion