Stock markets: European stocks touch fresh highs, UK lower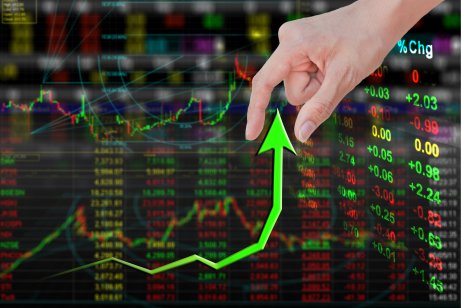 European stocks hit a new all-time high Monday morning, with the Euro Stoxx 50 index climbing slightly. The market was pulled up by oil shares as well as a number of positive corporate announcements, from companies including Cineworld, Royal Dutch Shell and Wizz Air.
UK stocks on the other hand, were slightly downbeat amidst fears of new lockdowns due to the ongoing coronavirus pandemic, as winter approaches and cases rise across Europe.
Overnight in Asia, Hong Kong's Hang Seng index rose as China pledged to gradually "phase down" coal production during the COP26 summit in Glasgow.
What's interesting today: Oil giant Royal Dutch Shell announces major plans to implement changes in its dual share structures, to simplify its payment structure and increase shareholder payouts. Wizz Air announced plans to purchase approximately 196 additional aircrafts to be more competitive in the budget travel sector.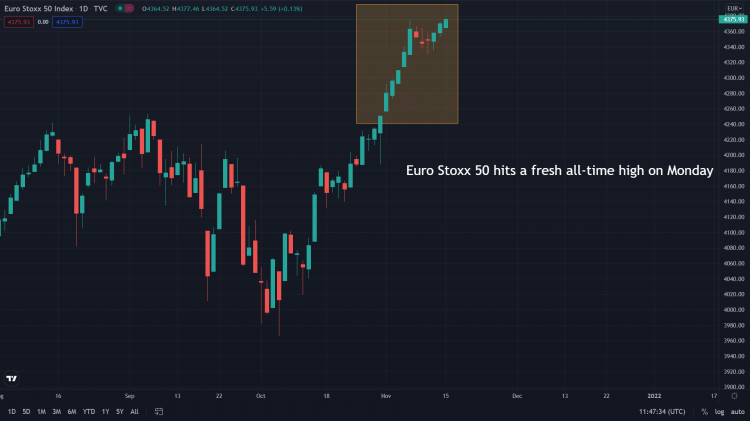 Stocks chart – Credit: TradingView
Why are European stocks up today?
Positive corporate announcements: Monday saw important announcements from companies such as AstraZeneca, Wizz Air and CMC Markets.
What is your sentiment on UK100?
Vote to see Traders sentiment!
What this means:

With a number of big corporate changes, such as in Royal Dutch Shell's dual share structure, shareholder compensation has been at the forefront of most companies' strategic plans. A number of companies have announced higher dividends and share buyback programmes as well, following strong third quarter earnings. These announcements have significantly boosted investor confidence in the recovery of the market and the ability of said companies to deliver on these promises. After approximately two years of corporate, economic and financial struggle, these positive announcements offer welcome respite to shareholders.
Stocks markets today: key highlights
The FTSE 100 index inched up 0.14% today to reach 7358.0 points

The Euro Stoxx 50 edged up 0.05% to touch 4372.5 points

Germany's DAX index traded mostly flat at 16097.6 points

France's CAC 40 index climbed 0.20% to reach 7105.7 points

Technology services and transportation led the market, whereas retail and mining lagged behind

The US S&P 500 opened fractionally higher at 4689.30.
Market sentiment
The CBOE Volatility Index, or VIX, a measure of expected fluctuations in US stocks increased to 16.71, reflecting growing investor concern about central bank decisions in December

The US dollar index dipped lower to $95.15, as the market stabilised further

The US 10-year bond yield index also dropped for the second trading session in a row to 1.570%
Top gainers: UK and Europe
Avast, AstraZeneca and Imperial Brands were the best performing companies in the HonUK

Avast shares rose as their NortonLifeLock product gains US regulatory approval

AstraZeneca shares rose following the pharmaceutical company's recent announcement of starting to make profits on Covid-19 vaccines

Imperial Brands shares inched higher as the company increases prices to offset volume reductions

In Europe, Kering, LVMH Moet Hennessy Louis Vuitton and Airbus were the best gainers

Kering recently announced that it would appoint a new creative director to head Bottega Veneta

Louis Vuitton announced that they were considering opening duty-free stores in China, especially in the Hainan area

Airbus shares rallied after the company received a massive deal for 255 aircrafts from airline investor Bill Franke
Top losers: UK and Europe
On the FTSE 100, B&M European Value Retail, Aveva Group and Glencore were the worst performing companies

B&M European Value Retail recently announced that it planned to issue notes worth £250m

Aveva Group still struggled to make up losses caused by its tie-up with Schneider Electric

Glencore led the way for the International Monetary Fund to conduct debt talks in Chad, regarding the nation's $1bn commercial debt, by agreeing to work on restructuring the debt

On the Euro Stoxx 50, Nestle, Unilever and Ab InBev were the top losers

Nestle shares suffered as proposals to shut down its Fawdon factory threatens to impact 500 jobs

Unilever came under fire after its decision to not sell Ben and Jerry's ice cream in Gaza and the West Bank
Stock news: what you need to know today
Read more: Indian shares struggle to climb amid inflationary concerns