Stock markets: Europe stocks drop as German inflation spikes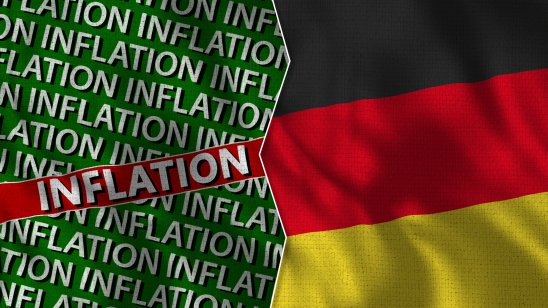 European stocks inched lower on Tuesday as German inflation hit its highest level in decades and investors were still worried about the new Omicron strain of Covid-19. The market was risk-off on the back of recent sell-offs and widespread uncertainty as a number of investors chose to divert their funds into high-grade government bonds, instead of equities.
UK stocks had a volatile month in November, with inflation hitting multi-year highs, oil prices rising and interest rate decisions from a number of central banks as well. Although the market seemed to recover well from these setbacks, the most recent virus worries will no doubt cause a delay in market recovery, as well as fourth-quarter performance.
On Tuesday, the FTSE 100 reflected the same sentiment as European stocks by dropping also. Overnight in Asia, Hong Kong's Hang Seng dropped as well. The US S&P 500, meanwhile, gained.
Why are stocks down today?
German inflation hits multi-decade highs: German economic data showed inflation hit levels unseen since January 1997.
What this means: November was a turbulent month for stock markets worldwide, with eurozone inflation hitting multi-year highs and US inflation higher than expected as well. With Germany now being the latest strong economy to join these ranks, investors are increasingly worried about what the rest of the year could mean for markets, especially with the discovery of the Omicron variant as well. With a number of panic sell-offs and airline and energy stocks dipping as well, higher inflation could contribute significantly to an already struggling economic scenario.
What is your sentiment on UK100?
Vote to see Traders sentiment!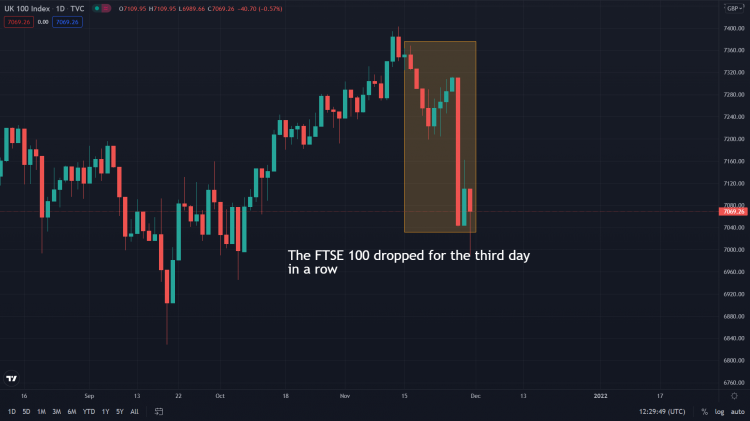 The FTSE 100 reflected the same sentiment as European stocks - Credit: TradingView
Stock markets: key highlights
The FTSE 100 Index dropped 0.79% to 7053.8

The Euro Stoxx 50 Index also reflected the same sentiment and fell 1.60% to 4043.7
Germany's DAX Index lost 1.39% to land at 15068.1
France's CAC 40 Index also inched lower 1.56% to 6670.6

The leading sectors were mining and technology services, whereas retail and finance suffered

US S&P 500 futures dipped 0.91% to $4605.8
Market sentiment
The CBOE Volatility Index, or VIX, a measure of expected fluctuations in US stocks, surged to 27.00, reflecting a sharp rise in investor anxieties
The US Dollar Index dropped to $96.25

The US 10-year Bond Yield Index also fell to 1.524%
Top stock gainers: UK and Europe
In the UK, the best performing companies were Evraz, Ocado Group and Polymetal International

Evraz shares rallied after the company recently raised its growth targets

Ocado Group recently announced a new range of vegan meat products by food tech start-up Jack and Bry

Polymetal International stocks rallied as the company beat analyst growth estimates recently

In Europe, the top stock gainers were ASML, Kering and TotalEnergies

Kering shares rose after the company launched a new sustainability blockchain platform

TotalEnergies shares gained after the company recently established France's biggest solar panel project
Top stock losers: UK and Europe
On the FTSE 100, the top stock losers were JD Sports Fashion, BT Group and Intercontinental Hotels Group

JD Sports Fashion was recently ordered by a UK watchdog to sell Footasylum

BT Group's shares dropped after Reliance Industries denied reports of their group being interested in BT

Intercontinental Hotels Group shares suffered as investors worried about Omicron's impact on the hospitality sector

On the Euro Stoxx 50, the laggards were BASF, BBVA and Deutsche Telekom

BASF recently launched a new energy subsidiary company

BBVA recently announced that a weaker Turkish lira would undermine its Garanti deal

Deutsche Telekom recently saw new developments in its litigation involving Air India
Stocks news: What you need to know today
Read more: Omicron fears tilt global risk assets sharply lower
Inflation: How Does it Affect Investment Stocks?