Stock markets: EURO STOXX 50 dips lower as Omicron cases surge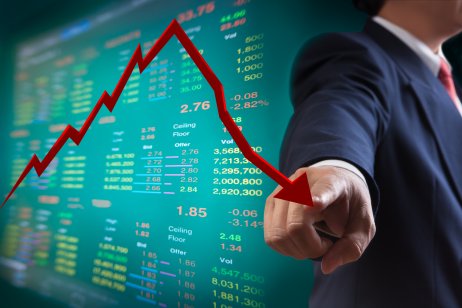 European stocks inched lower on Wednesday, with the EURO STOXX 50 Index falling as investors anticipated crucial US inflation data for November, due to be released later in the week. Investors were also concerned over the sudden surge of Omicron cases, which has led to increasing pressure on booster shots to be rolled out sooner than planned.
UK stocks touched an almost four-week high on Wednesday, with the FTSE 100 Index extending its gains from the last trading session, buoyed by China's recent pledge to provide more support to its struggling sectors by loosening monetary policy further. This resulted in commodity prices such as copper rising.
Overnight in Asia, Hong Kong's Hang Seng Index gained as well, as did the US S&P 500 Index.
What's interesting today: Man Group announced a share buyback program of approximately $250m (£190m). Pete Redfern, Taylor Wimpey CEO, announced that he was stepping down after more than 14 years at the company.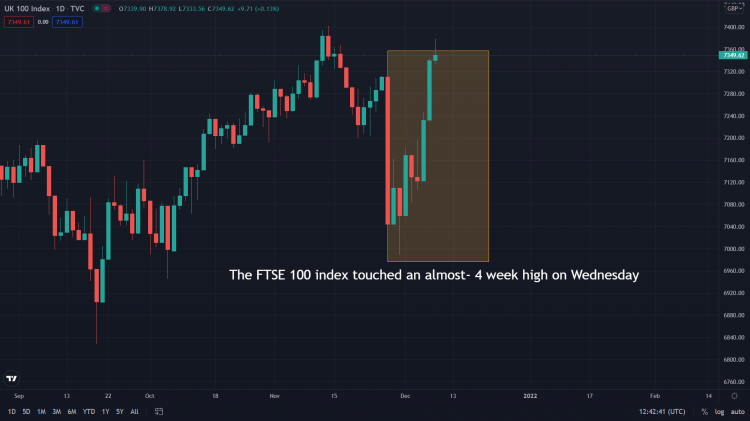 Stocks chart – Credit: TradingView
Why are European stocks down today?
Omicron cases surge: Investors were worried about the sudden rise of Omicron cases in the last couple of days, even after the variant was declared to be milder than previously thought by health experts.
What is your sentiment on UK100?
Vote to see Traders sentiment!
What this means: The last few days have been a rollercoaster for global stock markets with the discovery of the Omicron variant, which initially caused widespread panic and mass sell-offs. Although the variant was initially labelled as one of concern by the World Health Organization, due to its numerous mutations, health experts later reported its symptoms to be relatively mild, which went a long way in easing investor concerns about its impact on stock markets. However, the recent surge of cases across the UK and Europe has reignited investor anxieties, especially in regard to the variant's resistance to vaccinations.
Stock markets: key highlights
The FTSE 100 Index inched up 0.25% to touch 7358.0 points by Wednesday mid-morning
The EURO STOXX 50 Index dipped 0.24% to touch 4266.0 points
Germany's DAX Index fell 0.38% to reach 15754.4 points
France's CAC 40 Index edged up 0.015 to 7066.2 points
The leading sectors were consumer durables and finance, whereas technology services and retail trade lagged behind
US S&P 500 futures inched up 0.44% to $4705.75.
Market sentiment
The Cboe Volatility Index, or VIX, a measure of expected fluctuations in US stocks, fell to 21.35
The US Dollar Index dropped to $96.37
The US 10-Year Bond Yield Index also inched down to 1.482%.
Top stock gainers: UK and Europe
The best-performing companies in the UK were International Consolidated Airlines Group, BT Group and Berkeley Group Holdings
International Consolidated Airlines Group extended its gains following its recent announcement of purchasing sustainable aviation fuel from Velocys
BT Group recently increased its market capitalisation by £1.4bn
Berkeley Group Holdings increased its guidance after robust interim performance
The top stock gainers in Europe were ASML NV, Prosus and Adyen B.V. Parts Sociales
Prosus shares rallied following its assistive tech startups in India being well received by clients and investors alike.
Top stock losers: UK and Europe
Stocks news: what you need to know today
Read more: Lloyds share price forecast: Can it return to pre-Covid levels?