Stock markets: Euro Stoxx 50 dips as Austria announces new lockdown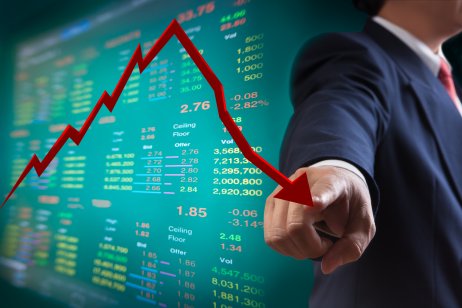 European stocks were down on Friday afternoon, as Austria announced a lockdown and global travel restrictions tightened further to handle the increasing number of Covid-19 cases. Travel stocks tumbled following the news, with investor anxieties about the last quarter of the year rising following suit.
UK stocks also reflected the same sentiment, with the FTSE 100 dipping as energy prices inched up, causing a fresh wave of worries about the ongoing fuel and energy crisis impacting businesses and causing fourth-quarter earnings to dip around the holiday season.
Overnight in Asia, Hong Kong's Hang Seng index dropped, whereas the US S&P 500 index traded mostly flat.
What's interesting today: Retail stocks did well on Friday, highlighting sales data that was better than expected as consumers kicked off their Christmas shopping a tad early this year.
Commodities also pulled up the market somewhat, however, they failed to have much effect on the overall sentiment of the market.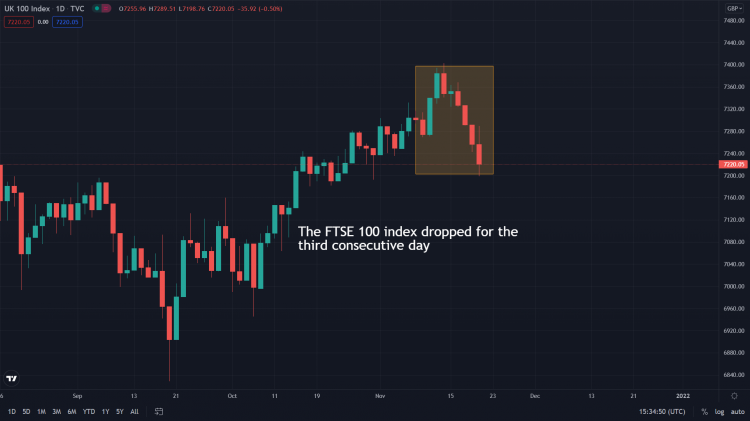 Chart showing current stock market – Credit: TradingView
Why are stocks down today?
Austria imposes new lockdown: Austria became the first European country to impose a fresh lockdown as the number of coronavirus cases increased massively.
What this means: With the number of new Covid-19 cases rising rapidly in the last few weeks of the year, investors are worried about the possibility of more countries following Austria and closing their borders to international travellers and businesses. This may significantly impact many businesses' performance during the last quarter of 2021.
Rising energy prices: UK energy prices also rose suddenly after two more energy suppliers – Social Energy and Neon Reef – became the latest to collapse.
What is your sentiment on UK100?
Vote to see Traders sentiment!
What this means: With a long list of energy suppliers collapsing due to the long-standing energy and fuel crisis, which saw scarce supplies all over the country, these latest business failures led to speculations about how much longer the crisis would take to come under control.
Stock markets: key highlights
The FTSE 100 index dipped 0.40% to reach 7,226.6 basis points (bps)
The Euro Stoxx index also reflected the same sentiment, inching lower by 0.50% to touch 4,361.7bps
Germany's DAX index dropped 0.20% to 16,189bps
France's CAC 40 index also fell 0.37% to 7,115.5bps
The leading sectors were retail and transport, whereas consumer services and electronic technology took a hit
US S&P 500 futures also dropped by 0.15% to $4,693.8bps
Market sentiment
The Chicago Board Options Exchange (CBOE) Volatility Index, or VIX – a measure of expected fluctuations in US stocks – jumped up to 18.3, reflecting rising investor anxieties
The US dollar index also increased to $96.20
The US 10-year bond yield index dropped to 1.608%
Top stock gainers: UK and Europe
On the FTSE 100, the best-performing companies were Ocado Group (OCDO), Royal Mail (RMG) and Reckitt Benckiser Group (RKT)
Ocado Group (OCDO) shares rallied after insider transactions came to light, revealing bullish forecasts for the group
Royal Mail (RMG) shares increased after the company reported approximately £6bn (€7.1bn, $8bn) of sales data on the back of the rise in online shopping
Reckitt Benckiser (RKT) stocks inched up as the winter led to more sales of cold and flu medication
On the Euro Stoxx 50, the top gainers were EssilorLuxottica (EL), Deutsche Post (DPW) and Vonovia (VNA)
EssilorLuxottica (EL) shares edged up after the group received the go-ahead from UK competition authorities to move forward with their acquisition of Lenstec
Deutsche Post (DPW) shares rallied after the company struck a massive deal with energy company Neste (NESTE) to buy sustainable fuel
Vonovia (VNA) stocks rallied after it received an upgrade from Goldman Sachs, lifting its shares from sell to buy
Top stock losers: UK and Europe
In the UK, the top losers were Compass Group (CPG), Rolls-Royce Holdings (RR), and International Consolidated Airlines Group (IAG)
Compass Group (CPG) shares fell after the company launched a partnership with Incredible Edible
Rolls-Royce (RR) recently laid out their plans for their small nuclear reactors, which attracted significant interest from Qatar
International Consolidated Airlines Group (IAG) saw its shares inch down after a number of insider transactions
In Europe, the worst-performing companies were BNP Paribas (BNP), Deutsche Telekom (DTE) and CRH Plc (CRH)
BNP Paribas (BNP) recently announced a "low-carbon transition group", which will have 250 employees
Deutsche Telekom (DTE) shares inched lower after the company revealed that it was considering selling off some of its IT systems
Stock news: What you need to know today
Read more: Palo Alto (PANW) up 4% on Q1 product strength
Read more: Halma (HLMA) snaps up US-based Infinite Leap for m