Stock markets: Cineworld (CINE) stock leads FTSE mid-caps higher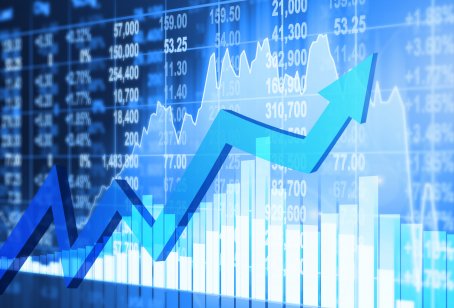 UK stocks inched up on Wednesday morning, buoyed by Cineworld (CINE), as travel and leisure stocks recovered some ground following sharp losses on Friday and Tuesday.
Oil and mining stocks gained as well, as producers around the world contemplate how to best adjust to changes in demand due to new restrictions and supply constraints.
European stocks followed suit, with the Euro Stoxx 50 index gaining on the back of investors "buying the dip" in stocks, as initial panic sell-offs abate, with more information on the variant pointing towards it likely causing mild symptoms.
Overnight in Asia, Hong Kong's Hang Seng index gained, but in the USm the S&P 500 index fell.
What's interesting today: Oil giants BP and Royal Dutch Shell shares rose today following a sharp rise in oil prices, in anticipation of the OPEC+ committee's meeting, later in the day, with the cartel expected to discuss how best to deal with the blow to oil demand due to the Omicron variant. Speculation of the committee hitting the brakes on increasing supply in January, by 400,000 barrels a day, also surfaced.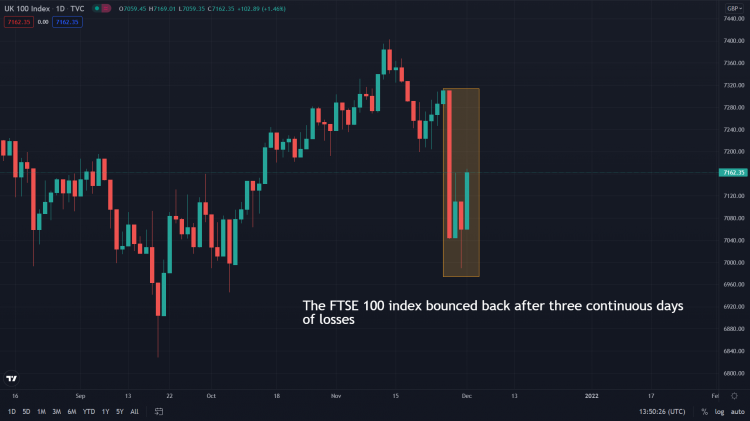 Stocks chart – Credit; TradingView
Why are stocks up/down today?
Oil and copper prices rising: Oil prices rose more than 2% on Wednesday, causing oil producers such as BP and Royal Dutch Shell to rally. Copper prices also bounced back, leading to renewed hopes of demand recovering soon.
What this means: Oil and commodities in general, such as copper have been the most affected during this pandemic and were again hit hard by the discovery of the Omicron variant, causing some steep losses in the last few days. Thus, oil prices bouncing back now, relatively quickly will be a cause for huge relief to investors, who are also hopeful that the OPEC+ committee sheds more light on how to handle this turbulent situation in the upcoming meeting.
What is your sentiment on UK100?
Vote to see Traders sentiment!
Stock markets: key highlights
The FTSE 100 index inched up 1.36% to touch 7155.7 points

The Euro Stoxx 50 index also followed suit to climb up 1.73% to 4133.2 points

Germany's DAX index also rose 1.56% to 15336.0 points

France's CAC 40 index reflected the same sentiment and increased 1.43% to 6817.4 points

The leading sectors were transportation and communications whereas retail and utilities lagged behind

US S&P 500 futures was up 1.26% to $4623.8
Market sentiment
The CBOE Volatility Index, or VIX, a measure of expected fluctuations in US stocks dropped to 23.82 points, as the market stabilized further

The US dollar index dropped to $96.14

The US 10-year bond yield index fell for the fifth day in a row to 1.506%
Top stock gainers: UK and Europe
In the UK, the top stock gainers were International Consolidated Airlines Group, BT Group and Whitbread

International Consolidated Airlines Group recently announced a deal with Velocys to purchases sustainable aviation fuel

BT Group recently launched a new business plan and manifesto focusing on accelerated growth

Whitbread recently pledged to reach net zero emission by 2040

In Europe, the best performing companies were Volkswagen, Daimler and Siemens

Volkswagen announced that it was discontinuing Tiguan AllSpace and T-Roc SUVs in India

Daimler shares rallied after its investment in Factorial Energy, a solid state battery maker

Siemens shares rose after the company pledged to support the Moroccan government in transforming their power grid
Top stock losers: UK and Europe
Ocado Group, Severn Trent and Croda International were the top losers in the UK

Severn Trent recently faced a sewage probe

A subsidiary of Croda International has recently come under fire for supposedly releasing cancer causing chemicals
Santander, TotalEnergies and LVMH Moet Hennessy Louis Vuitton were the worst performers in Europe

Santander shares fell following Mike Regnier's appointment as CEO to replace Nathan Bostock

TotalEnergies recently launched the biggest solar project in France

LVMH Moet Hennessy Louis Vuitton's shares dropped following the demise of Virgil Abloh, Louis Vuitton menswear's artistic director
Stocks news: what you need to know today
Read more: Stock markets: UK stocks climb as miners extend gains