Stock dividends: As inflation rises, can corporate pay-outs keep pace?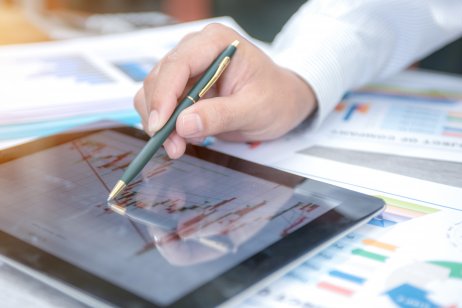 Dividend investors earned a handsome income after pandemic measures lessened, signalling a reopening of the economy. Now, in the face of rising input costs and a slowing, inflationary economy this income stream is likely going to be threatened. However, companies with strong balance sheets and resilient product demand may be able to sustain their pay-outs.
As corporations tried to survive an unforeseen pandemic, many of their strategies allowed them to bounce back quickly after the period came to an end. Corporate profits rapidly recovered in 2021 which resulted in attractive dividend payouts.
The rapid recovery also increased demand for commodities, which resulted in mining and energy companies raising their dividend pay-outs to an all-time high. For this reason, companies such as Shell (RDSa), Glencore (GLEN) and Rio Tinto (RIOgb) were all able to increase their payout during this time.
Shell (RDSa) Price Chart
Now as companies deal with stubborn inflation they face the impact of rising inputs and loss in demand for their products as customers try to make ends meet. It will be the companies with resilient product demand who can sustain sales numbers and pass on the higher costs to their customers. Usually these are companies in the utilities sector such as National Grid (NG) and SSE plc (SSE).
Furthermore, the rising interest rates will negatively affect companies with relatively higher debt on their balance sheet.
The effects of the current economic downtown are not expected to be reflected in dividend rates until 2023. In fact, for the moment dividends are expected to keep rising for 2022 with the utilities, mining, energy and financial sectors remain the top payers.
The FTSE 100 (UK100) is made up of 68% of these sectors, investors of this index are likely to see their dividend income unchanged for the coming year.
What is your sentiment on GLEN?
Vote to see Traders sentiment!
National Grid (NG) Price Chart
Why are dividends growing right now?
Russ Mould, investment director at AJ bell told Capital.com that during the pandemic, "Firms prepared for the worst and hoped for the best". They cut costs from every direction, but the worst never same. Most western companies were also supported through government stimulus.
Because of this, "Aggregate pre-tax profits more than doubled across the FTSE 100 (UK100) in 2021, and analysts have pencilled in a further 20% increase for 2022," Mould said.
"Add that to careful cash management and the scene was set for a rebound in dividends – and share buybacks – as confidence grew and profits and cashflow recovered, although aggregate FTSE 100 dividends are only just forecast to return to 2018's peak in 2022."
FTSE 100 (UK100) Price Chart
Why Is there a threat?
However, as costs continue to rise, this is likely to reduce distributable profits of these companies. Paired with rising interest rates threatening.
During this time Mould believes the companies with high debt will be the ones investors should be concerned about
"If any economic downturn takes its toll on their profits then that could leave dividend payments exposed. Investors seeking income will prefer to look for companies with net cash balance sheets, good asset backing and, if possible, the lofty profit margins and strong free cash flow which can support dividend payments."
How can investors surpass this?
During this time, investors looking to maintain their income should look out for companies which have a strong pricing power, inelastic demand for their products and thus can pass on rising costs to their consumers, says Mould.
"This may come from a technological edge, market share, a strong brand, product scarcity or strong service revenue streams from loyal or sticky customers. Companies without any of those advantages may find it hard to withstand the challenges of competition, rising input costs and any cyclical variations in demand."
He adds that "Utilities have the scope to be reliable dividend payers because demand is usually pretty consistent and reliable, although the possibility of windfall taxes or Government demand for increased investments in fresh supply, especially of energy from renewable sources, means investors might not be able to take them for granted as before."
Outlook
For the coming year Mould expects that miners, financials (both banks and insurers), consumer staples and oil companies are likely to the top dividend paying sectors. These sectors make up 68% of the FTSE 100 (UK100).
"Anyone buying the UK market for its forecast 4%-plus dividend yield needs to be aware of that sector mix and be confident that the quarter can deliver on the dividends analysts are expecting," Mould added.