Sterling crisis: How high can the BoE go on UK interest rates
Subscribe to Weekly Highlights
The major market events for the week ahead right in your inbox.
Subscribe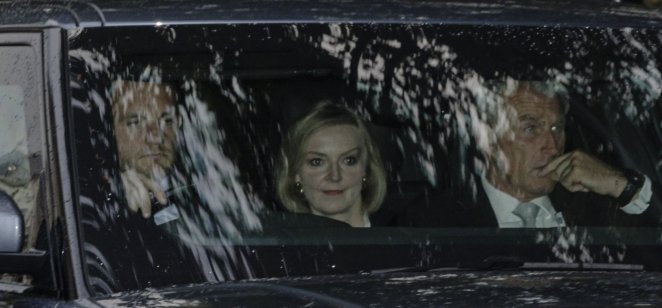 Content
Pensions funds aren't used to rapidly flogging assets to meet their obligations. But yesterday the Bank of England (BoE), responding to Kwasi Kwarteng's plans to borrow for tax cuts, picked up the pieces pronto. A close call.
But another riptide is coming which may pull some homeowners under: bumper interest rate rises. How high will they go? And what could this do to sterling?
Currently market watchers are looking at a 175bps BoE rate hike by early November, which suggests some traders think emergency action will arrive before the 3 November Monetary Policy Committee (MPC) meeting.
For the time being, ING thinks both a swollen dollar and doubts about UK debt sustainability "will mean that GBP/USD will struggle to hold rallies to the 1.08/1.09 area".
What is your sentiment on GBP/USD?
Vote to see Traders sentiment!
Sooner than expected?
So, how high? Governor Bailey could be forced to hoist the base rate to 6%. Huw Pill, the BoE's chief economist, has warned that the chancellor's tax cuts may spur an inflationary sugar rush, resulting in rates rising higher than previously pencilled in.
"It is hard not to draw the conclusion that this will require a significant monetary policy response," Pill told the Guardian.
Viraj Patel of Vanda Research told Capital a 175-200 bps chunk raise would be tough to digest quickly. "Not just for the financial markets but the 'real economy'."
5% enough to stabilise?
"Maybe they can get away with doing slightly less [several 50bps rises] that markets are pricing in but that seems to be the path of least resistance which takes you around to the 5% level."
How this will impact on the economy that is most 'rate sensitive' is yet to be seen. For now 6% is a 'low probability' for Patel.
David Morrison from Trade Nation told Capital it's easy to forget that the Bank of England actually started raising rates before the Federal Reserve and the European Central Bank, in late 2021.
| | |
| --- | --- |
| Long position overnight fee | 0.0016% |
| Short position overnight fee | -0.0041% |
| Overnight fee time | 22:00 (UTC) |
| Spread | 0.070 |
| | |
| --- | --- |
| Long position overnight fee | 0.0000% |
| Short position overnight fee | -0.0001% |
| Overnight fee time | 22:00 (UTC) |
| Spread | 0.236 |
| | |
| --- | --- |
| Long position overnight fee | -0.0027% |
| Short position overnight fee | 0.0008% |
| Overnight fee time | 22:00 (UTC) |
| Spread | 0.00050 |
| | |
| --- | --- |
| Long position overnight fee | -0.0013% |
| Short position overnight fee | 0.0001% |
| Overnight fee time | 22:00 (UTC) |
| Spread | 0.00040 |
"Almost all central banks have been talking about inflation being transitional…I believe that if they [Bank of England] had started six months earlier we might be looking at a terminal rate of 3%; I reckon there's now a terminal rate of 5% or more, which is half a percent more than the Fed [expected]. But they're very different economies."
Talk to us
Morrison believes any emergency hike rate is off the table – for now. "What markets really want is communication. You've got to have a proper relationship with them [markets] if you're in government."
Currently the tone from the government in some quarters appears to blame some of the crisis on the Bank of England for failing to anticipate inflation on a timely basis.
But the arrival of a new prime minister and chancellor has overturned much.
Gauche decision-making?
"It's about a Chancellor," said Bill Blain, market strategist at Shard Capital this morning, "who thought he knew better than the great financial institutions of the land, their collective expertise and experience, rejecting their inputs to come up with a childish notion he could finance short-term spending and a series of income and stamp duty tax cuts with long-term borrowing. It was beyond naïve."
While the BoE yesterday man-handled UK investment institutions out of a dangerous financial hole, government ministers have the sole responsibility of managing UK credibility, which is not the BoE's job.
Many mortgage products meanwhile are being pulled. According to Moneyfacts, there were 2,661 mortgage products on offer yesterday compared to almost 4,000 last Friday. Today, this 2,661 figure slumped to 2,340.
At lunchtime DXY was up 0.14% at 112.75 while GBP/USD was 0.14% lower at 1.0874 while EUR/USD was flat at 0.9738.
Related reading