SpiceJet's shares drop amid Boeing settlement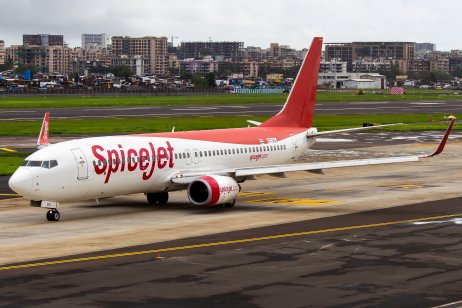 Shares in Indian low-cost carrier SpiceJet dropped on Wednesday despite news that the nation's second-largest airline has settled claims with Boeing over grounded 737 MAX-aircraft.
The 737 MAX was grounded worldwide after nearly 350 people were killed in two crashes due to a faulty flight control system.
SpiceJet stock dropped 2.62% to INR76.10 in early trade on the National Stock Exchange (NSE) after SpiceJet said Boeing had "agreed to… settle the outstanding claims related to the grounding of the 737 MAX aircraft and its return to service".
In a shareholder statement the company said the agreement "paves the way for the induction of efficient and younger MAX aircraft into the company's fleet and ensures the resumption of new aircraft deliveries from our order of 155 MAX aircraft".
Gurugram-headquartered SpiceJet has a market capitalisation of roughly INR46.5bn ($625.9m) on the NSE, where its shares have lost some 18% so far this year.
Rival Akasa Air orders 737 MAX jets
The settlement comes a day after India's newest airline, Akasa Air, ordered as many as 72 of Boeing's 737 MAX aircraft to build its fleet, which at list price is worth $9bn.
Akasa's order includes two variants from the 737 MAX family, the 737-8 and the high-capacity 737-8-200, according to a 16 November Boeing media statement.
The 737 MAX line-up delivers superior efficiency, flexibility and reliability "while reducing fuel use and carbon emissions by at least 14%" when compared to the jets it replaces, it added.
India lifts its ban on the 737 MAX
In late August, India's aviation regulator lifted its two-and-a-half year ban on the 737 Max aircraft.
In its order dated 26 August, the Directorate General of Civil Aviation (DGCA) said it had been "closely monitoring the global trend with regard to un-grounding" of 737 Max planes, reported the Press Trust of India (PTI).
34 airlines have operated 122,000 flights with 345 Max aircraft since the plane was un-grounded in late 2020, without incident, said the DGCA. Therefore, the operation of Boeing 737 Max planes in India are permitted "only upon satisfaction of applicable requirements for return to service".
SpiceJet stock later recovered its losses and was at INR78.65 in mid-afternoon trading.
Read more: India's Akasa Air orders 72 Boeing 737 MAX airplanes