SpaceX Inspiration4 to launch four civilians into orbit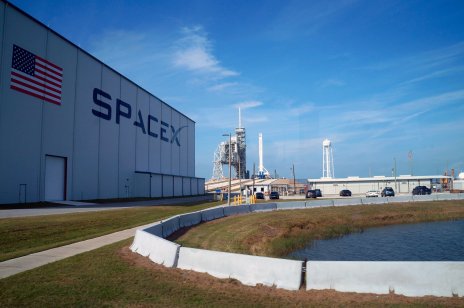 The SpaceX charter flight Inspiration4 is slated to put the first all-civilian crew into space on Wednesday, marking the latest entry into the field of privately funded journeys into the final frontier.
Amazon's Jeff Bezos and Virgin's Richard Branson have already launched into space and this trip will have a billionaire of its own. Jared Isaacman, the founder and CEO of Shift4 Payments, chartered the ship and will command the four-person crew.
The crew members will conduct experiments in zero-gravity conditions "designed to expand our knowledge of the universe," according to the Inspiration4 mission details. The Dragon spacecraft will have a cargo capacity of 365 pounds available for equipment and space for as many as seven people. Both the craft and the Falcon 9 rocket, the first orbital class reusable rocket, were designed by SpaceX.
The Crew
Each member of the crew was included to symbolize one of the four tenets of the mission, which benefits St. Jude Children's Research Hospital. Isaacman, 38, was tabbed to represent leadership, having excelled not only in the boardroom but in the air where he has more than 17 years of flying experience, including participating in more than 100 air shows and setting multiple world records, such as the fastest flight around the world in a light jet.
He also combined his interests in business and aviation, founding what ultimately transformed into the world's largest private air force, Draken International.

Hayley Arceneaux, 29, was selected as being emblematic of hope. After surviving cancer as a child, Arceneaux took an unconventional path to space after a metal rod in her leg seemed to have precluded her from pursuing her dream of becoming an astronaut. The physician's assistant at St Jude will become the youngest person in space and also the first astronaut to use a prosthesis.
Passion into practice
Explorer and geoscientist Dr. Sian Proctor conveys prosperity, and should be central to the ship's research goals. Long enamored with space while exploring the earth extensively, Proctor has taught for more than 20 years while putting her passion into practice through a variety of exploratory initiatives. Her father worked for NASA in Guam, and she may be the closest thing to a professional astronaut on the flight, having completed four analog missions that simulated space conditions.

Embodying generosity is Lockheed Martin data engineer and US Air Force veteran Chris Sembroski. His seat on the panel was given to him by a friend, who transferred the privilege of embarking on the mission, won in a charity raffle, to Sembroski because of his lifelong fascination with space. Arceneaux and Proctor were both selected as contest winners for their positions.
What's novel here?
In addition to being an all-civilian voyage, the three-day mission serves as a scientific and philanthropic endeavour as well with $100m (£82m) going from Isaacson to St. Jude's with the goal of raising a commensurate amount from the public (currently over $30m has been pledged).
In addition to public involvement, there is also the fundamental difference from Blue Origin (Bezos) and Virgin Galactic (Branson), which were suborbital and relatively short missions. Inspiration4 will take its crew into orbit, where it will circle the earth for three days.
Lastly, the fact that four people with limited if any background in space travel are flying a fully automated mission – none will have a role in the launch or landing of the vessel – opens the door wider than ever for space tourism. While space tourism may remain cost-prohibitive, the interest exists, and a civilian crew completing a mission of this magnitude could bolster confidence from the perspectives of both consumers and providers.