Skechers (SKX) rallies after proactive investor letter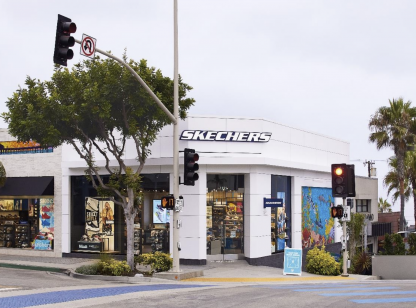 Skechers (SKX) was up as much as 5.5% in early trading Wednesday after Tremblant Capital Group increased its stake in the footwear company to 5.1% and wrote a letter urging the Los Angeles-based company to make adjustments that could boost its value.
Shares touched $47.41 before moving lower. The stock had dropped about 6% in the past three months, lagging behind the S&P index.

Tremblant increased its holding of Skechers to 6.87 million shares and made purchases from 29 September at prices ranging from $41.21–$48.83 per share.
The firm said it felt that while the brand was well-managed in many regards by the Greenberg family, its controlling interest, it was "puzzling" that share value trailed so far behind competitors like Nike and Adidas.
The New York-based investment manager pointed out that Skechers' growth outpaced theirs and that of "any relevant peer." Tremblant urged restructuring of stock to eliminate a two-tier share system, initiate aggressive buybacks, pay out dividends and arrange more fluid communication with investors in order to better reconcile the goals of the brand and those of its investors.

So what is the incentive to implement these suggestions for Skechers and the Greenbergs?
"We know management is highly aligned with shareholders as the Greenberg family owns $1.1bn of stock," the letter read. "However our suggestions could create greater than $4bn of incremental value over the next ~10 years just for the Greenberg family alone."
Tremblant styles itself as an investment manager that conducts deep fundamental research to uncover investments that are trading at a material dislocation from fair value.
"Specifically over the past decade, Skechers has grown revenue faster than Nike, Adidas, Puma, Under Armour, Crocs, and any other relevant peer."
by
Tremblant Capital Group asking why shares are so inexpensive versus peers
Market position

Skechers sold more than 160 million pairs of shoes and had total revenue of $4.6bn (£3.5bn). While its rate of growth has been stronger than competitors, those figures still place it well behind the industry leaders. Adidas reported $13.7bn (£10.3bn) in footwear sales in its last fiscal year and Nike recorded more than double that at $28bn (£21bn), in addition to both brands having apparel and other non-footwear sales that alone were greater than Skechers' total intake.
After seven straight years of strong growth, 2020 actually represented a $600m (£452m) dip in revenue year over year. Skechers competes largely in the lifestyle sector but also makes performance athletic footwear, boots and apparel. Endorsers have not been contemporary stars like LeBron James and Serena Williams at Nike or Patrick Mahomes and Fernando Tatis Jr for Adidas, but rather retired athletes and entertainers for marketing campaigns geared toward casual comfort.

"The fundamentals of (Skechers') business are better than peers over an extended period of time," the letter read, going on to state that while margins were narrower, they had promising potential to increase over time.
What is your sentiment on NKE?
Vote to see Traders sentiment!
Other initiatives
Skechers also made news this week by creating a new partnership as well as extending an existing one, and the brand has had an eye toward expansion in the Asian market.
On Tuesday, the company announced its relationship with the environmentally conscious non-profit The Nature Conservancy. In addition to its pledge contribution to the groups' protection efforts, Skechers will launch a new line of products that feature recycled materials. Such moves have become common in the industry. Examples include Nike's "Considered" and "Move to Zero" programs, as well as Adidas's "Primegreen" series and its partnership with Parley to utilize recycled ocean plastics for shoes and apparel.

Earlier in the week, Skechers and Marcoloin extended their agreement to produce eyewear through 2024.

In October, Bloomberg reported that Skechers was considering a possible initial public offering of shares, among other expansion ideas, in Asia.
Read more: Shoe Zone shares jump on full year profit adjustments