Singapore dollar (SGD) faces mounting stagflation risk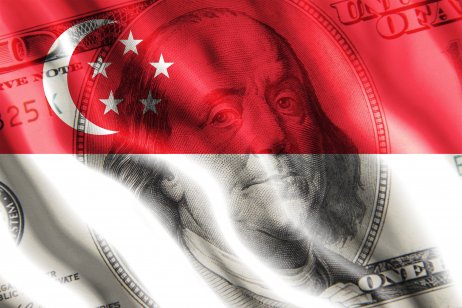 The Singapore dollar (SGD) has depreciated only marginally this year versus the US dollar, even as the US Federal Reserve's (the Fed's) monetary tightening and the war in Ukraine ramped up pressure on currencies in the Southeast Asian region.
However, with growth slowing and inflationary pressures rising, the Singapore dollar is expected to come under more pressure as the year moves along.
Ahead of the Monetary Authority of Singapore's meeting next week, the USD/SGD exchange rate remained flat at 1.35, but some experts believe the slide will start soon.
What is your sentiment on USD/SGD?
Vote to see Traders sentiment!
USD/SGD exchange rate
SGD expected to weaken
In a note, Philip Wee, senior FX strategist, G3 & Asia at Singapore's DBS Bank, comments: "Since mid-2021, the USD/SGD pair has fluctuated between 1.34 and 1.37, despite a stronger USD Index (DXY), fuelled by an increasingly hawkish Fed policy outlook.
"The stability in the exchange rates of Singapore's Asian trading partners most likely contributed to the SGD's resilience.
"However, these Asian currencies, including the CNY, are likely to succumb to USD strength in the quarters ahead… Hence, we cannot dismiss USD/SGD trading in a wider 1.34–1.39 range like 2018–2019."
According to another Singapore-based bank, United Overseas Bank (UOB [U11sg]), the USD/SGD is likely to trade between 1.3520 and 1.3620 over the next one to three weeks.
"Looking ahead, USD has to close above 1.3620 before a sustained advance is likely (next resistance is at 1.3650). The chance for USD to close above 1.3620 is not high for now, but it would remain intact as long as it does not move below the 'strong support' level (currently at 1.3540)," the bank said in a note.
However, the range is likely to widen over the coming months, with UOB expecting the USD/SGD pair to climb as high as 1.37 over the next three months.
Economic growth slowing
Singapore-based Oversea-Chinese Banking Corporation (OCBC [O39sg]) also expects the USD/SGD to trade in the 1.35–1.36 range in the coming weeks.
One of the key reasons for the weakness in the SGD will be the slowing growth and rising inflation in the city state.
"Our full-year GDP [gross domestic product] growth for 2022 remains unchanged at 3.5%, and first-quarter growth is expected to ease to 3.6% from 6.1% in the previous quarter," said Irvin Seah, executive director for economics and currency research at DBS Bank, in a note.
Inflation: a key risk in 2022
Seah added: "Inflation will be the key risk in 2022 amid rising global price pressure. A strong global recovery, supply-side bottlenecks and, more recently, the Ukraine–Russia war have driven global commodity prices significantly higher."
"Such elevated imported inflation will spill over into Singapore's domestic price dynamics. Juxtaposed with an already tight labour market and an increasingly positive output gap, domestic inflationary pressure will remain high throughout 2022."
Not everyone agrees that the SGD will fall. According to researchers at the Australia and New Zealand Banking Group (ANZ), the SGD is expected to be stronger. The bank predicts the USD/SGD pair will fall to 1.345 by June 2022 and further to 1.330 by September 2022.