Silver price analysis for spring: will the commodity retest recent highs or retreat?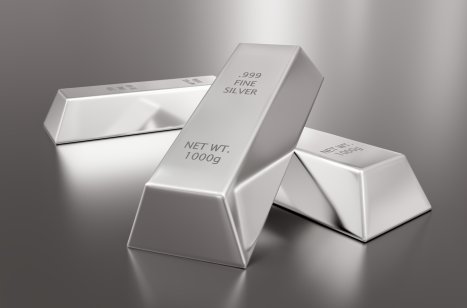 The lustre has come off the precious metals markets since they hit multi-year highs over the summer of 2020. Silver is down by 3 per cent year to date, having spiked in February and subsequently retreated. But does price action so far in March indicate the silver price trend will continue to recover from its November lows?
Will the silver price go up in March? The precious metals sector has come under pressure as US bond yields and the dollar have begun to rise, making them more attractive to investors. But silver has fared better than gold. What does that mean for the outlook going forward?
This article looks at the performance of the silver market and analysts' price targets. Scroll down for a video in which David Jones, chief market strategist at Capital.com, uses silver technical analysis to set up a suggested trading position.
Physical demand and inflation expectations drive silver volatility
Demand for silver is expected to hit an eight-year high of 1.025 billion ounces in 2021, according to the Silver Institute. A recovery in industry use of the metal – in semiconductors, solar panels, batteries, medicine and water purification, among other applications – is expected to lift demand.
Consumption in the electronics sector is set to account for most of the gains, the rollout of 5G networks and devices driving a 7 per cent increase in global demand since 2020 to 300 million ounces. Deployment of solar panels for renewable electricity generation accelerated in the second half of 2020 and is expected to remain strong in 2021, with a growing number of countries installing new capacity. Demand is forecast to reverse a decline last year to total 105 million ounces. And a rebound in automotive production along with the growing electrification of vehicles is set to lift demand in that market to just over 60 million ounces.
And investors are likely to continue adding silver to their holdings, putting physical investment in coins and bars at a six-year high.
Silver production is expected to rebound after mines were closed during Covid-19 restrictions and strike actions, and new mines are set to start production in Mexico and Australia. But although there is expected to be a physical supply surplus this year, it could be the lowest since the market was in deficit in 2015.
There are questions about whether central banks have underestimated the threat of inflation. If banks such as the US Federal Reserve begin to raise interest rates to combat inflation, demand for precious metals – which gained on low interest rates in the past year – is likely to drop. Higher interest rates would lift the US dollar further, which typically has an inverse relationship to the precious metals.
However, recent selling in silver and platinum has been more subdued than on the gold market, noted Saxo Bank commodities analyst Ole Hansen, with tailwinds from industrial demand giving them some relative strength.
The gold/silver ratio – the number of ounces of silver needed to buy an ounce of gold – has been trending lower since September, falling to 65.41 in February, from 68.73 in January and 71.80 in December. The Silver Institute expects the ratio to fall from an average of 86 in 2020 to around 68 in 2021, a sharp drop given the ratio reached a record daily high of 127 in the volatility of March 2020.
The silver price gained 37 per cent from November to February, briefly spiking above $30 per ounce on February 1 before falling back to the $26 per ounce level. It was trading at $28 per ounce later in the month, but slipped back to $25 per ounce in early March.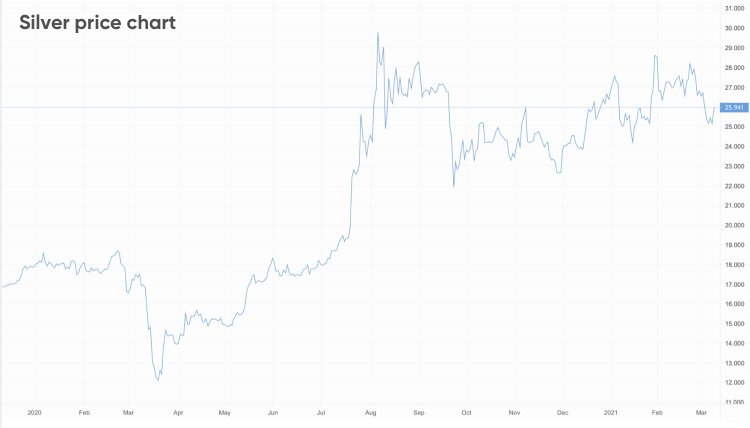 Check out this video in which Capital.com's David Jones suggests a short-term trading strategy for silver.
What is your sentiment on Silver?
Vote to see Traders sentiment!
Silver price analysis: what is the outlook for the price?
Technical silver analysis shows there is support down to the January 17 low of $24 per ounce, and room on the upside to the $28.35 resistance level. If silver does return to the February 1 level at $30 per ounce, it could break through to the January 2013 high of $32.40 per ounce.
Analysts at TD Securities are cautious on the outlook for precious metals, including silver, in the near term. They said in a recent note to clients: "Precious metals remain casualties of the Fed's reactive approach to the rise in Treasury yields."
Analysts added: "Fed Chair Powell's latest interview confirmed the central bank remains on autopilot: the tightening in financial conditions observed thus far has yet to cross the red line. Yet, over the last few weeks, real rates have risen sharply as a result of higher nominal rates, without a commensurate rise in inflation expectations, which is inconsistent with the Fed's dovish message.
"Considering the massive Treasury issuance on the horizon, the pressure on higher rates should continue to weigh on precious metals in the near-term."
Analysts at Heraeus are more optimistic in their latest commentary, as "the price is still trading broadly in line with seasonal trends, having performed better than gold in the year to date".
They add: "The price is expected to recover with gold. In contrast to 2020, silver's industrial uses are forecast to support higher prices this year, while investment demand could pull back in line with gold's growing optimism of an economic recovery. Inflows to silver-backed ETFs have slowed but holdings remain at historically high levels for now (1,119 million ounces)."
The analysts noted that "physical investment has been healthy in the year to date, with US silver Eagle coin sales 77 per cent higher in January and February. A surge in demand in March 2020, as the risk associated with the global spread of Covid-19 heightened, means sales this month are likely to be lower year on year."
Australian bank ANZ expects the price to peak in March and then trend lower in the long term. Its silver price forecast for March 2021 puts the price at an average of $25 per ounce, falling to $23.80 per ounce by the end of the year and $22.50 per ounce by June 2022.
Dutch investment bank ABN Amro similarly expects the silver price to average $25 per ounce by the end of March, falling to $23.50 by the end of December and $22.50 per ounce by the end of the second quarter of 2022.

Read more: Gold price analysis: here's why gold trends are confusing