SIG shares up on Q3 sales growth and raised outlook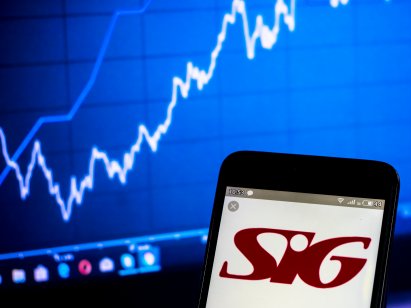 SIG shares rose more than 6% Friday as British construction equipment supplier reported strong third quarter sales and said its full-year operating profit would exceed current forecasts.
Like for like (LFL) sales grew 17% in the three months ended September compared to the third quarter of 2020 and rose 9% versus the pre-Covid comparator year of 2019, a trading statement said.
Quarterly growth lagged the 33% increase reported in the first half of the year. However, the first half was skewed by the pandemic. On a comparative basis, H1 2021 LFL sales rose 1% versus H1 2019.
The company reported £1.1bn revenue and a £3m pre-tax profit for the first half.
Cost rise
The Sheffield-based group said its Distribution business was the principal driver of growth, while its French and British Exteriors businesses, which supply roofing materials and cladding, performed strongly. Poland and Ireland also saw good results.
SIG also said it continued to pass along cost inflation through price hikes to improve profitability in the third quarter.
What is your sentiment on SHIgb?
Vote to see Traders sentiment!
Positive outlook?
The trading statement also said that while supply issues were still a challenge for many product groups, the outlook for materials had become clearer and its order books were building.
"We are mindful of the potential impact of these shortages should the situation persist for an extended period, but remain highly confident in the effectiveness of our supply chain management and commercial agility," SIG said.
The company's share price is up more than 60% in the year to date.
Read more: Shortages hampering UK construction as growth slows further
The difference between stocks and CFDs
The main difference between CFD trading and stock trading is that you don't own the underlying stock when you trade on an individual stock CFD.
With CFDs, you never actually buy or sell the underlying asset that you've chosen to trade. You can still benefit if the market moves in your favour, or make a loss if it moves against you.
However, with traditional stock trading you enter a contract to exchange the legal ownership of the individual shares for money, and you own this equity.
CFDs are leveraged products, which means that you only need to deposit a percentage of the full value of the CFD trade in order to open a position. But with traditional stock trading, you buy the shares for the full amount. In the UK, there is no stamp duty on CFD trading, but there is when you buy stocks.
CFDs attract overnight costs to hold the trades, (unless you use 1-1 leverage) which makes them more suited to short-term trading opportunities. Stocks are more normally bought and held for longer. You might also pay a stockbroker commission or fees when buying and selling stocks.