SIG reports strong revenue growth and raises 2021 profit guidance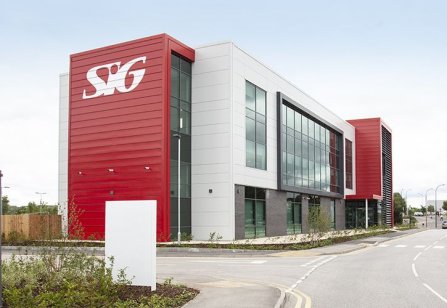 Leading European specialist building solutions supplier SIG today reported strong growth in its trading statement, commenting it was "better than previous expectations".
Half-year revenue was strong, showing like-for-like growth of 33% versus last year, which was also 1% higher aganist 2019 figures.
The company said the growth in revenue reflected the "ongoing positive impact of the group's 'Return to Growth strategy' ". The group plans to release its full H1 results on 21 September 2021.
Due to the growth figures, the group expect its revenues from underlying operations to be just over £11bn for H1 and its underlying operating profit to be just over £13m. It said in the statement that it expects UK business to break even at the underlying operating profit level for H1, which it said would be "ahead of plan".
Profit plan
The company said: "The return to profitability in H1 was faster and more significant than previously expected, and we exited the first half with strong demand conditions and the benefits of the Return to Growth strategy coming through clearly."
"The effectiveness of our supply-chain management and commercial agility give us confidence entering the second half, albeit we are mindful that the potential impact of material shortages could be more significant should the situation persist for an extended period. As such, we retain a cautious view of H2 at this stage.
"However, providing there is no significant disruption in coming months, we continue to expect H2 to be both profitable and cash-generative, with full-year underlying operating profit now expected to be ahead of previous forecasts," the statement read.
Road to recovery
Experts have said this upgraded forecast shows that business is recovering in key areas across Europe.
"SIG has upgraded the forecast for the operating profit for the second half of 2020 following a better-than-expected revenue growth in H1, with the operating profit coming in at £13.5m.
"The business recovery in various geographies, including France and Germany, has contributed positively, while the four-month disruption in the Ireland business from January to the end of April 2021 has significantly affected the overall receivables," Kunal Sawhney, CEO, Kalkine Group, told Capital.com.
The Sheffield-based construction products supplier remains on track to deliver a higher operating profit as estimated earlier with positive cash generation. However, the potential impact of the supply shortages of raw material could impact the operations if the situation continues for a longer stretch.
"The reconnect programme with the employees, customers and suppliers have benefited the group to improve the near-term demand, as well as the long-term fundamentals," Sawhney added.
Trade SIG PLC – SHIgb CFD
Read more: PepsiCo reports double-digit growth and increases full-year forecast