Should the ECB exist?
By Macrodesiac
15:16, 1 November 2022
Tags
Subscribe to Weekly Highlights
The major market events for the week ahead right in your inbox.
Subscribe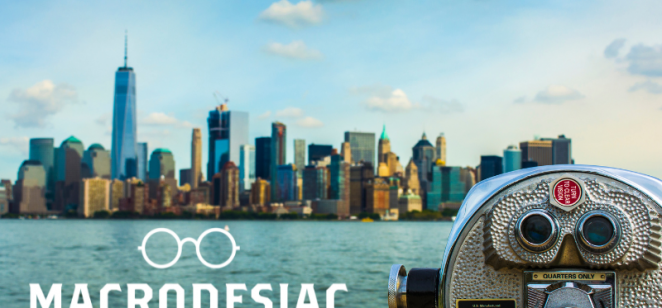 Content
Fed, Fed, Fed… we tend to focus on the US an exorbitant amount and for good reason. Namely, the US being the largest economy in the world and the dollar backing pretty much everything globally – two great justifications for keeping an eye on our US pals.
S&P 500 (US500) index price chart
But the European economy is one which is going to require our attention now as well.
And not just because Madame Christine Lagarde, president of the European Central Bank (ECB), this week stated that inflation cropped up "out of nowhere". Yes, she really said that.
Just last week, the ECB raised rates by 75 basis points from 0.75% to 1.5% and they're in quite a nice groove now having been at -0.5% in 2019. And with good reason.
German retail sales absolutely smashed estimates at 0.9% MoM vs -0.5% expected, leaving the YoY figure at -0.9% vs -3.4% expected, while German PPI YoY lies at 45.8%.
The real kicker is that eurozone inflation now sits at 10.8%.
For a central bank, which has prided itself for so long on simply printing money to boost inflation, what it actually needed was a global emergency and a geopolitical toilet of affairs to actually overachieve in its aims.
And this is one way in which it is completely stuck.
What is your sentiment on US500?
Vote to see Traders sentiment!
Between a rock and hard place
If its actual policies hadn't achieved its end goal and it took a series of outside events to occur for the outcome to be achieved, then what is the reason for the existence of the central bank?
You can argue that all the money printing meant inflation was bound to occur, but it's more likely this money printing required an outlet – it required an actual feed through to the economy.
Quantitative easing in the post Great Financial Crisis era was largely isolated to corporate and bank balance sheets, rather than the balance sheet of the consumer.
The Covid-19 pandemic changed that. Where the ECB previously swapped assets with commercial banks, the government pandemic response policies added another function.
The printed money was taken off the balance sheets and provided to consumers directly (yes, you're thinking of modern monetary theory, or maybe even helicopter money).
Either way, it had the effect that monetarists consistently warned about and, in actual fact, a massive blindspot I had myself when I thought inflation would be more transitory than what it is through 2021.
That view quickly changed at the start of the year though.
And the inflation risks the ECB is currently facing are well surmised by the chart below, showing how bad the projections for eurozone inflation have been.
ECB survey of monetary analysts vs HICP outcome
And here's the version below for Core inflation from the ECB staff themselves.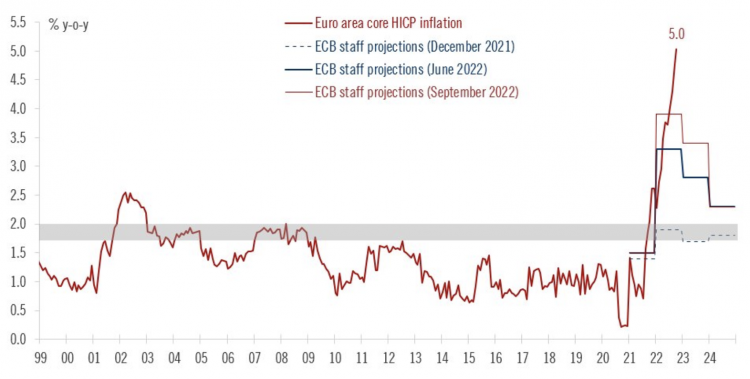 Euro area Core inflation and projections
One thing I reckon this shows is how deeply misunderstood many have been on the structure of the European economy and, more specifically, Germany's – where Europe gets its energy from.
Trump foresaw risks of relying on Russian energy
I would not say this often, but Donald Trump was right when he criticised Europe's policy of relying on cheap Russian energy to power their industry.
Now Germany is in a massive mess.
Previously, the Germans would effectively finance the rest of the bloc – and we can see this relationship through the Target2 payments system illustrated below.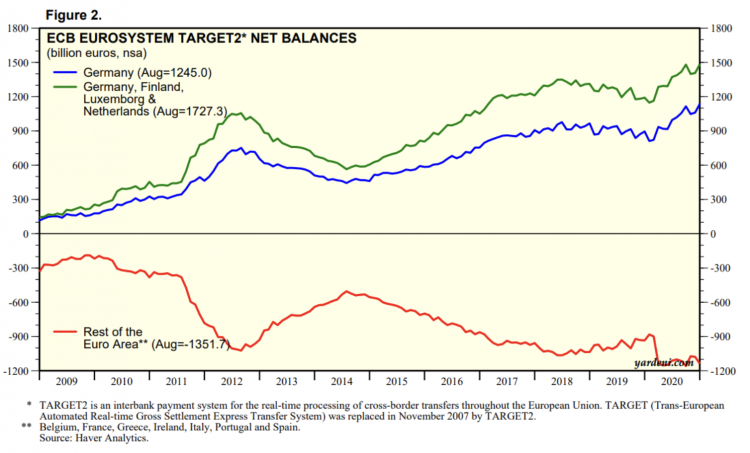 ECB eurosystem Target2 net balances
One of our major concerns is how the bloc will function now that Germany is likely to look more inward.
| | |
| --- | --- |
| Long position overnight fee | -0.0162% |
| Short position overnight fee | 0.0057% |
| Overnight fee time | 22:00 (UTC) |
| Spread | 0.7 |
| | |
| --- | --- |
| Long position overnight fee | -0.0161% |
| Short position overnight fee | 0.0057% |
| Overnight fee time | 22:00 (UTC) |
| Spread | 1.9 |
| | |
| --- | --- |
| Long position overnight fee | -0.0295% |
| Short position overnight fee | -0.0149% |
| Overnight fee time | 22:00 (UTC) |
| Spread | 31.0 |
| | |
| --- | --- |
| Long position overnight fee | -0.0086% |
| Short position overnight fee | 0.0004% |
| Overnight fee time | 22:00 (UTC) |
| Spread | 3.0 |
How can this relationship exist if Germany is no longer the powerhouse it once was? And what does the ECB's role look like in a bloc that is likely going to look for more monetary and fiscal independence?
Germany 40 (DE40) index price chart
Recently, French president Emmanuel Macron worried aloud about "experts and European monetary policymakers telling us we must crush European demand to contain inflation better".
And Finnish PM Sanna Marin, retweeted a link to an article by a Finnish academic together with the following quote: "There is something seriously wrong with the prevailing ideas of monetary policy when central banks protect their credibility by driving economies into recession."
The big risk here is that monetary policy spills into the consciousness of people through the means they know best, namely the political realm.
It is no surprise that Italy has a new right wing government for example - and this is not simply the fault of the last few years, but a longer term problem that can be traced back to even the invention of the euro currency.
You cannot have monetary union with fiscal independence. Nothing underlines this more than when we have a crisis like the pandemic or the financial crisis of 2007/08, where currency appreciation or depreciation cannot occur since sovereign central banks cannot set their own interest rates. This creates large dislocations where some nations within the union are indirectly (or if you want to be cynical and a bit conspiratorial, directly) favoured over others.
For example, we can note the recent finding of Germany having €360bn in off budget debt. Where is the reaction against them versus the reaction that countries like Greece, Portugal, Italy and Ireland faced in 2010-2012 during the debt crisis?
This is pretty much all a monetary effect, but is translated into a political reaction by the electorate usually because monetary 'things' are difficult to understand and are quite abstract.
But all of this uncertainty tends to be opportunity.
Uncertainty usually means that investors don't wish to hold an asset. And if we take a look at the euro, we can make a deduction about its longer term direction.
I'm not much of a technical analysis, but when coupled with macro effects, it can be a nice partner to have.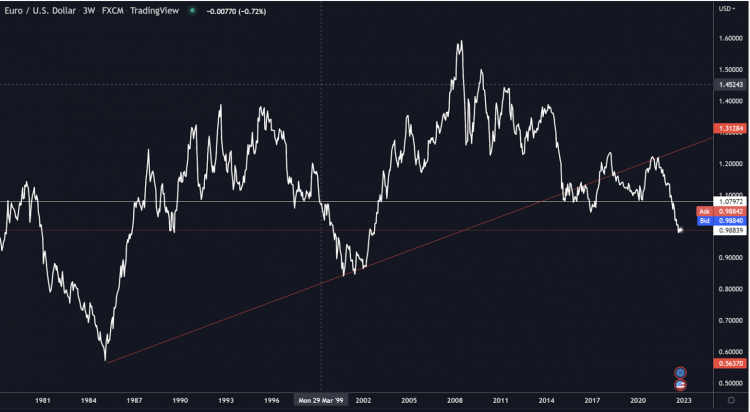 Euro / USD 1981 to present day
This trendline (see above) stretches back to the 1980s, when the Deustchmark was still a living and breathing thing. The euro has only been around since 2002 as an actual currency after its initial introduction in 1999.
There's been a big flip in terms of trend – and, in my view, all of this is a big bet on Germany's trade balance.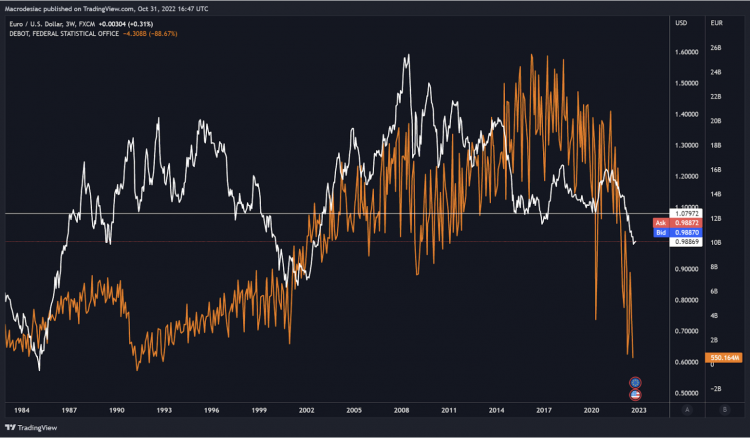 Euro / USD vs Germany's balance of trade
As can be seen above, in white is the euro vs USD and in orange is the German balance of trade.
As this turns more negative, the euro turns down harder and sharper.
Now the questions to ask are:
How far do we think central banks will go in slowing demand with rate hikes, therefore making the German surplus worse since it is (was) a big exporter?
Will Germany ever get energy as cheap again?
A micro case study of German issues is probably BASF, the big German energy exporter.
???????????? BASF: European operations need to be cut to size PERMANENTLY

BASF said costs at sites in its European home market need to be brought to a "permanently" lower level because of a triple burden of sluggish growth, high energy costs and over-regulation

???? @PiQSuite ???? https://t.co/9Wyz5B3D7y pic.twitter.com/4UBfVc4guy

— Macrodesiac (@macrodesiac_) October 26, 2022
With costs being so high, more and more German firms are having to recalibrate and this is merely one example of many.
And if we recall towards the start of this piece that Germany is a big financier of the rest of the bloc, how does the idea of monetary union hold up in the same context as 2002-20?
In our view, it does not, which begs the question: Should the ECB exist?
Related reading