Shares of United Natural Foods soar on Q4 earnings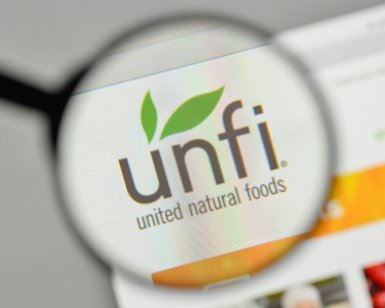 Shares of United Natural Foods (UNFI) were up more than 21% Tuesday after the largest publicly traded US grocery distributor announced fiscal fourth quarter earnings.
The food wholesaler saw shares rise to $46.28 (£34.20) per share by 1:30pm EDT (UTC -4) after opening the day at $39.30 per share.
FY 2022 Outlook
Investors were encouraged by the company's outlook.
UNFI expects to generate net sales of $27.8–$28.3bn and earnings per share of $3.60–$3.90 in the next fiscal year. If realized, this would represent a 51% growth rate over the midpoint of fiscal 2021.
Adjusted EBITDA is projected to grow 4% over the FY21 midpoint to $760–$790m.
"I see significant opportunity to accelerate the value we create with and for our customers as well as the opportunity to make our operations more effective and efficient, both leading to continued profitable growth within our estimated $140bn addressable market," said chief executive Sandy Douglas in a statement.
The company expects to spend approximately $300m on capital expenditures, 3% less than FY21, the outlook said. UNFI was able to reduce debt by more than $317m in fiscal year 2021, lowering the net debt to adjusted EBITDA ratio to 3.1 times.
Net debt was $2.3bn. Adjusted EBITDA was $746m.
Earnings details
UNFI posted mixed results between its Q4 earnings and its full-year highlights.
Net sales grew 7.5% in the quarter ended 31 July to $6.7bn on a two-year stack basis. However, sales slipped 0.5% year over year.
Net income fell 18.9% year over year to $43m.
Adjusted EBIDA increased 1.5% to $201m from Q4 2020.
For investors, these totals translated to $0.69 in per-share earnings, down 22.5% year over year.
Analysts were looking for EPS of $0.80, according to estimates compiled by MarketBeat.
On a full-year basis, United grew revenue 1.5% up to $27bn.
New leadership
The results led CEO Douglas to conclude that there is still room for UNFI to improve in the future.
UNFI's fourth quarter earnings are the first results to be released under the new leadership of Mr. Douglas. He was appointed United's chief executive in late July following the retirement of former CEO Steven Spinner, who led United for more than a decade.
"I'm excited to return to the food industry and join UNFI as we begin our next chapter of profitable growth in service to our customers," Douglas said. He was CEO of Staples before coming to UNFI.
Supermarket sales
One strategic shift executed by Douglas was increasing distribution to supermarkets. UNFI increased supermarket sales by 11.4% in Q4. For the entire year, distribution to supermarkets was up 7%.
For comparison, retail sales rose 2.8% for the year, but declined 6% during Q4.
"We're pleased with the finish to fiscal 2021 and appreciate the many contributions that my predecessor, Steve Spinner, made to UNFI," he added. "I have been impressed with the passion and commitment of our associates in helping our customers navigate today's challenging operating environment."
About United
United is the largest publicly traded grocery distributor in the US. The Providence, Rhode Island-based company delivers its products to consumers through a variety of channels, including natural product superstores, independent retailers, conventional supermarket chains, and e-commerce retailers.
Read more: Is it time to invest in the organic foods market?