Shares of Moderna gain on positive clinical trial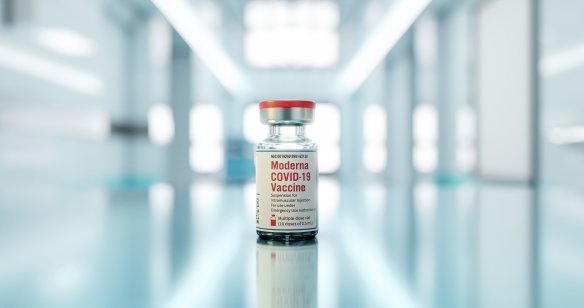 Shares of biotechnology company Moderna gained 1.58% on Wednesday after the company received positive clinical trial data regarding its Covid-19 vaccine.
The new analysis shows that Moderna's vaccine presents greater protection against breakthrough infections - cases occurring in people who are fully vaccinated - than other vaccines, according to a press release.
Shares of Moderna finished Wednesday's trading session at $434.46(£313.83) per share.
Clinical trial
The clinical trial was conducted in partnership with the US Center for Disease Control (CDC) and Kaiser Permanente.
It matched more than 350,000 individuals who were vaccinated against Covid-19 and an equal number of unvaccinated individuals and found Moderna's vaccine is 87% effective at preventing infections and 96% effective at preventing hospitalizations.
The trial also found the vaccine to be 92% effective at preventing infections of the delta variant and 95% effective against all infections.
"It is promising to see clinical and real-world evidence adding to the growing body of data on the effectiveness of the Moderna Covid-19 vaccine," Stéphane Bancel, CEO of Moderna, said in a statement.
"The increased risk of breakthrough infections in COVE study participants who were vaccinated last year compared to more recently illustrates the impact of waning immunity and supports the need for a booster to maintain high levels of protection," he continued.
Runaway winner
Over the past year, Moderna has been the runaway winner when compared to other vaccine manufacturers such as Pfizer and Johnson & Johnson.
In the past 12 months, shares of Moderna have increased more than 531% from $68.84 to more than $434 today.
In comparison, Pfizer's shares have increased 28% and Johnson & Johnson's shares have risen 11% over the same period.
But, some analysts are concerned that the share value may be tied too closely to Covid-19.
According to a note from Trefis, Moderna's continued investments in research and development is a key sign that Covid-19 may drive the shares going forward.
Doubly concerning is the increasing vaccination rate across the globe, the note argues. As vaccinations rise, shares may fall precipitously.
"Even if Covid-19 vaccine sales will continue for the foreseeable future, it's likely that sales will show a declining trend versus 2021, as vaccination rates improve globally and as competition in the vaccine market mounts," the note says.