Shares of India's Coforge tumble despite strong Q2 earnings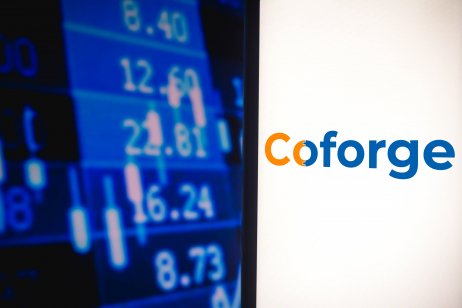 Shares of India's Coforge dropped on Monday despite the technology company's strong quarterly results and dividend announcement.
Coforge – formerly known as NIIT Technologies – tanked 12.4% to INR4,726.60 ($63.04) in mid-morning trade on the National Stock Exchange (NSE), even as the firm reported a near 23% on-year increase in profit after tax (PAT) for the quarter through 30 September.
In a 25 October regulatory filing, the firm said PAT for the three months to 30 September was $19.9m, on a 37.4% year-over-year increase in revenue at $212.8m. Consolidated earnings before interest, tax, depreciation and amortisation (EBITDA) jumped 34.6% on-year for the quarter.
The company's board of directors has recommended an interim dividend of INR13 per share.
Order book grows
The software developer's order book, executable over the next twelve months, expanded by 40.6% on-year to $688m as of 30 September. During the period under review, Coforge onboarded six new customers in the USA. The business in the Americas makes up most of the company's revenue pie.
"Our investments in product engineering, cloud, data, automation and integration capabilities continue to power our path to being a $1bn+firm next year," Coforge chief executive Sudhir Singh said in a statement that accompanied the filing. "This is a landmark year for the firm as we anticipate that we shall grow revenues by at least 35% and our adjusted EBITDA by at least 40% over the previous year."
The Greater Noida-based software exporter has a market capitalisation of around INR306.17bn on the NSE, where its shares have gained 86% so far this year.
Read more: Quarterly results of India's Reliance at pre-Covid levels