Selfridges sold for $4bn to Thai and Austrian partnership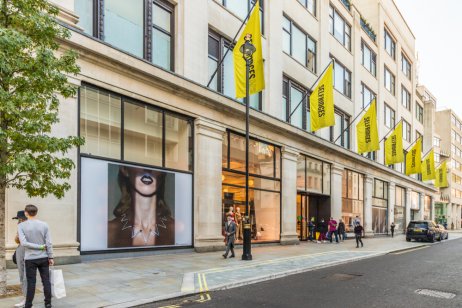 Luxury department store chain Selfridges has been bought by a Thai retailer and an Austrian property company in a deal worth £4bn ($5.37bn), according to reports.
Thailand's Central Group and Austrian real estate company Signa Group confirmed they had struck a deal for the chain best known for its Oxford Street store in London.
In a statement published on Central Group's website on Friday, the business said the transaction "will create one of the world's leading omni-channel luxury department store groups".
The group also said it will build on the legacy of the late Galen Weston, who bought the chain in 2003, including investing significantly in all the group's stores in the UK, the Netherlands and Ireland.
"Central, a family-owned retail, real estate and hospitality group and Signa, one of Europe's leading real estate and retail groups, have entered into a definitive agreement to acquire Selfridges Group, a leading luxury retail group, from the Weston family," a statement said.
Selfridges group growth
The Selfridges Group portfolio comprises 18 department stores, including Selfridges in London, Manchester and Birmingham, de Bijenkorf in Netherlands, Brown Thomas and Arnotts in Ireland, their associated e-commerce platforms and properties in London, Manchester and five locations in Ireland.
"The transaction will see Selfridges Group become part of the combined Central and Signa portfolio of luxury department stores, which owns Rinascente in Italy, Illum in Denmark, Globus in Switzerland and The KaDeWe Group, which operates in Germany and Austria (starting in 2024). Pro-forma annual turnover for the combined department stores portfolio was €5bn in 2019 and is projected to grow to more than €7bn by 2024," the group said.
Central and Signa will operate all the stores in Selfridges Group including Selfridges, de Bijenkorf, Brown Thomas and Arnotts, which will continue to be run by the existing leadership teams, as well as their e-commerce platforms and operating companies. The Canadian business, Holt Renfrew, will remain with the Weston family, the business said.
Comments from the chief execs
Tos Chirathivat, executive chairman and chief executive of Central, commented on the deal.
"It is a privilege to be acquiring Selfridges Group, including the flagship Oxford Street store, which has been at the centre of London's most famous shopping street for over 100 years. As family businesses, Central and Signa will focus on delivering exceptional and inclusive store and digital experiences for both local residents and overseas visitors alike, to ensure we can give all the stores in Selfridges Group a bright future for the next 100 years. We are looking forward to working with the management teams and the colleagues across Selfridges Group, as we seek to create a world-leading luxury, retail company."
Dieter Berninghaus, chairman of the executive board of Signa, also commented on the transaction:
"We are excited to be acquiring Selfridges Group in partnership with Central. Together we will work with the world's leading architects to sensitively reimagine the stores in each location, transforming these iconic destinations into sustainable, energy-efficient, modern spaces, whilst staying true to their architectural and cultural heritage. We plan to fulfil the vision of the late Galen Weston to deliver his masterplan and create a high-quality experience retailing environment for our customers and brand partners."
Weston family legacy
Alannah Weston, chairman of Selfridges group, described the acquisition of Selfridges Group by Central and Signa as testament to the successful realisation of her father's vision for an iconic group of "beautiful, truly experiential, department stores".
"Creative thinking has been at the heart of everything we did together for nearly twenty years and sustainability is deeply embedded in the business. I am proud to pass the baton to the new owners who are family businesses that take a long-term view. I know they will fully embrace that vision and continue to empower our incredible team to take the Group from strength to strength," she said.
The parties expect closing to occur upon the receipt of regulatory approvals and the satisfaction of other closing conditions.
Read more: Natural gas prices tumble as demand drops