Schroders predicts growth for US and European stocks in 2022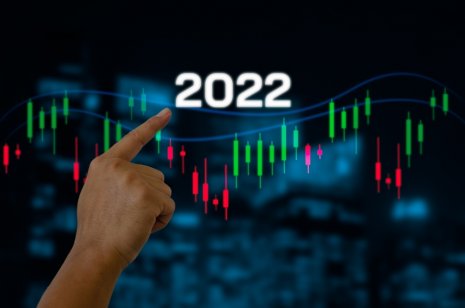 The global economy is expected to continue on a path of recovery during 2022 with equities in both the US and Europe set for growth according to forecasts by asset manager Schroders, although the investment landscape may look different by the year end.
Europe faces the threat of high inflation and higher interest rates as well as potential economic damage from a fourth wave of Covid infections in recent weeks. However, the region's high vaccine intake and booster shot availability make prolonged lockdown measures unlikely, says Schroders. Corporate profits are up about 50% year-on-year and a growth rate of 8-9% is expected for 2022.
In the US, the economy has grown structurally at a higher rate than before the pandemic – this has been due to consumer spending, government infrastructure and corporate capital spending. Schroders believes the best investment opportunities in the US market will be found in the small- to mid-cap companies.
Due to robust demand levels in both regions, companies have been able to lift prices to offset rising costs, and are thus expected to find themselves in a strong position come 2022.
Europe
There are reasons to believe Europe's current high inflation rate may remain elevated in the coming year. The disruption of supply chains in 2021 may lead to companies seeking out more local and less price-efficient supplies, which is likely to increase costs. Labour shortages paired with rising living costs may push up wages.
Moderate inflation is generally welcomed by equity investors since it is associated with economic growth and thus, higher profits. However, if costs rise higher than income, the earnings outlook becomes clouded. Further risk is seen if interest rates are lifted in response to rising prices, but Schroders says the European Central Bank is not expected to make that move for some time.
According to Schroders, Europe's biggest winners are set to be:
The capital goods sector, the makers of machinery and tools used in the production process. They will be responsible for the recovery of supply chains.
Semiconductor equipment firms, responsible for expanding digital hardware.
Bank stocks have also historically done well during high inflation and high interest rate periods since they are in a position to reprice loans.
The green energy space in Europe has huge potential in the coming year. Schroders expects sustainable technology companies such as renewables, electric cars and metals recycling to also do well in 2022.
Schroders expects the current growth trend in Europe to continue in early 2022, however risks related to central bank action – or rather inaction – could increase near the year end. Geopolitical risks may also arise relating to the Belarus-EU border and French presidential election in April. However, European banks are tough enough to manage any pullback.
United States
A mix of consumer demand, government spending and corporate capital expenditure is expected to lead to higher growth rates in the coming years says Schroders. Much like Europe, this will depend on making supply chains stronger and managing the tight labour market alongside emerging markets that address climate risk.
Schroders expects consumer spending to change course in 2022. While consumer savings were at a historic high during the pandemic, levels have since decreased. If current spending levels are to continue, there will need to be an increase in debt.
Higher confidence in future profitability may see companies spending more. During the pandemic, excess cash was used to buy back shares, which provided a short-term boost without any long-term growth. Schroders says there may be political pressure on companies to invest in improving supply chains, rather than spending on dividend payouts or share buy-backs.
The cost inflation seen in 2021 may be transitionary, however wage increases are expected to be more persistent as shortages of both skilled and unskilled labour continues.
The biggest winners in the US equity market are expected to be small-cap and mid-cap companies, which now have growth opportunities that did not exist before. Furthermore, companies who can protect their profit margins will be the biggest winners in 2022 in all market cap sizes.
The possible shift in interest rate levels in response to high inflation rates may change the investment outlook for many equities at the end of 2022. However if the current GDP growth continues Schroders expects small-cap companies to provide the best investment opportunities for investors.
Read more: NerdWallet (NRDS) falls 9% as analysts initiate coverage