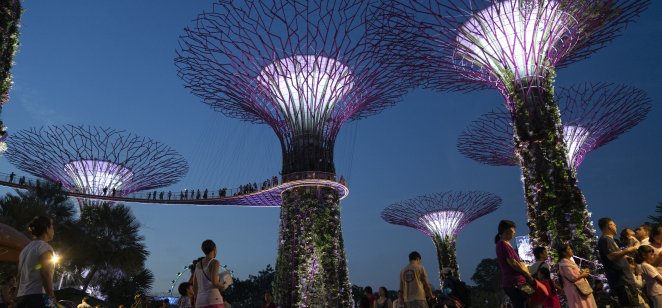 Content
Leading OPEC+'s member Saudi Arabia has raised the prices of crude oil for Asian buyers to record highs.
Saudi Aramco on Thursday raised the official selling prices (OSPs) of September crude grades, with the Arab Light oil variant now costlier by 50 cents per barrel, Reuters reported.
The Saudis, as leading exporters, have been pricing their crude at a premium to the Oman/Dubai benchmark. Their moves serve as a point of reference for how producers imagine the future demand for oil.
The announcement came a day after OPEC+ agreed to raise their collective production target for September by a meagre 100,000 barrels per day, the lowest increase in months by the oil cartel.
Prices back to pre-war levels
"Crude futures were ticking higher early Thursday in Asia after a somewhat unexpected 4% slump at Wednesday's settle took prices back to pre-Ukraine invasion levels for the first time," said analysts at Singapore-based energy consultancy Vanda Insights.
"The main bearish signal for crude appeared to come from the Energy Information Administration's (EIA) data showing an unexpected and sizeable build in US commercial crude inventories and a plunge in gasoline demand for the week ended 29 July," they added.
Insult to President Joe Biden
3 August's OPEC decision is being seen as a rebuff to US President Joe Biden, who was in Saudi Arabia three weeks ago to urge the nation to increase crude oil output to help a struggling global economy.
"By our calculations, a 100,000 b/d quota hike distributed among the 23 OPEC+countries pro rata will effectively mean only a 34,000 b/d production rise – about 26,000 b/d for Saudi Arabia and 8,000 b/d for the UAE," S&P Global Commodity Insights' London-based analyst Herman Wang tweeted on Wednesday.
"Every other member is tapped out of capacity," he added.
A clouded Chinese recovery
"Higher prices and a deteriorating economic environment have started to take their toll on oil demand, but strong power generation use and a recovery in China are providing a partial offset," the International Energy Agency said in its July Oil Market Report.
"Global oil demand growth has been marginally reduced to 1.7 mb/d in 2022, reaching 99.2 mb/d," the watchdog added.
China's Caixin manufacturing Purchasing Managers' Index hit a 13-month high in June "(pointing) to a jump in output as (Corona) virus restrictions were lifted and supply chain conditions improved," Capital Economics' senior China economist Julian Evans-Pritchard told clients on 1 July.
"But it still points to subdued demand growth and doesn't alter our view that economic activity (in the top oil importer) will remain below trend in the coming months."
Benchmark crude futures plunged over $20 per barrel in June, as a weakening economic outlook drove a broad market sell-off.
Read more