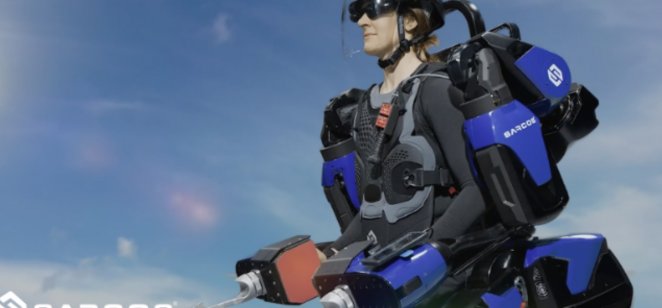 Sarcos Robotics is set to go public with shares trading on Nasdaq beginning 27 September, following a business combination with SPAC Rotor Acquisition Corp, a move that has been planned since April.
The company hopes for a valuation of $1.3bn (£942.5m).
An analysis of its prospectus and financial might produce a torrent of technical jargon and financial nomenclature. But a glance at one of Sarcos's prominent inventions provokes a more colloquial observation: it looks like Iron Man's suit.
While they've designed pirates for Disney and majestic fountains for Las Vegas's Bellagio Hotel, their superhero chic Guardian XO full body powered exoskeleton has attracted considerable attention, including mention by Time Magazine as one of 2020's best 100 inventions.
A history of innovation
Spun off a University of Utah lab in the '80s, the Salt Lake City-based Sarcos has churned out advancements in robotics and microelectromechanical systems, with strong emphasis on military and industrial applications. Defense, public safety, transportation, logistics, mining, extraction, health care and manufacturing are among the areas Sarcos has developed across five different decades.
Sarcos has also enmeshed elements of both the past and present with its Guardian exoskeleton. It may appear futuristic, but many in the robotics industry have been trending toward lighter, more compact devices in recent years. That did not deter the years-long development process, which seeks to simplify the physics of robot-aided lifting and handling while simultaneously filling in interstitial space.
There existed a relatively broad gap between what could safely be lifted by one or two people and what required pallets and heavy machinery. The exoskeleton effectively filled that gap by capably handling loads between 80 and 200 pounds (36 to 91 kilograms). The Guardian XT, based on the XO's upper-body structure, and Guardian GT, a mounted robot with up to 1,000 pounds (454 kilograms) of lifting capacity, and all have a wide array of applications in industry, defense, public safety and beyond.
Looking ahead
While much of the public discourse surrounding robotics have centred on automation and robots supplanting organic labor, Sarcos's efforts have veered toward cooperation rather than competition between man and machine.
Their efforts with the aforementioned models all typify how robots and humans can work in conjunction, whether they are physically joined, as in the case of the exoskeleton, or controlled remotely through teleoperation as is the case for the Guardian GT, which can move heavy components in conditions not apt for humans.
"The growing shortage of skilled workers that are able to conduct physically demanding tasks is a critical problem for companies, industries, and the global economy," said Sarcos CEO Ben Wolff in a statement.
"Sarcos has a unique opportunity to usher in a new age of human and machine collaboration by deploying a fleet of its highly dexterous mobile robotic systems that augment humans rather than replace them."