Samsara (IOT) early gains fade to close debut up 7.50%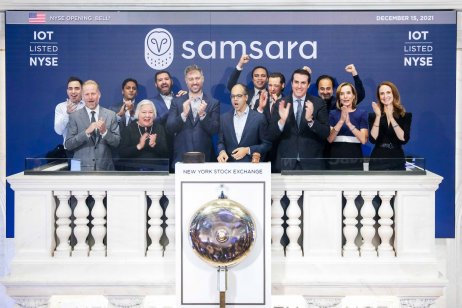 Samsara stock spiked almost 10% in its inaugural day of trading after Wednesday's successful IPO at $23 per share but then gave back profits to close with modest gains on the session.
After freeing to trade shortly after Noon EST (UTC -5), Samsara stock jumped to $24.90 before reaching a session high of $25.23, or 9.69% over the $23 per share IPO price. Samsara stock retreated in afternoon trading to close at 24.72, up 7.50%% on its debut.
Trading volume topped 12.2 million shares trading hands, according to data maintained by Yahoo! Finance. Samsara stock trades on the NYSE under the ticker IOT.
Allen & Co. Goldman Sachs, JPMorgan Securities and Morgan Stanley acted as joint leadbook-running managers. Evercore ISI, RBC Capital Markets, Wells Fargo Securities and William Blair acted as book-running managers and Academy Securities, Cowen, Loop Capital Markets, Nomura Alliance R Seelaus, Ramirez & Co. and Siebert Williams Shank acted as comanagers.
Samsara manufactures and sells software to private industry and local municipalities managing devices interconnected over its subscription-based cloud service. As of 31 October, Samsara reported over 13,000 subscribers at a roughly $5,000 annual recurring revenue per subscriber. Subscriptions accounted for roughly 98% of Samsara's revenues over the previous two fiscal years.
The IPO includes a 30-day option for the underwriting group to purchase 5.25 million more shares at the IPO price, bringing total proceeds up to a potential $925.7m.
Private equity backers Andreessen Horowitz and Catalyst General, which owned 20.1% and 11.6% of Samsara, respectively, were allocated roughly 6 million shares, the company reported in the free-written prospectus filed with the US Securities & Exchange Commission.
"We are in the early innings of this process of digital transformation for the world of physical operations" ~ Samsara CFO Dominic Phillips
CFO Dominic Philips interviewed
"We have 715 customers that pay more than $100,000 a year," said Samsara CFO Dominic Philips said in a televised interview Yahoo! Finance. "We added 100 new $100,000 customers in Q3."
"We have a clear path to profitability. We have over $500m of annual recurring revenue and that's growing 70% year-over-year. Net (client) retention rate has been more than 125% and that gives us confidence we can grow as we scale and that gets us to long-term profitability."
Samsara reported a $210.2m loss, or 98 cents per share, for its fiscal year ended 1 February, on $249.9m in revenue. Through the first three quarters of its fiscal 2022 through 30 October, Samsara reported a $102.3m loss on $302.6m in revenue.
The full fiscal year 2021 results represent a 74% narrowing of losses on 108% in revenue growth, the company added.
Read more: Internet of Things software company Samsara plans IPO