Salesforce shares up 6% on higher revenue revision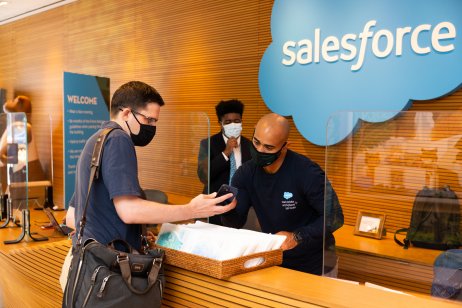 Shares in Salesforce.com climbed more than 6% higher Thursday as the company hosted an investor day and revised its revenue guidance up for the fiscal year.
The company raised revenue guidance for fiscal 2022 by $50m to a range of $26.25bn–$26.35bn, which was up a total of $800m since the guidance was first initiated, according to the company's latest SEC filing.
The company had already revised up its non-GAAP operating margin by 80bp since its initiation to expectations of 18.5% this fiscal year during its earnings report from August.
Salesforce shares are up more than 25% year to date to a price of around $275 per share driven by a strong reception to the $27.7bn Slack acquisition that closed in July.
Pandemic economy
Salesforce is one of the big winners of the pandemic economy as businesses poured money into new cloud-based technologies to adapt to a work-from-home environment.
The company expects its portfolio of services will grow into a total addressable market of $248bn up from estimates of $175bn at last year's investor day presentation.
Much of that growth comes from businesses adopting an entirely new way of working through the pandemic, Amy Weaver, president and CFO of Salesforce, said during the investor day presentation.
"What we've learned is this is the new world and we're not going back," Weaver said. "We can sell effectively without being on a plane every day, employees are not rushing back to offices and we don't need the space we needed before. What we have to do now is enable our sales teams to continue going further and make this part of our business moving forward."
Guidance for 2023
Salesforce also offered its fiscal year 2023 guidance, which projects revenue to fall in a range of $31.65bn–$31.80bn.
That revenue guidance is as much as $5.55bn more than fiscal 2022 for a more than 21% increase.
Additionally, Salesforce offered GAAP operating guidance of 3.0% to 3.5% and non-GAAP operating margin guidance of 20%.
Read more: Salesforce gains on 23% revenue increase