Saga share price forecast: Is an Indian Summer on the horizon for over-50s provider?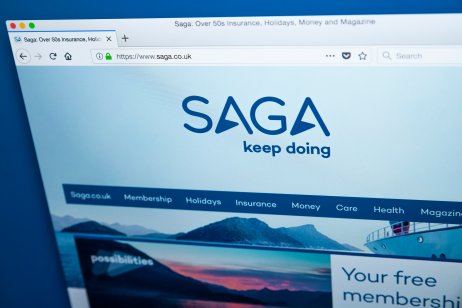 Saga is a company focused on over-50s, offering holidays, cruise journeys, insurance and money services. It floated on the LSE in 2014. The stock enters the second half of 2021 tentatively poised on a recovering global travel industry and its own comeback from internal company turmoil. The group has fallen considerably since its peak share price in 2016, but is set to enter 2022 with bullish potential.

Saga stock analysis: Where is the stock now?
At time of writing (12 September 2021), Saga PLC shares are trading at £340.2, leaving the group with a current market cap of £474.7m. Through the last 12 months, Saga has sought to arrest and correct a four-year decline in its share price, which in October 2020 sat 96% below September 2016 levels.
The collapse of Monarch Airlines in 2017 precipitated a 25% fall in the group's share price, while a further profit warning and a dividend cut in March 2019 – brought on by failings in their insurance offering – saw shares plunge a further 40%. The collapse of Thomas Cook, and the emergence of COVID-19, which extinguished the group's holiday and cruise offerings, eventually led to a bottoming out of share prices at GBX 135.10 at close on 4 November 2020.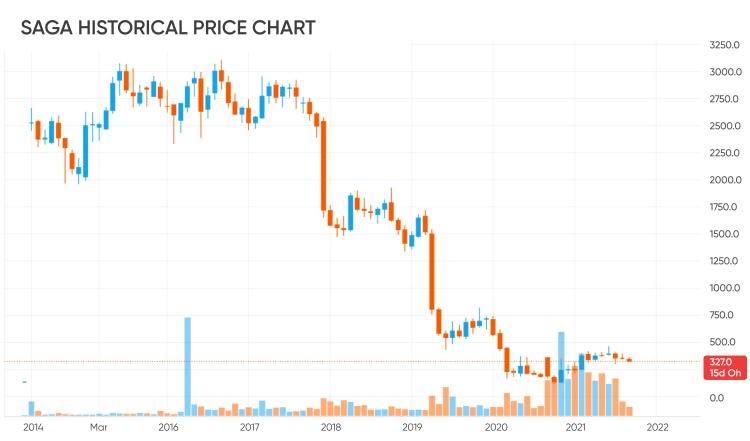 The uphill battle that's followed in the past year has been one built on tentative optimism around the shares' direction of travel. A strategic turnaround plan – including reduced management structures, data and brand transformation, and debt and costs reductions - launched in September 2020, in concert with a share consolidation exercise, pushed the share price as high as £456 on 23 June 2021. The Saga share price has risen by 56.2% over the last year.
The rise has been driven by some rebounding in tourism, while restructuring has allowed the business's insurance arm to carry some of the burden displaced by international travel restrictions. Saga hopes these changes will begin to contribute to recovering lost gains from both its business restructuring through 2019 and the recovery of international travel.
Circumstances in Saga's favour?
Global economic trends have also been on Saga's side. Over-50s across Saga's customer base are likely to have seen their wealth increase during the pandemic. House prices have been increasing at their fastest rate since the global financial crisis; older workers experienced lower rates of unemployment and middling levels of furloughing when the labour market crunch was at its worst; and massive stock market appreciation over the past 18 months has worked to line pockets of over-50s. An ageing population in the UK presents further opportunity for Saga to widen its net.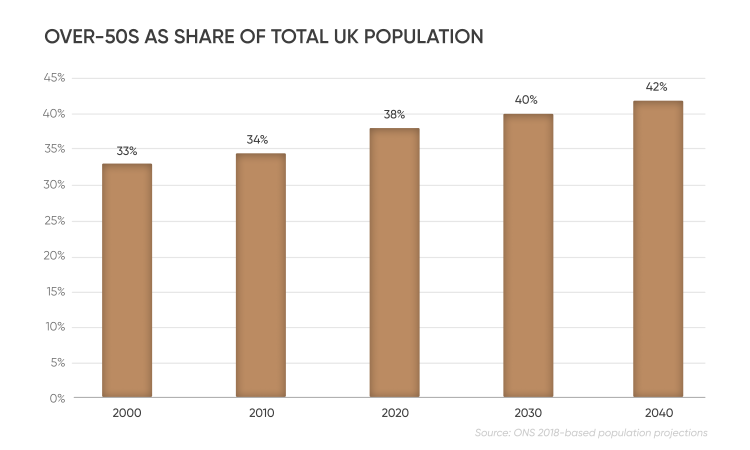 These impacts have each increased households' disposable income, which should drive up demand for the group's travel offering, while indirectly increasing demand for its insurance arm.
However, a return to pre-pandemic levels of travel is some way off. According to UNWTO, world travel in the first five months of 2021 was 85% below 2019 levels. In the Americas, where restrictions were eased more quickly, it was 72% below. Bain's baseline forecast suggests international air travel will be at 92.2% of pre-pandemic levels by December 2023, posing ramifications for Saga's cruise and travel offering.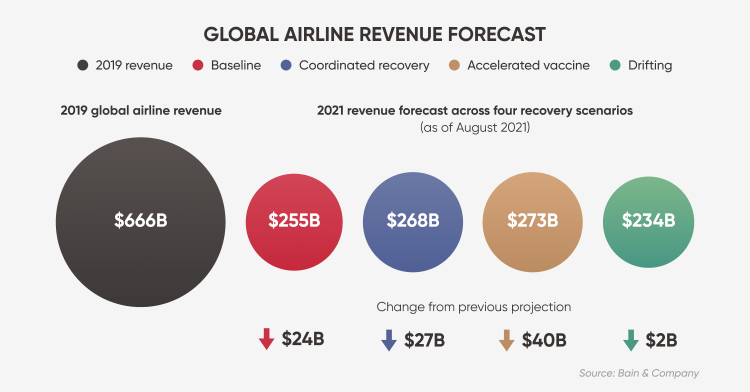 Saga share price technical analysis
Saga's current trading price of £347.6 is at a halfway house between its one-year resistance (£464.6) and support (£118.5) levels.
Recent market activity, which has moved towards a strong selling sentiment, appears to be a temporary phenomenon. The company's Relative Stock Index (RSI) is neutral but trending towards buy at 34.9. Its approach to below 30 indicates excessive devaluing, which could turn into a buying signal when results for the first half of 2021 emerge. Stochastics are accordingly skewing in the right direction, placed in 'buy' mode at 12.8.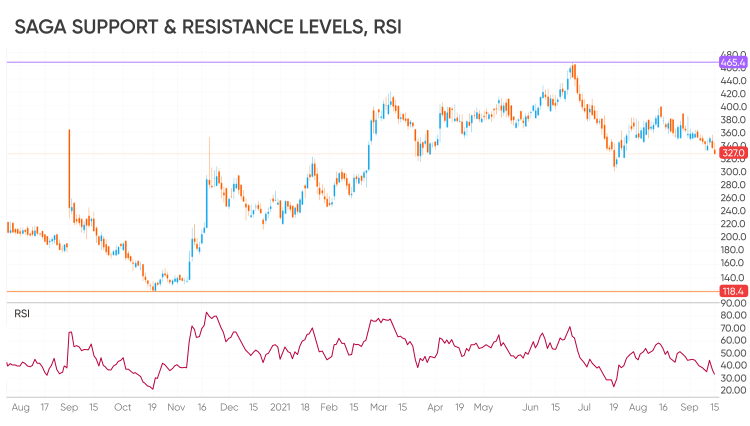 Fundamentals: losses down
The company's latest annual report, published in April 2021, gave cause for concern, but should be viewed in context. While underlying profits fell from £17.1m to -£109.9m, losses before tax were £61.2m, an improvement of 80% from the £300.9m loss experienced in 2020 – a result of a sharp cut in overheads.
The group's travel businesses lost £78.5m, in contrast to a £19.8m profit through 2020, emphasising the damage inflicted by the pandemic. Restructuring costs in the 12 months to January 2021 put another hole in the group's finances, but their short-term nature, along with the expected return of widespread travel, could put a brighter spin on next year's statement. The group's six-month financial statement for the second half of 2021 is expected imminently.
Losses have inevitably added to debt. The group's liquidity ratio is 2.7 for 2021, up from 2.4 in 2020 and 1.7 in 2019. Saga hopes results for the first half of 2021 will demonstrate that the business is on the right course.
Saga stock forecasts
Analysts are viewing Saga with optimism. Marketbeat's average consensus 12-month price target for Saga is £405, a 17% increase on current levels. Tipranks is more positive, with an average Saga stock forecast of £510, representing a 47% increase on current levels. Among the businesses providing targets are Numis Securities, who gave a price target of £585 in June, placing the stock in a 'buy' position.

Saga: analyst views
In a note from June, analysts at Hargreaves Lansdown concluded that Saga's customer base of older people is a growing and wealthy demographic, noting: "Ultimately, this should be an attractive group to serve - if Saga can get the offer right.
"The outlook remains very uncertain and there's no guarantee Saga will succeed, but we're feeling a shade more positive than we did."
Russ Mould, investment director at AJ Bell, verified the strength of demographic within Saga's grasp, while pointing out that operational costs and their relationship to public health developments endanger the stock.
"As such sentiment toward the stock, and ultimately profits and cashflow, will be driven to a large extent by the pandemic and how confident, or otherwise, consumers feel about booking holidays," Mould told capital.com.
"Government policy on its 'green list', and whether other countries are happy to accept tourists, will also be a factor," he added.
According to Mould, an earnings per share figure (EPS) for 2021 of 14p puts the stock on a forward price/earnings ratio of 24 "which does not appeal at first glance, as the equity probably comes with an above-average level of risk wider to the UK market and then represents a hefty premium valuation.
"Yet bulls will argue that is slightly deceptive, since Saga's profits are still depressed owing to the pandemic. They will point to how analysts expect EPS to surge to 65p by 2023, to put the stock on an earnings multiple of barely six for that year.
"That lowly rating suggests investors are currently far from confident that such an EPS figure can really be reached but if the company can make it then the shares do look cheap. The pandemic, however, means there are a lot of 'ifs' 'buts' and 'maybes' still to address on that front," Mould concluded.
Edited by Jekaterina Drozdovica
FAQs
Why are Saga shares falling?

Saga share price has fallen slightly since 25 June as the Delta variant delays reopenings in the company's target markets. Investors are likely waiting on company results, due imminently to decide on whether to back the over-50s specialist.
Will Saga stock go up?

Analysts believe the Saga stock will rise as global travel returns, while the company's potent mix of wealthy over-50 customers and an ageing population could secure the company's long-term future. An RSI of 34.9 suggests the stock is moving into a buy territory.
Are Saga shares a good buy?

Saga currently represents a risky investment, as the Delta variant delayed re-openings and uncertainty lingers around the future of international travel. However, their cohort of wealthier over-50s clients, a demographic growing in size, should allow the company to benefit from increased spending in the long-term.
Read more: Dunelm (DNLM) share price forecast: where next for the UK retailer?