S&P 500 rallies as Powell confirms 50bps hike ahead of highly awaited NFP data
Subscribe to Weekly Highlights
The major market events for the week ahead right in your inbox.
Subscribe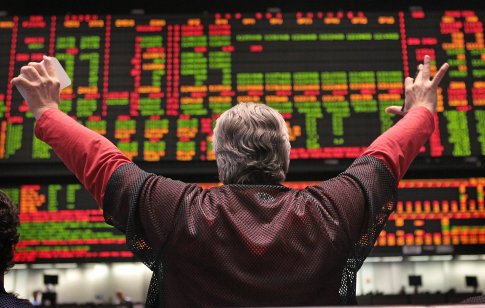 Equities breathe a sigh of relief after Powell's speech yesterday as Fed Chairman admitted the central bank is likely to raise interest rates by 50bps at their December meeting in two weeks' time.
The S&P 500 (US 500) rallied over 3% after his appearance with the Nasdaq (US 100) ending the session up 4.8%. Stocks have been picking up bullish momentum throughout the past 6 weeks as markets were becoming more and more convinced that central banks will have to pivot soon to avoid long-term damage to economic growth. Of course, the weaker CPI and jobs data in November helped cement that notion but there was still unease as to whether Jerome Powell would give in to weakening data, despite a dovish tilt in the minutes of the previous meeting.
There was good reason for it too, given Powell's press conference after the November meeting gave the feeling that the Chairman was far off being convinced that rate hikes needed to slow down. But it seems like has had a change of heart, or he was left with little option given he may have been a minority hawk among the voting members, and that has given dovish hopefuls another reason to move away from the dollar and into equities and other risk-on assets.
The S&P 500 has finally managed to break above its 200-day simple moving average (SMA) but has found resistance at its 2022 descending trend line. The move is looking a little over-extended at current levels but there is no denying that there seems to be little reason to be shorting the market right now.
So far the economic data in the US has fallen in line with a softer stance from the Federal Reserve and Powell's slight change in tone last night seems to suggest the cards are all lined up for a smaller rate hike in December. Of course, we have the latest jobs data out tomorrow so we could see some surprise in those numbers, but it seems like the general consensus is that those numbers will also fall in line with the softer Fed rhetoric. Markets are expecting 200,000 jobs to have been added in November, with the unemployment rate to remain unchanged at 3.7% and a small drop in average hourly earnings, from 0.4% to 0.3%.
It's hard to envision a situation where the NFP data comes in higher than expected given the recent drop in ADP and job openings, but if we do see it beat expectations then the positioning ahead of the Fed meeting will likely change, meaning the S&P 500 will find it harder to break above its trend line resistance.
We also have positive sentiment stemming from China as it seems like the recent wave of protesting has led to President Xi having to relax some of the Covid restrictions, at least for now, which has helped keep equities supported.
At this point, it's hard to find a catalyst for a selloff in equities other than a surprise in the jobs data tomorrow, but one thing to keep an eye out for is the percentage of stocks within the S&P 500 that are above key moving averages. There are currently 91% of stocks above their 20-day SMA and 92% of stocks above their 50-day SMA. Both of these measures nearing their recent peaks and it could be taken as an early signal that a reversal may be underway.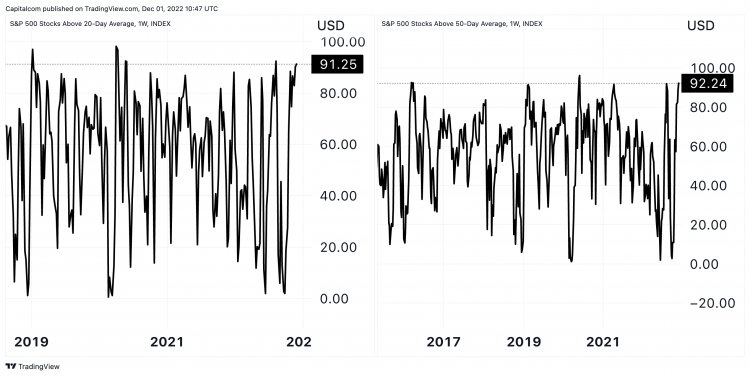 S&P500 stocks above 20-day and 50-day SMA. Photo: capital.com. Source: tradingview
It is also important to note the Chicago PMI released yesterday dropped to 37.2, its lowest level since June 2020 and almost 10 points below the estimates. What's interesting is that when the reading has dropped below 40 in the past it has accurately predicted a recession in the US economy over the last 50 years, so it may be another early warning sign that the worse is yet to come. Along similar lines, yield curve inversion is at its highest point since 1981, another clear indicator of trouble ahead.
Technical analysis
On the chart, the S&P 500 is attempting to rally above its 2022 descending trend line aided in the last few minutes by the releases of the PCPE price index in the US. Considered the Fed's preferred measure of inflation, the core reading dropped in October to 0.2% from 0.5% the month prior, and below estimates of 0.3%.
The move so far is finding tough resistance along this line as is expected so the daily candlestick is missing a body, which suggests indecision in continuing the trend. Because of the multiple signals (as stated above) that a downturn may be on the cards, it's probably wise to start looking for signs on the chart that this may happen. This may be in the form of lower highs followed by lower lows and a key barometer of selling appetite will be a drop back below the 200-day SMA.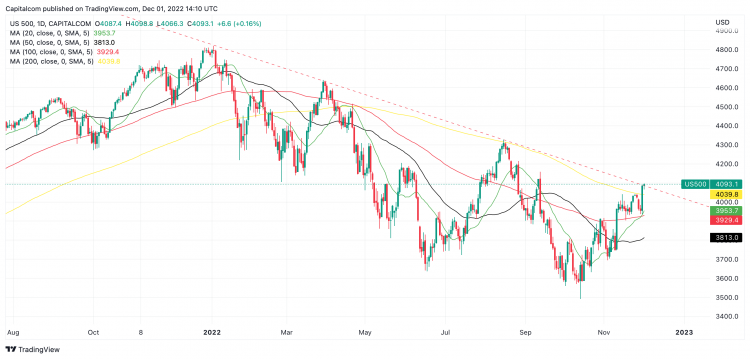 S&P 500 daily chart. Photo: capital.com. Source: tradingview
Related reading